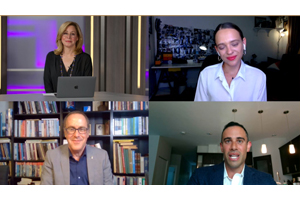 By BERNIE BELLAN Shira Haas may be only 26 years old, but she has already become one of Israel's best known actors, having starred as an Orthodox Jew in both "Shtisel" and "Unorthodox". (In real life Shira is not Orthodox, by the way.)
On Wednesday, July 7th, Canadian Associates of Ben Gurion University presented a cross-Canada online event promoting brain research at Ben Gurion University, during which Senator Linda Frum, who was in Toronto, took a leaf from her late mother, Barbara Frum's playbook, and interviewed Shira Haas, who was in Tel Aviv, in what turned out to be an enjoyable and quite interesting 40 minutes back and forth.
In introducing the event, CABGU National CEO Mark Mendelson said that the event had raised a total of $850,000 toward brain research at BGU.
Mendelson also noted that last year's "Support our Students" campaign had also raised $1.4 million starting in the spring of 2020 – when Covid was taking an especially heavy toll in Israel. The funds raised were used to allow students at the university to remain in school rather than having to drop out due to financial constraints brought about by Covid.
"Canadian Associates of Ben Gurion University" is "the number one Israel based organization in Canada," Mendelson said.
Proceeds from the gala event will "fund research into neuro-degenerative disease," Mendelson explained, including Epilepsy, ALS, Alzheimer's,
Parkinson's, Dementia, and Stroke. Prior to Senator Frum's interview of Haas, some 1500 audience members were given an overview of the advances various researchers at BGU have been making in the treatment of different disorders associated with the brain.
Five different researchers at BGU offered explanations of new developments in which they have been involved in each of those areas. In commenting on the challenges they face, BGU President Daniel Chamovitz quoted David Ben Gurion himself, who once said: "If an expert says it's impossible, find another expert."
Chamovitz, who was born in Pennsylvania and obtained his undergraduate degree from Columbia before transferring to the Hebrew University of Jerusalem, where he obtained his Ph.D. in plant science, offered the audience some very personal reflections about the toll Covid had taken on both him and his wife.
Chamovitz noted that he had his own experience dealing with Covid, when both he and his wife, Shira, came down with Covid last September. (Chamovitz has been keeping a very interesting online journal tracking Covid at BGU, called "My Covid Year".) He said that he's still dealing with the effects of Covid many months later, noting that "Post Covid Syndrome" affects about 10-15% of individuals – mostly women, who have come down with Covid.
Later, however, during the portion of the evening in which Shira Haas was being interviewed, Chamovitz, who displayed a wry sense of humour whenever he appeared during the event, made a funny observation about his Hebrew-speaking ability.
It turns out that Haas's next starring role will be as a young Golda Meir in a movie about Golda's life, to be produced by none other than Barba Streisand, called "Lioness". Haas was asked how she will master Golda's American-accented Hebrew. (Golda Meir, although born in Russia, moved to Milwaukee as a young woman, which is where she learned to speak English.)
Haas said it was really just a matter of mastering an accent, to which Chamovitz added that he can readily identify with Golda Meir, whom Israelis often made fun of for her American English manner of speaking Hebrew.
In accepting the position of President of BGU, Chamovitz said, he was proud to become head of a university that has been at the forefront of so many advances within Israeli society, including its inclusion of many members of the Bedouin minority who live near Beer Sheva.
Ben Gurion University is now home to the first female Bedouin professor in Israel, he noted: Sarab Abu-Rabia-Queder, who was also the first Bedouin woman to receive a Ph.D.
When it comes to innovation, Chamovitz observed, "All the nations in the Middle East are looking to us (in Israel) for answers. We've been living in the desert" – no university more so than BGU.
Turning to Senator Linda Frum's question and answer session with Shira Haas, while Frum was seated in some sort of studio, Haas was in a room in her home, which looked quite unadorned – hardly what you would expect to see in the home of a major television star. Following are excerpts from the interview:
Frum: "What's it like to be an Israeli celebrity?"
Haas: "It's a feeling of being a family in Israel. Everyone knows everyone. When you walk in the streets and get compliments it's like people feel they know you."
Frum: "How did you know you were going to be an actor?"
Haas: "I was very shy. I never thought I'd be an actor. Thanks to Facebook I auditioned for a part just before I turned 16. One of my first auditions was for 'Shtisel' (in which she played the part of Ruchamie). It's hard to believe that was already 10 years ago."
Frum: "Did you think you'd have a career only in Hebrew or did you want to be an international actor?"
Haas: "When we were doing 'Shtisel' or 'Unorthodox' nobody ever thought it would get to Netflix – so I never thought I would become an international actor."
Frum: "When you choose your projects, you don't take the easy road. Of all the difficult things you've done, what was the hardest?"
Haas: "Your question reminded me that a few weeks ago someone stopped me on the street and complimented me. I gave him a big smile and he said: 'Omigod, it's so nice to see you smile!'" (in reference to Haas's roles in "Shtisel" and "Unorthodox" where she faced unremittingly difficult choices and hardly ever smiled.)
"My most challenging role was in 'Asia' (pronounced A-seea – in which Haas plays a young girl struggling with a degenerative neurological disease. It hasn't reached Winnipeg yet.) It was very personal for me." (Haas had kidney cancer when she was 2, and saw her growth stunted as a result of her chemotherapy treatments, according to a story we ran in our June 23 issue.)
Frum: "You are obviously secular. How did you prepare yourself for 'Shtisel' and 'Unorthdox'?"
Haas: "I was very young when I started doing 'Shtisel'. I didn't know much about the Orthodox world. It didn't occur to me that it's an Orthodox story. It's a story about people. It brings people together."
Frum: "It's popular because it's unusual, but also because it humanizes a group about which we don't know very much. Did it change the dialogue in Israel?"
Haas: "It opened people's minds – the power of watching art. People all over were suddenly interested."
Frum: "Did you learn Yiddish for 'Unorthodox'?"
Haas: "I found out that the Yiddish I needed to learn was completely different from the Yiddish I learned for 'Shtisel'. Two of my favourite words from 'Shtisel' were a 'bissel' (meaning "a little") and 'koach' (pronounced "coy-ach" – meaning "strength").
"I know there are a lot of curse words in Yiddish, but I played Orthodox characters, so I didn't learn any Yiddish curse words."
Frum: 'You're on a list of the ten hottest Israeli women. (Haas blushed.) How are you going to play Golda Meir?"
Haas: "When she was a young lady she had lovers. I'm going to tell her story. I'm not going to imitate her."
Frum: "Golda had an American accent. How are you going to pick it up?"
Haas: "Her Hebrew was good, but not as good as her English or Yiddish. She learned Hebrew in her 20s."
Question from Daniel Chamovitz: "Without Covid, would you be where you are today" (referring to the fact that 'Unorthodox' first debuted on Netflix on March 26, 2020 – just as so much of the world was going into lockdown mode)?
Haas: "The first time I knew it ('Unorthodox') was a big success was when I was in quarantine and I looked out my window and saw my face on so many screens. I wish circumstances were different."
Chamovitz: "Covid opened up markets for smaller scale TV shows. Shira, I read that you said you might have been a psychologist. Is that something you'd still consider doing? We have a great psychology program at Ben Gurion University."
Haas: "Yes, I know. My sister studied psychology at Ben Gurion for her first degree."
Frum began reading questions sent in by audience members. The first one was: "Time Magazine named you one of the 100 most influential people in the world. How do you feel about that?"
Haas: "It's amazing. Here I am in Tel Aviv in my pajamas. It's hard to think of me as one of the 100 most influential people in the world!"
Question: "Are you very active on social media?"
Haas: "Not much. I have an Instagram account, but to me it is something that doesn't come naturally."
Chamovitz: "You said that as a child you were shy. Maybe that explains it (her not being active on social media)."
Frum: "I wonder about that – you're being private and interior, and forcing yourself to expose yourself A lot of times actors let their acting speak for themselves rather than talking."
Frum: "Why do you feel it's important to do events such as these? We're in a moment when it's not so easy."
Haas: "I am Jewish, I am Israeli. Even if I play Mary Magdalene, I'm still Shira. I'm very proud Ben Gurion University is where my sister studied, and where my best friend is now studying."
Frum: "Do you feel pressure to be a voice for Israel?"
Haas: "I don't have to be political to do what I do."
Frum: "Are you close with the 'Shtisel' family? Will there be a Season 4?"
Haas: "Very close. They will forever by my 'mishpoche'. (But), it doesn't feel like there will be a fourth season."
At that point, various representatives of CABGU came on screen to thank Shira Haas and Linda Frum. And, even though it was the middle of the night in Israel, Shira said she had enjoyed herself so much she would have liked to continue. (There's an idea for some other Winnipeg organizations.) It was a truly delightful evening. There's something to be said for a well-planned online event. Congratulations to the organizers.