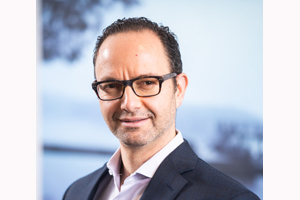 By GERRY POSNER This is a story worth reading (not that all of my articles are not worth reading). From the depths of the Maples and Garden City has emerged a young man now running what looks to be a very significant business in Toronto and, in fact, well beyond the limits of the city and province.
Have you ever heard of a company called the Marquee Group? Ian Schnoor created the company paying homage to the street where he grew up (in The Maples): Marquis Crescent. There is one major difference besides the spelling. A crescent is shaped in a circular form with no direction except in a spiral. That no doubt is the shape of Marquis Crescent to this day. On the other hand, the Marquee of Ian Schnoor is like a canopy – extending almost without limit. You could say that Schnoor's business had taken on the form of the name of the company- upwards and onwards.
Schnoor, the son of the late Jack Schnoor and mother Judy Schnoor, is a graduate of Joseph Wolinsky Collegiate. Ian attributes a chunk of his success to his time there, in particular to the influence his former classmate, the late Adam Anhang, had on him.
Adam helped to generate Ian's interest in finance and indeed, later in teaching. It started simply enough. Following high school and a year of Arts, Ian ended up in the predecessor to the Asper School of Business (School of Commerce) at the University of Manitoba.
After graduation, Ian sent out over 100 letters seeking employment in Toronto. He got back five letters of interest and out of that emerged a job as an investment banker at BMO. He was there for over four years, then headed to CITI Bank. 9/11 and the collapse of the markets ended his work at that bank, but it triggered a major move for Schnoor.
In 2002 he started up the Marquee brand and it is fair to say he has never looked back. The business he established was based on what he perceived as a gap in the marketplace for financial training. The best term to apply to the business is "financial modelling".. What this means in part at least is the way of adapting what is taught in the business schools to the real world.
Schnoor puts it this way:" I kept thinking it would all end eventually (referring to the fallout from 9/11), until I realized I was bridging the gap between what people were learning in business schools and the hands-on technical skills companies were seeking in new hires."
It was not long before Schnoor had lined up an array of business schools that wanted him badly. Schnoor says that all the bright lights from Ivey, Queen's, U of T's Schulich Schoolk, McGill, Laurier are all clients of his (oddly, the one school missing from his catalogue is the University of Manitoba's Asper School of Business, whose predecessor is the very place from where Schnoor graduated years ago).
Aside from this group, other key components of the Marquee portfolio are all of the major Canadian banks, as well as some global banks in Canada.
What Marquee provides is a level of training previously unknown to any of the clients served by Schnoor and his team. That team has grown in size to over 25 people, some part time and others full time. Schnoor took it upon himself to train all of his hires the way to teach. What the group does and does well is to use spreadsheets, then forecast what lies ahead for his clients based on various assumptions, all of which can be changed easily. This is a skill and, of course, what makers it so helpful is when you have a guy like Ian Schnoor leading the way. He is first and foremost a teacher and he loves to do that. As Ian puts it, "When I teach, I learn". He is so well thought of he was recently awarded the "Professor of the Year" award for the course he teaches in the Master of Finance Programme at Queen's University.
In retrospect, Joseph Wolinsky Collegiate was a great start for Ian with the rigours of the double programme (Hebrew and English). Adam Anhang was an inspiration, but clearly what Schnoor had going for him more than anything was sheer determination to succeed and that he has done in spades. Happily, his father Jack who died in 2011, was alive to see his son's career take off. And now, Schnoor, married and father to three daughters, 18, 15 and 13 – all students in the Jewish School programme in Toronto, is still very busy building his already very demanding business.
His formula for building that business is to be sure his course content is comprehensive and to be sure his associates have mastered the content and the method of teaching. Ian is confident that this format of business model will only expand as the skills taught are crucial for any business anywhere in the world. So, from Marquis to Marquee, the one thing that has never changed is Ian Schnoor.