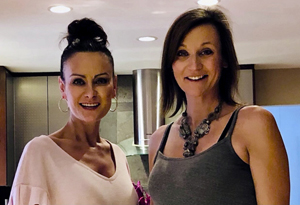 By MYRON LOVE  Eight years ago, sisters Alison Gervais and Andrea Katz decided to combine their expertise in marketing (Katz) and public relations (Gervais) to create a new boutique communications firm with a focus on empowering women as consumers and business owners. Today, their FIT Communications has a roster of clients right across Western Canada.
While Covid has caused a hiccup in FIT Communications' ongoing growth, Katz concedes, clients are sticking with the young entrepreneurs.  "Many of our clients are in the sports and travel business – which were particularly hard hit by Covid restrictions," she notes, "but the business outlook is improving.  We are working with numerous clients to develop strategies in planning for the future."
The daughters of Dr. Sidney and the late Joanne Katz followed the same educational track.  Both attended Ramah Hebrew School and Joseph Wolinsky Collegiate up until the end of Grade 10 followed by University of Winnipeg Collegiate for Grades 11 and 12. They also both earned B.A.'s from the University of Manitoba with degrees in Sociology and Psychology. 
After that, their paths in life diverged.  
Gervais' life – for most of her life, has revolved around water sports.  The former YMHA Sports dinner nominee for Jewish Athlete of the Year took to the water early on.  She became involved synchronized swimming at the age of 12.  As a member of the provincial team – and, later, as a coach – she took part in numerous competitions throughout North America and Europe.  She went on to become a referee and judge and – for more than 12 years up until January of 2020 – she served as executive director of Synchro Swim Manitoba.
"I found that combining my responsibilities with FIT and SSM as well as raising three children was more than I could handle," she says.
While she is still involved in the sport as a volunteer, she now devotes more of her time to FIT Communications and its growing client base.
After completing her B.A. at the U of M, Katz earned a second degree – a diploma in Business Administration (Marketing and Advertising) and relocated to Calgary. Over ten years in Calgary, she had a variety of experiences, working first for a restaurant group, followed by a major international music label, and then for a Calgary university.
"I decided to come back to Winnipeg because all of my family is here and this is where I wanted to start a family of my own," says the mother of a newborn.  "I also wanted to start my own company with Alison."
According to the FIT Communications website, Katz and Gervais specialize in helping clients market their products and services to women and girls.  "Women are the world's most powerful consumers, driving the majority of household spending with their buying power and influence," the website points out. 
"We know women," the sisters write on their website. "We know how and why women do what they do. We know how to appeal to them directly. We know how they think, how they buy and how they make decisions. Our education coupled with our experience in marketing, public relations and sales makes us experts in marketing to women and attracting female audiences to our clients' businesses."
As well, Katz has recently added value to FIT Communications' services with her certification as an Integrative Nutrition Coach from the New York-based Institute of Integrative Nutrition.  While the course is usually 17 months, Katz notes that because she was expecting, the completed the requirements in half the time.
"Part of our goal through FIT Communications is fostering a healthy lifestyle among women and girls," says Katz.
Her additional training also gives FIT Communications an "in" with producers of healthy foods, she points out.
In recent months Katz has also become a columnist for the Winnipeg Free Press writing about women and girls in sports. She is also available as a nutritional coach. (Interested readers can contact Andrea on line at https://bestyounutrition.ca).
 
Gervais observes that Covid has changed the way business is done.  "Working conditions have become more flexible," she points out.  "More people are appreciating the flexibility that working from home provides.  FIT Communications is a fine example of how a home-based business can thrive.  We can work with others to help them with their marketing and business strategy and enjoy the same success that we have achieved."