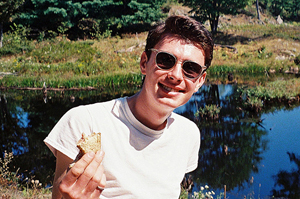 By MYRON LOVE It was a yen for new vistas that has led former Winnipegger Benji Saadia to choose to go to university at Queen's College in Kingston and, come the fall, begin his career as a geological engineer in Italy.
"I was looking to do my university out of town from the point of view of an adventure," says the Grey Academy grad and former Camp Massad staffer.
(Most recently, two years ago, he was Massad's Operations Director – his second summer in the role – responsible for supervising the janitorial and landscaping staff.)
In seeking new horizons, he notes, the son of Dr. Roger and Vivien Saadia is emulating his father's round-about route to Winnipeg. Roger was born in Lebanon and grew up in France and Switzerland. After completing his medical training, he moved to South Africa where he met Vivian. The family came to Winnipeg in 2000 when Benji was a toddler.
While Saadia reports that he investigated a number of universities, He chose Queens – and Kingston in eastern Ontario – because of Queen's friendly atmosphere and the sense of Kingston as being a livable city where it is relatively easy to get around.
Saaia is an engineering student. He will graduate with a masters in science degree in Geological Engineering in September. He received his Bachelor of Applied Science Degree in Geological Engineering in 2020.
"In first year, we were introduced to engineering in general," he explains. "We were able to choose the area in which we wanted to specialize in second year."
Two years ago, he had the opportunity to work as a graduate research assistant at the university's Geodesy and Geophysics lab for the summer. Geodesy, he explains, involves measuring and understanding the earth's shape, orientation in space and gravity. Geophysics is a more general way of exploring physical phenomena.
"We use geophysics, for example, to search for potential mineral deposits,' he points out. "We might advise companies on the most economical methods – by using thermal heating technology to locate new mineral deposits."
Among the highlights of Saadia' university career was the opportunity to write software for academic purposes to simulate different sensors to determine which work best with different ground conditions.
"It is all about cost savings for companies researching mineral, oil and gas deposits," he says.
The second high points of his university days for Saadia was being part of a team – which also included a student from New Zealand and a couple of industry advisers – that finished in the top six. The teams were given sets of data and tasked with locating potential ore bodies in the southern African country of Botswana.
Come the fall, after graduation, Saadia will be relocating to Milan to go to work for Tre Altamira. The company is a world leader in displacement monitoring services using satellite radar data. Tre Altamira uses inSAR technology which measures changes over large areas of the Earth due to earthquake, volcano or other causes.
'Tre Altamira's clients include mining,, oil and gas developers, as well as contractors would wide," Saadia says. "The Milan office serves our clients in Europe."
Saadia learned about the position from a fellow researcher he was working with in Queen's Geodesy And Geophysics lab. "He had worked for Tre Altamira before. I applied and was accepted."
In preparation for his big move, Saadia reports that he is learning Italian. "I am talking online with someone who speaks Italian," he says. "I could get by with English in the office. But, in daily life, I will need to know some Italian.
"I am making progress."
As it happens, Saadia notes that he enjoys learning new languages. He says that he is also learning French – his father's first language.
"The hardest part of learning a new language for most people is having the confidence to speak it," he observes.
Saadia notes that he hopes to be able to spend at least a year or two in his new position. "After that, we will see what happens," he says.