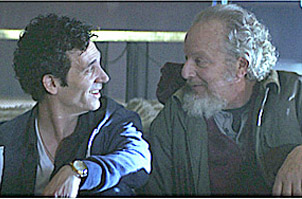 By BERNIE BELLAN
When I was contacted recently by ex-Winnipegger Jonas Chernick, who asked me whether I'd be interested in seeing a screener for a new movie he'd produced and starred in, I immediately said "yes".
The reason is that I've been writing about Jonas's career for years now – beginning with his very successful "My Awkward Sexual Adventure" (2012), about which I've always been fascinated by the odd fact that a Lithuaianian version of that fim known as 'Nepatyres" (or "Inexperienced") opened to the third highest box office of all time n that country – of all places.
Jonas Chernick is someone who has deep Winnipeg roots. A graduate of Grant Park High School,  Jonas used to write a column about floor hockey for this paper when he was the commissioner of the Jewish Student Association Floor Hockey League.  As well, while he was a student Jonas was very involved with a number of different Jewish organizations, including Camp Massad and BBYO. Later, he was also employed by the Rady Centre.
Jonas honed his acting chops on the stage of the Winnipeg Jewish Theatre, where he performed in four different productions over the years. After leaving Winnipeg, Jonas went on to on to fashion a successful career in both television and movies and, in recent years, he has expanded his repertoire to include not only appearing in productions, but writing and producing them as well.
Jonas's first major success as a writer and producer came in 2012 with, as I noted, "My Awkward Sexual Adventure".
In 2016 Jonas launched another film which he wrote and produced – this one set in Manitoba, titled "Borealis". That movie, as did "Sexual Adventure", reaped quite a few awards and was a hit on the festival circuit. When I interviewed Jonas back in 2016, he mentioned that he had various irons in the fire, but he was particularly keen on a project for which he hoped to find financing – something, he admitted, is always a difficult process when it comes to producing a movie.
In any event, Jonas was able to put together the financing to produce what is now his most recent film, titled "JAMES VS. HIS FUTURE SELF". In our next issue we'll have a full-length interview with Jonas Chernick, but in the meantime I wanted to offer readers a preview of "James", which is slated to be released across Canada on iTunes and Video on Demand on Shaw, Bell, and Rogers on April 3.
"JAMES VS. HIS FUTURE SELF" is billed as a "sci-fi rom com" (science fiction romantic comedy). It's a charming story about an unabashed science nerd by the name of James – played by Jonas, who is obsessed with time travel. James is actually a brilliant theoretical physicist and his delving into a subject that has fascinated individuals ever since H.G. Wells' epic novel, The Time Machine, is grounded firmly in actual science (or so the notes accompanying publicity for this film say. Who am I to judge whether that's at all true or not.)
At the same though that James pursues his dream of time travel, he also makes a shambles of his personal life. Anyone who has seen Jonas Chernick in either "Sexual Adventure" or "Borealis", or a television series in which he also recently appeared, titled "The Best Laid Plans", would know that Jonas has been type casting himself as a sweet, but nerdy nebbish who, despite his best attempts, always seems to screw up his relationships – whether romantic or familial.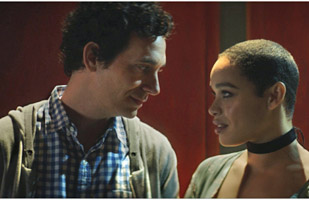 This holds true for James in "JAMES VS. HIS FUTURE SELF", as James consistently screws things up with the one woman for whom he holds a torch, Courtney (played by Cleopatra Coleman), as well as with his potty-mouthed sister, Meredith (played by Tommie-Amber Pirie).
Things are not going well for James until the sudden arrival of a character who reveals himself to be James' future self, although his name is not James, but "Jimmy".
Jimmy is played by Daniel Stern, probably best known for his roles in the two "Home Alone" movies. And, for anyone who hasn't seen Daniel Stern in a while, if you didn't know it was Daniel Stern playing the role, you might say to yourself: "Gee, that guy looks familiar, but I just can't place him."
I have to admit that before writing this particular article, I took a look at what other reviewers have had to say about "JAMES VS. HIS FUTURE SELF". The consensus seems to be that Daniel Stern steals the movie. In fact, he's been nominated for a 2020 Canadian Screen Award as Best Supporting Actor (as has the movie itself for Best Original Screenplay).
Stern invests his role with a crazy kind of energy. When I was corresponding with Jonas Chernick about the film I suggested that the only other actor who I could see playing the role of Jimmy might have been Jeff Bridges.
In production notes accompanying release of the film, how Stern came to prepare himself for the role of Jimmy provides some fascinating insight into how certain actors brace a role: "What helped Stern truly get into the character of Jimmy came via a rather unusual, surprising request regarding his accommodations while in production. Most Hollywood stars would generally expect a nice multi-starred hotel room or luxury apartment, but not Stern.
"As Chernick explains, 'He requested a rustic cabin in the woods. We found one and it was so remote that it was forty minutes outside of town, off the highway and down a labyrinth of dirt roads. It was a cabin with a wood burning stove, water pumped in from the lake, no cell service and only mosquitoes for company. At first we thought, "Oh great! He's crazy".'
"But it was all part of Stern's master plan. 'Luckily we realized he chose that location for the character. Jimmy lived in isolation for twelve years and lost connection with the world. He felt that returning to this cabin in the woods every night after shooting and waking up there would put him in this headspace,' added Chernick."
Since "JAMES VS. HIS FUTURE SELF" is supposedly a story of a younger person meeting an older version of himself, one might expect there to be at least a physical resemblance between the two characters. But, in this movie at least, that notion is quickly dispensed with, as there is nothing at all similar in the appearance of Jonas Chernick and Daniel Stern. (There is an ongoing joke about them having the same looking penis – and some reviewers have dismissed that as puerile dialogue, but the way Jimmy explains it to James – it actually makes sense. It has to do with physical bodies being stretched through time travel, but not losing certain identifying characteristics.)
As James confronts the dilemma posed to him by Jimmy: either abandon his quest for time travel and solidify his relationship with the lovely Courtney or continue in his pursuit and end up like Jimmy, there is a resolution to this dilemma advanced in the film though that helps to explain how, what on the surface appears to be an intractable problem that can't be solved – but remember, this is just a movie, not a scientifically provable hypothesis.
I might note that one reviewer dismissed "JAMES VS. HIS FUTURE SELF" as an attempt to harken back to rom-coms of an earlier period. But hey, I liked a lot of those rom coms – as did a lot of audiences back then.
And Jonas Chernick has established himself as an expert at playing nerdy but lovable characters. While Daniel Stern certainly dominates the screen when he appears in this movie, it's Jonas's soulful gaze that makes you cheer for him. You just wish that he wouldn't be so blind as not to see how the beautiful Courtney is giving him every possible signal that she's highly available to him – and, when he finally gets his shot, he flubs it.
Now, that's what we need more of in movies: Guys who miss every opportunity to score when it's presented to them on a silver platter. A lot of males watching this movie will certainly be able to relate to that – and no doubt women will be wishing they themselves could have a shot at seducing that oh-so-innocent looking Jonas Chernick.
Watch the trailer for the film here: https://www.youtube.com/watch?v=Vi8oOuwsvdo
We will have a full-length interview with Jonas Chernick in our April 1 issue – and on this website.