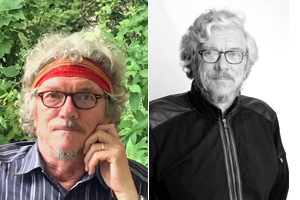 By GERRY POSNER
Recently the book "Healing Lives, a Century of Manitoba Jewish Physicians" was published and in it are the names of all Jewish physicians who practiced medicine in Manitoba for at least five years over the past 100 years. What is not included, however, are those doctors who graduated from the University of Manitoba medical school who went elsewhere to practice their profession. One of those doctors is none other than a descendant of a longtime Winnipeg family who has made his mark in the medical world: Philip Berger.
The Berger family is right up there with the other Jewish families in Manitoba who have turned out doctors, the way the Howes have turned out hockey players. The names of Dr. Maurice and Saul (Shimmy ) Berger are recognizable to anyone with a passing interest in the medical community. Maurice Berger was a respected pediatrician practicing in the north end of Winnipeg for over 40 years. His brother Shimmy was a very well known and established dermatologist who practiced out of the Boyd Building for over 38 years. Shimmy's daughter Lisa is a public health physician in Toronto and his son Shmuel, who lives in Tel Aviv, worked for many years doing emergency medicine locums in Northern Ontario each summer. And then there is son Philip. He is more than just a physician, as he has carved out a niche and a name as a family doctor who is involved in what might be termed human rights medicine.
For over 40 years, Philip Berger has been a leader in advocating for improving health care in Canada; at times he has done this against a stiff tide. Just take a look at his career and it speaks volumes about his commitment to changing the way medicine is delivered.
For starters, Berger has been an Associate Professor at the University of Toronto and was the Chief of the Department of Family and Community Medicine at St. Michael's Hospital in Toronto from 1997-2013 (an interesting position for a Jewish guy at a Catholic institution).
Consider the people for whom he has fought and you will note that they are far from your ordinary patient base. The homeless, the poor, LGBTQ members are just a few of the groups for whom Berger has battled – and let's not forget his tireless work AIDS patients.
Berger really went to bat for AIDS sufferers at a time when many doctors were afraid to deal with them. He was a founder of the Toronto HIV Primary Care Physicians Group and he later helped to create a mentoring program to educate doctors about HIV.
Probably the area where he became most visible in the public eye was his tireless effort to convince governments of the value of methadone and needle exchange programs.
As well, he was very active in promoting the AIDS clinic in Lesotho, Africa. He also helped to initiate the Amnesty International Canadian Medical Network and the Canadian Centre for Victims of Torture.
What separates Berger from most doctors is that he has been relentlessly unafraid to call out governments for cuts to refugee health programs. He has spoken out in his capacity as one of the co-founders of Canadian Doctors for Refugee Care. In short, Berger is not afraid to take out his stethoscope and stick it right in the chests of elected officials.
What made the 1974 graduate of the medical faculty of the University of Manitoba become such an outspoken advocate for the disadvantaged and disabled? This is not an easy question to answer. I sense there are many aspects to the triggers that have made Philip Berger the passionate physician he is on behalf of those who have difficulty raising their voices.
It may well be that Philip understood well the lessons his father Shimmy had absorbed as a young man trying to secure a medical position in 1943. At that time, Shimmy couldn't secure an internship anywhere in Canada. A quota imposed on Jewish physicians was in place. It was an intervention by the female head of the Estevan Sisters of St. Joseph, a Catholic institution, that paved the way for Shimmy to get his internship at St. Michael's Hospital in Toronto. That kind of assistance meant a lot to Shimmy Berger and perhaps in some way even influenced his son, Philip to embark on a path to aid those who needed aid in whatever way Philip could.
In 2017 Philip Berger gave up his regular practice, which was located at St. Michael's Hospital. (Maybe his connection to that hospital was not so surprising after all). Since then, Berger has been doing locums in various shelters/hostels under the banner of Inner City Health Associates ( ICHA), which is a group of 90 doctors who serve homeless people (and there is no lack of that group in Toronto). Philip even serves as the Board Chair for ICHA. Moreover, Philip is today a Vice-Chair of what is known as Unity Health (formerly St. Michael's Hospital) Research Ethics Board. And, if there isn't enough on his plate already, he is completing his term as a Council Member of the College of Physicians and Surgeons of Ontario.
When I reflected on all of Philip Berger's contributions as a physician, I lamented the decision (which I understand had to be made, otherwise the history of Jewish physicians in Manitoba might never have been completed) not to include in that book anything about Jewish doctors of Manitoba who had not practiced in Manitoba for at least five years. That decision eliminated any reference to the career of Philip Berger. The book, as I noted earlier, is called "Healing Lives" and that is what Philip Berger has done all his life as a doctor in Toronto.
Post script: In a follow-up to an earlier article I wrote about Dr. Richard Stall, in which I mentioned that Dr. Isaac Bogoch (who's also become a prominent media personality as a go-to source for information about COVID-19), also has a Winnipeg connection, I promised that I would have something about Dr. Bogoch in a future article. Well, as you can imagine, he's currently besieged with requests from all sorts of media, so we haven't been able to interview him – yet. But, in response to readers' curiosity about Dr. Bogoch's Winnipeg connection, here's some information about his Winnipeg roots: His mother is a former Winnipegger who knows both my wife and me. In fact she has been in touch with us lately. She tells me he is overwhelmed with emails in addition to all the demands that have been placed on his time as a result of his new very public persona. In fact, Isaac is from Calgary, but his mother is the former Renee Israels, sister to Hester Kroft, and daughter of the well known lawyer, A. Montague ( Monty) Israels. And – he has a long connections to BB Camp.