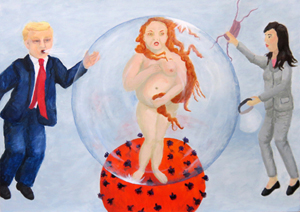 By SUSAN TURNER
ARTA coordinator, participant, designer
ROUNDNESS, an ARTA project, is an on-line exhibition of work by 24 artists in response to issues around the 2020 COVID-19 pandemic. The exhibition is located on YUMPU.com, a Swiss-based site at which on-line magazines can be created.
https://www.yumpu.com/en/document/view/63697012/roundness-arta-project-artists-respond-to-covid-19-pandemic
In the late winter of 2020, as anxiety about the COVID-19 pandemic was seeping into every aspect of life and as many of us were feeling the effects of ongoing isolation, the idea came about to create a collaborative project to connect artists with one another. A collaboration opens up avenues for enriched contact with others and, in this case, for sharing ideas about the critical issues of the pandemic and about the societal ills that it has released. We hoped to make connections through our work, through our ideas about what was happening, and through the varied approaches each of us would take in our work. The most important feature of the project is to share our work with the public. ROUNDNESS was published on Yumpu, July 21, and the response has been gratifying. To date over 1500 visits have been made to our exhibition.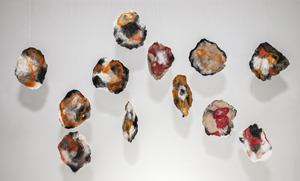 In March, an open, unrestricted call was put out on Facebook inviting artists to join in considering the concept of 'roundness'. Because of the universal, unrelenting nature of the pandemic, not only Manitoba artists but any artist who wanted to participate was welcome. The artists were asked to make one piece and could work in any medium and size, because the images of their work were going to be exhibited on-line only.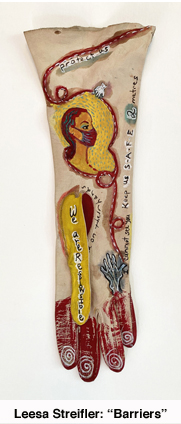 By early April, over 20 accomplished artists had taken up the invitation to participate, some with numerous exhibitions, awards, and achievements, some at mid-career, and a few just starting out. There are printmakers, film-editors, photographers, sculptors, painters, professors of art, fabric artists, and ceramists involved.
Included are: Manitoba artists C. Graham Asmundson, Colette Balcaen, Leona Brown, Connie Chappel, Cliff Eyland (d.), John Gurdebeke, Gilles Hebert, Nora Kobrinsky, Sacha Kopelow, Alan Lacovetsky, Link Phillips, Judith Stevens, Leesa Streifler, Susan Turner, and Calvin Yarush. Also participating are: Canadian artists Susan Gold (Windsor), Rafael Goldchain (Toronto), Philippa Johnson (Kenora,) Jillian McDonald (New York), Mark Nisenholt (Thunder Bay), and Michelle Zacharias (Saitama City, Japan); and US artists Berit Engen (Chicago), Carol Philips (Philadelphia), and Cynthia Beth Rubin (New Haven).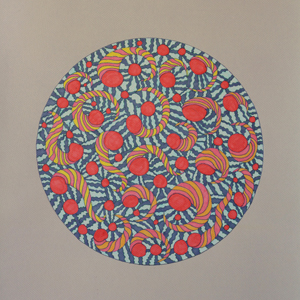 ARTA is an ever changing and informal collective, developed in 2017, through which Manitoba artists are invited to respond to specific concepts. Prior projects include 'bookmark' (2017) and 'illumination' (2018), both of which involved 15 artists and were exchanges of small works, and 'space/éspace' (2019), which was a curated exhibition of work by six artists that showed at La Masion des artistes visuels francophones, St. Boniface and at Wasagaming Community Arts, Riding Mountain.
ROUNDNESS was supported by a 'Connecting at a Distance' micro-grant from the Manitoba Arts Council.