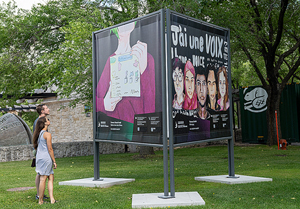 By MYRON LOVE
The Canadian Museum for Human Rights' current outdoor exhibit – "ARTiculate Our Rights" – celebrating Manitoba's150th anniversary as a province, was inspired by a similar longstanding project called "Embracing Our Differences" in Sarasota, Florida.
For the past several years, Winnipeg community leader Larry Vickar and his wife, Tova, have been spending the winters in Sarasota. "I thought that ""Embracing Our Differences" would be a wonderful model for our own CMHR to emulate and approached senior management," Vickar says.
The Sarasota exhibit, notes Vickar, is modeled after "Coexistence", a traveling group of giant panels which was created almost 20 years ago by the Museum on the Seam in Jerusalem to promote peace and understanding in the world. The exhibit on display now at the CMHR has 54 images – created by 42 artists from 18 countries. The exhibit has – thus far – been displayed in 30 cities – with 44 images on view at each venue. Each visual image is accompanied by a text panel in four languages, with quotes from leading thinkers, philosophers, writers and artists.
The traveling exhibit inspired the city of Sarasota in southern Florida to create its own exhibit – "Embracing Our Differences". "When the Florida Holocaust Museum was first approached to consider bringing a one-time traveling art exhibit to town, few could anticipate the lasting impact it would have," notes the project's executive director, Sarah Wertheimer, on the "Embracing Our Differences" website. "The community's embrace of 'Coexistence' led to the formation of a board tasked with creating Sarasota's own juried exhibit featuring diversity-focused artwork from around the world."
(Wertheimer was formerly the director of development for the Jewish Federation of Sarasota-Manatee.)
The display debuted in the community in 2005 and runs yearly from mid-January until early April at Bayfront Park. Again – from the web page: "Thousands of people every year answer the call to create art that celebrates the values of diversity, inclusion and respect."
"ARTiculate Our Rights" took a year to plan and launch. The CMHR project differs from "Embracing Our Differences" in that the focus here has been entirely on submissions by young people, whereas the Sarasota exhibit encourages amateur and professional artists, as well as students, to submit pieces.
"We asked students to envision where they foresee human rights in another 150 years," say Helen Delacretaz, the CMHR's Director, Exhibitions. "We invited young people aged 13 to 18 to submit artwork for consideration. We received 116 submissions representing a number of different themes."
A panel of six jury members selected more than 100 diverse works to be displayed in two phases. The first phase of this exhibition opened at The Forks on July 15 with art by 26 youths presented on 13 large installations, which will be on display outside throughout the Forks until the end of October.
"We hope that by placing the panels outside, the exhibition will allow people to engage with these incredible works of art without having to come to an indoor public space, which they might not feel comfortable doing during the pandemic," Delacretaz notes. "To ensure accessibility for visitors of all abilities, people can use their mobile devices to retrieve text to speech and visual descriptions from QR codes at each installation."
A second phase of the exhibition is planned for 2021 in the Museum's Level 6 Expressions gallery.
Delacretaz adds that the hope is that eventually the exhibit will tour across Canada.