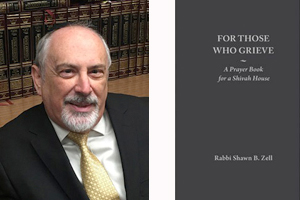 By MYRON LOVE Rabbi Shawn Zell has penned a new siddur which, he hopes, will make for easier reading as well as refreshing the ritual with some inspirational readings which he has composed for those in mourning.
In his introduction to "For Those Who Grieve", he notes that "one of the greatest frustrations when it comes to a shivah house, is that, all too often, the atmosphere leaves much to desired" – with people telling jokes, catching up on gossip and generally avoiding the subject of death and dying rather than "sharing words of comfort and reflection and anecdotes and recollections of the deceased."
"For Those Who Grieve", he says, aims to replace "tired and worn" readings in current shivah books with Zells' compositions which, he hopes, gives readers "new food for thought" that may "serve as a source of comfort to the bereaved and render the atmosphere of the shivah house more meaningful.
"I paid careful attention in making sure that my compositions aren't excessively lugubrious or maudlin," he comments.
Zell's "For Those Who Grieve" begins with "This Shivah Candle", a poem by the rabbi intending to provide some awareness of the meaning of the candle one is about to light in memory of the deceased.
What follows is the regular mincha/maariv service. After the traditional service, there are several other poems by Zell – in English – focusing on remembrance. The book concludes with a poem to be said when rising from shivah and another when visiting the grave and putting a stone on the memorial headstone.
Zell, who is currently the spiritual leader of Congregation Tiferet Israel in Dallas, grew up in Winnipeg. The son of the late Ida and Phil Zell was initially ordained as a Conservative Rabbi in the mid-1980s. He served in pulpits in that capacity in Sioux City, Iowa, and Clark, New Jersey. In 2004-2006, while between congregations, he received his Orthodox smicha.
"For Those Who Grieve" is his third book. His first book, "The Right Word", which he wrote 14 years ago, was a practical guide on what to say when visiting a mourner. Four years ago, he published "Passover Points to Ponder", which dissects the Pesach seder from beginning to end and poses many interesting questions.
There were any number of starts and stops to his new publication, he notes. "It was not a focused concerted effort until the selections began to take shape."
His latest work has already received some positive feedback. He reports that he sent a copy of "Too Brief a Period of Time", one of the selections in the book to the widow of a cousin in California who succumbed to Covid in December at the age of 57.
"She copied it onto the handout for the funeral service," he reports.
Then there was the response from a woman in South Carolina who wrote to him that "the whole last section from page 76-84 did me in and I had a proper cry. Yasher Koach, Rabbi, as this will bring comfort and strength to all who read it, during the mourning week and well after. It did for me."
"Most people did not expect anything other than the lachrymose, sentimental readings that depict ideal relationships between the deceased and the mourner," he comments. 'For Those Who Grieve' deals with life as it is."
The book is available through Amazon.