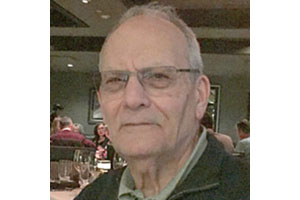 By GERRY POSNER I've been writing a lot about Jewish psychiatrists of late (you can call me out for that), but the Jews of Winnipeg have also been a force in Neurology. It is just that not many people know it. One such luminary is Winnipeg born and bred neurologist, Dr. Keith Meloff, now of Toronto.
Meloff, a product of East Kildonan and both the north and south ends of Winnipeg, son of Jack and Ada Meloff, and brother to Leslie Meloff Levant, now of Calgary, was in fact connected to the Max Nathanson family in that he was a godson to them arising out of his mother's employment at Nathanson's business, Quality Bed and Spring, as office manager, bookkeeper and general do it all person. When he was four, his family moved from E. Kildonan to Lansdowne Avenue. Keith attended The Peretz Shul, Luxton, St. John's High School and then in Grade 11, his family moved south to Campbell Street and he finished his schooling at Kelvin High School.
Meloff had an illustrious group of friends whose names many readers will recognize as in: Sam Sarbit, Ken Goldstein, Raymond Kives, Gerry Schwartz, Howard Book, Norm Frolich, David Klass, Marshall Rothstein (later Mr. Justice Rothstein of the Supreme Court of Canada), Brent Schachter, Arthur Sheps, Baillie Klass, Phillip Olin, Annette Finkel and many others. At Kelvin, Meloff pulled his grades up and after three years at the University of Manitoba, he was accepted into the Faculty of Medicine in 1961.
Meloff admits he lacked the work ethic and maturity for the rigours of a dense curriculum and he was required to repeat his first year of Medicine. (Does repeating a grade ever happen anymore?) Yet, in 1966 Meloff graduated with an MD (Honours). Meloff says he benefited from the influence of Drs. Sidney Israels, Harry Medovy, Martin Brotman, Reuben Cherniack, Arnold Naimark, Alvin Zipursky and Lyonel Israels.
Meloff moved to the Twin Cities from 1966-1972, where he trained in Pediatrics, Adult and Child Neurology at, what he says, were the best programs in the USA. In this respect he owes an enormous debt of gratitude to the superb education and remarkable generosity of the University of Minnesota. Meloff's course study was an unusual combination of pursuits that allowed him to succeed in the difficult specialty examinations in both Pediatrics and Neurology for the Royal College of Physicians and later, to pass his oral exams again in both disciplines. Meloff then practiced both pediatric and adult neurology in Toronto, Miami, all of Northern Ontario, New Jersey and London, Ontario. He calls himself a medical dilettante plus a workaholic. If you read his work history, you get a glimpse of the breadth and depth of Keith's career.
His resumé is long and varied. He is, for starters, a Fellow of the Royal College of Physicians of Canada in both Pediatrics and Neurology. Just his professional experience from 1992 to the present is staggering. From 1992- 95, Keith was the Associate Medical Director to Ciba-Geigy (Novartis) and, in 1994, was also a consultant to Medtronic. From 1996-98, he served as a Medical Advisor and Director of Glaxo Canada (a name in the news these days). From 1999-2002 Meloff was the Medical Director and Chief Medical Officer of Wyeth Canada. Later, he was also a consultant to Sanofi Canada – now known as Aurinia.
In short, Meloff has had his hand in many medical companies. From 2003-4, Meloff was the Consultant Neurologist to the MS Clinic at the Baycrest Centre in Toronto. Moreover, from 2008-19, he was a Peer Assessor to the College of Physicians and Surgeons of Ontario in both Pediatric and Adult Neurology. On top of all of this, Meloff has had considerable experience in medical administration, having served as the Medical Director of Easter Seals in Toronto, President of the Medical Staff at Holland-Bloorview Hospital, Director of Pediatric and Adolescent Medicine for the Grant Centre Hospital in Miami, and as Professor and Director of Pediatric Neurology at the New Jersey Neuroscience Institute in Edison, New Jersey. The list goes on, but you get the gist of Meloff's career. And, Meloff is still very active as he closes in on his 80th birthday next year. He remains a consultant Neurologist to the University Health Network in Toronto, also a Medical Advisor in Neurology for the Ministry of Transportation Ontario.
With all of this work history, Meloff, husband to Suzette, father to son Richard. and grandfather to three grandkids, is a big fan of the Jewish Foundation of Manitoba. He also remains close to his roots, hoping to celebrate the 55th reunion of his medical class later this year, hopefully in Winnipeg. His memories of his years in Winnipeg are very strong, his ties to the community very meaningful, and he recalls with great fondness all of his Winnipeg pals. His past relationships, combined with a very deep work ethic, have given Dr. Keith Meloff a remarkable career.