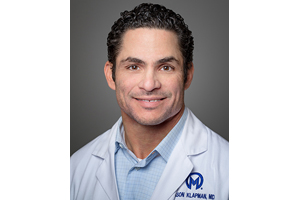 By GERRY POSNER It started in Winnipeg on August 17, 1934 when a young 23-year-old man named Meyer Klapman married a young 22-year-old woman named Gladys Wiseman. At that time, the young Klapman was a tailor operator. From that union came a story no doubt familiar to many readers and yet, with its own unique character.
Meyer Klapman went on to run and own a company that is still a force in Winnipeg, although not within the Klapman family any longer. The name Peerless Garments would not be foreign to the readers of The Jewish Post & News. The fact is that among the many achievements of Peerless, all under the control of Meyer Klapman, was the design and development of the first coat sets delivered to the Canadian military, beginning in 1950 right through 1974. Son Barry Klapman, a lawyer by profession, was also involved in the business. With all of this as background, one has to wonder how it came to pass that grandson Jason Klapman, son of Barry, ended up as one of America's top gastroenterologists -which he is. On the face of it, the only thing that might be considered a connection between Meyer in his garment business and grandson Jason in his internal medicine profession is that one took care of protecting the outside of the stomach and the other takes care of the inside of the stomach. I suggest, however, the link between the two of them is deeper than that broad interpretation.
Delve a little deeper into Jason's past and you see a guy as dedicated to his field of medicine as Meyer was to his business. Jason was born and raised in Winnipeg until age six, at which time his parents divorced and he moved to Calgary with his mother (the former Janice Stern). As he got older and attended B'nai Brith Camp in Alberta, he met two Winnipeg campers: Avi Gesser and Matt Golden, with whom he became very good friends. Later, he moved to live in Winnipeg and went to Joseph Wolinsky Collegiate for grades 11 and 12. It was there he became friends with Jason Guralnick, Danny Stoller, the late Samuel Gorenstein and indeed my son, Ari Posner. Those friends, along with Avi and Matt, are still, to this day, part of a core group who are bound up with one another very closely – a definite Winnipeg thing.
Upon graduating from high school, Klapman went to the U of M… only in this case, it was the University of Minnesota – where he obtained a B.Sc. in Biology in 1996. His postgraduate training included medical school in Chicago, followed by stints in Internal Medicine at Rush Presbyterian St. Luke's Medical Center in Chicago, a gastroenterology fellowship at the University of Chicago, and later advanced endoscopy training at the University of California Irvine Medical Center, in Orange County. To be sure, Klapman was well schooled. And, he has had many academic appointments along the way, ranging from a clinical instructorship to Professor of Medicine at the Moffitt Cancer Center at the University of South Florida, a lecturer to medical students on clinical diagnosis and gastrointestinal tumors, acting as a teacher and mentor to first year USF vista year medical students, and to this day as a Preceptor for these freshie medical students in a GI clinic. He has, you could say, done his time at the university level. And, to the present he continues to monitor several advanced Endoscopy Fellows, which he has done since 2007.
If you were to read the Curriculum Vitae for Jason Klapman M.D. FASGE, AGAF, you might well not finish it. I will cut it to the quick. He has been involved in the gastroenterology field for over 20 years. Over that time, Jason has written about, advised, consulted, taught, and published in this area of medicine. He has been honoured many times and is recognized as one of the leading gastroenterologists in the USA. He has more experience with Pancreatic Disease than most specialists in this area. He is presently affiliated with the Moffitt Cancer Center (American spelling) and has been so affiliated for 17 years now in one of the biggest cancer hospitals in the USA.
After a careful review of Jason's career, I was struck by this question: What was it that drove Jason so much and in particular, what took him to this field of medicine – where the news he has to deliver is often a grim one? He says that he was attracted to science initially, that interest pushed him into medicine, and later into the field of internal medicine with his specialty in Gastroenterology. He admits that a part of his work, meeting with cancer patients, often having to deliver the news of a diagnosis of Pancreatic Cancer, is one of the most difficult and challenging aspects of his day. This is not something that many doctors are cut out to do irrespective of how good they might be in their respective area.
Jason does not get back to Winnipeg much these days, although he still has cousins here. Between his busy career and his role as a husband of 21 years and the father to two children, ages 14 and 11, he is very well occupied. And yet, Jason, who still has fond memories of his years in Winnipeg, maintains close relationships with his Winnipeg buddies (whether in Winnipeg or not) to this day. Of course, he has his grandfather, the late Meyer Klapman, to thank for giving him a tender push. It seems to me that both Meyer and Jason each had a very special kind of drive that made it possible for each of them to succeed: From the leader of Peerless to the leader of peers.