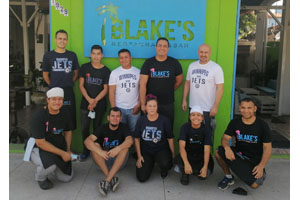 By MYRON LOVE Talking to Megan Kravetsky last week reminded me of the line from that once popular song "There you are down in Mexico, living free as the air. Here I am stuck in the city, not going anywhere".
Three years ago, the veteran chef and restaurant consultant came across a deal she couldn't refuse when she took advantage of an opportunity to buy Blake's Restaurant and Bar, an established operation in Puerto Vallarta. Megan is now happily living year round in Mexico.
Now, in truth, the former River Heights kid (Brock Corydon and Grant Park) was no stranger to the Mexican resort community. She notes that her parents, Charles (whose mother is Jo-anneField) and Vivian Kravetsky, are long time seasonal residents of the city – spending six months a year there and six months in Winnipeg – and she had visited many times over the years.
"It was perfect timing," she says of her move to Puerto Vallarta.
"The first year was tough," she adds. "My Spanish was limited – which made it sometimes difficult to communicate with my staff. Now I am fluent."
Kravetsky notes that her original career goal was to become a lawyer. "After five years of university (the University of Manitoba), I realized that was not what I wanted to do," she recalls.
Instead, she earned a business degree in management and marketing and went to work in the restaurant industry. She had worked in the restaurant trade part time throughout university. Over the next 15 years, Kravetsky worked successively for the McDonalds chain, Moxie's, the Olive Garden and Montana Steak House.
Blake's Restaurant and Bar, she reports, opened for business in 2006 as a casual dining establishment. The new owner changed the place to a sports bar and restaurant with a new menu. "We offer a choice of Canadian, American and Italian options as well as Mexican food," she says. "We are also a barbecue house. We smoke all our meats and everything we make we produce in-store from fresh ingredients."
Under Kravetsky's management, the bar offers an eclectic mix of live music six days a week.
Also, for loyal Winnipeg Jets and Bomber fan, she adds, the bar telecasts – in addition to NFL games – all Winnipeg games and – on Jets game day – staff wear their Jets jerseys. Blake's also televises Saskatchewan RoughRiders games.
"On Jets and Bomber game days, visiting Winnipeggers fill the bar – and the same goes for RoughRiders fans for Saskatchewan games," she says.
Kravetsky reports that she employs 25 waiters and kitchen staff.
And, last spring, she moved Blake's to a new location and doubled its size so that the restaurant and bar can now seat 300.
She points out that Blake's is one of the biggest restaurants in the northern neighbourhoods of Puerto Vallarta. "We would be facing a lot more competition if were located downtown," she points out. "Where we are, no one else offers what we do."
She observes that the 160-year-old city's people are very friendly. The place isn't as Americanized as some of the other popular Mexican resort spots.
"Our customers are a good mix of locals and tourists," she says.
The tourists, she notes, including a great many Winnipeg snowbirds, will begin arriving in the next couple of weeks.
Due to Covid, Blake's was shut down from March to September of last year. That proved to be fortuitous for Kravetsky as she was pregnant with her first child during that time. She thinks she may return to her home town maybe next August to introduce her now-16-month-old daughter, Syanna Rose, to her extended family and perhaps take her to shul for her official baby-naming celebration.
She is also looking forward to her daughter learning Hebrew.
She reports that there is a small Jewish community in Puerto Vallarta – consisting of both Mexican-born Jews and expatriates – plus an Orthodox Synagogue – and a Lubavitch Centre.
Kravetsky further invites any readers who are planning on visiting Puerto Vallarta this winter to drop into Blake's Restaurant and Bar – on Avenue Francisco Medina Ascencio (which is the main road that runs through the hotel zone between the airport and downtown) – say hello, and try out the menu.