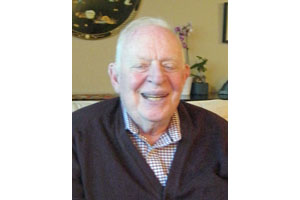 By MYRON LOVE As Lyle Smordin tells it, when he was eight or nine years old, his mother Ida decided that he should learn to play the violin.
"At that time," he recalls, "most Jewish mothers wanted their children to become musicians."
So she took him to the old Peretz School on Aberdeen and Salter (where he was a student) and had him audition for Yasha Reznitsky, who was then head of the Winnipeg Jewish Orchestra. Reznitsky's verdict was that a violinist the young Lyle was not going to be.
So his mother turned – you might say – to Plan B. She enrolled him in elocution lessons. With that foundation – including earning a designation as an Associate of the Royal Conservatory of Toronto when he was 15 – the now retired lawyer (as of 2018) and community leader has enjoyed a long and fulfilling side career in broadcasting – and, after more than 60 years since his first radio broadcast, he can still be heard on air weekly on Nostalgia Radio 93.7 CJNU, spinning golden oldies.
Smordin's broadcasting career began in Saskatoon when he was 19. Although, he notes, he grew up in Winnipeg, in 1952, when he was 15, his father Harvey became manager of a garment factory in Saskatoon and the family moved to Saskatchewan's largest city.
Smordin's entry into the broadcasting field would seem to have been almost effortless. This was the 1950s when the medium was still relatively new and much easier to break into for someone with an eloquent voice.
"I had been involved with the campus radio station in Saskatoon," he recounts. "At 19, I decided to take a year away from university. Since I had now had some radio experience, I contacted CKOM in Saskatoon and asked if I could audition. I was hired almost immediately."
The next year (1959), back at school, he saw a CBC Regina ad for a summer position as an announcer. Once again, he phoned for an audition and was promptly hired.
The next year, he decided to move back to Winnipeg. (His parents, and younger brother Don moved back in 1965.) "I still had a lot of relatives (including his grandparents) and friends in Winnipeg and used to visit over the summers and Christmas holidays," he notes. "I had also met Evita (Phomin, who was to become his wife) and we were serious about each other."
Naturally, having worked for CBC in Regina, he successfully applied to CBC Radio in Winnipeg to work for the station for the summer.
That fall (November, 1960) though, he had the opportunity to become part of Winnipeg television history. He was hired as part of the first on-air team at CTV – Winnipeg's new second English-language channel – working alongside such well-known personalities (at the time) as Al Johnson, Ray Torgrud, Bob Burns and the immortal sportscaster, Cactus Jack Wells.
"I worked for CTV for 18 months and had a great time," he says. I did a little of everything – announcing, commercials and a lot of sports coverage, including Grey Cup games."
After 18 months though, he decided that broadcasting was not what he wanted to do full time for the rest of his life. "I thought maybe I would try law school," he recalls.
Smordin continued to work part time and over the holiday periods on air while attending law school and later articling. He was called to the Bar in 1965 and, for a time, put broadcasting on the back burner.
In a legal career that spanned 53 years – 20 of which he spent in partnership with Brian Pauls – he specialized in wrongful dismissal suits. He is a past president of the Manitoba Bar Association, as well as having served on the Mental Health Review Board, Chair of the Canada Pension Plan Tribunal and as an adjudicator for Human Rights Code cases. (He served as an administrative adjudicator in cases across the country for a number of years.) He also served as president of the Better Business Bureau and acted as the BBB's counsel.
He also participated in numerous yearly Manitoba Bar Association fundraising theatrical productions – including playing the lead in "Inherit the Wind". "I have always loved theatre," he says. "In my younger days, I was on stage at the Hollow Mug and MTC."
In the Jewish community, he is a past president of B'nai Brith Canada and served on the international board as vice-president.
Throughout the years of legal practice though, he kept returning from time to time to broadcasting. In the 1970s, he hosted an open-line TV show for Global TV based on legal issues.
"We started with four episodes, than were expanded to a year," he recalls. "Overall, the show ran for ten years. For each episode, I would invite guest lawyers to join me. People would phone in with questions and those I couldn't answer I would refer to my guests. It was a lot of fun."
For the past 20 years, he notes, he has been doing retro radio. "For a time," he recalls, "Jack Wells, Cliff Gardner and I operated our own radio station (CKJS, which hosts the Jewish radio hour Sundays). I would squeeze one or two shifts a week in hosting the morning program as well as occasionally hosting the weekly Jewish hour ."
The partners eventually sold the station but Smordin is still in some demand. The man with the golden chords invites readers who enjoy the music that CJNU offers to join him Tuesday afternoons from 3:30 to 6:00 while he spins your favourite music from years gone by.