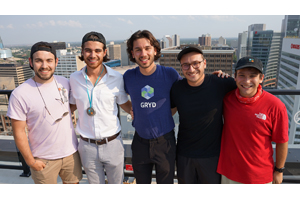 By BERNIE BELLAN Three years ago I wrote a story about a start-up tech company called Gryd.
One of the subjects of that story was a young entrepreneur by the name of Josh Glow, who was 22 at the time. Back in 2018 Gryd had developed a novel way for property managers to market units in their properties to would-be renters, using the latest in virtual reality technology. What Gryd allowed prospective tenants to do was to experience a 3D tour of any available rental unit – no matter where the viewer was situated.
Josh Glow has continued to build on his success with Gryd, expanding into another exciting start-up venture, this time going by the name GrydPark. Recently, I chatted with Josh and one of his other partners in GrydPark, Noah Gall, as they explained what their new business is all about.
Again, using state-of-the-art technology, GrydPark will allow anyone who might be thinking of taking a car somewhere where parking spots are not readily available, and with a few quick steps on their smartphone, finding a parking spot that will be available at a specific time for a period of time that the driver would like – and at a good price.
In a press release issued by the makers of GrydPark, it was noted that GrydPark "matches drivers searching for parking with unused spots in privately owned parking lots."
In speaking with Josh and Noah, the two young men explained that the impetus for their novel idea came from wanting "to do something for the environment that would benefit our clients and the community at large."
What the team behind GrydPark has done is contact property managers in certain cities in which GrydPark is now available (GrydPark is currently available in Winnipeg, with plans to expand across Canada in the coming years) and ask those managers to list all parking spots in above ground parking lots under their management that might be available for anyone to rent.
"There are plenty of empty parking lots in cities everywhere," Josh Glow explained. As a matter of fact, he said that there are "eight parking spots in parking lots for every car in North America."
Of course, the problem is finding a parking spot when you need one. What GrydPark has done is ask property managers to create an inventory of all the parking spots they might have available for rent, and at what hours of the day they could be available.
"We're bringing excess parking spots to the public," Noah Gall explains. In many instances, parking spots say they're reserved when in actual fact the property manager who has control of those spots doesn't need to keep them reserved, but if you dare park in one of those lots, even if you think it's safe to do so, you risk having your car towed.
Here's how it would work in practice: Once you download the easy-to-install GrydPark app (which is free to download) and create an account with information about your car and preferred method of payment, you can "enter an address, business name, or local landmark to secure the perfect parking spot for today or for an upcoming trip." You are also able to enter for how long you need a spot.
After entering the information the app quickly produces a map of possible parking lots, along with the rental rate for the time required. If a particular parking lot is acceptable, once you have accepted that lot you can go park there so long as your plate matches the plate you've entered in your GrydPark account. Also, if you need to extend your parking time you can do that from within the app.
Using parking for a Jets game as an example (not that I go to Jets games), I entered information for a particular upcoming game and immediately obtained several options where to park. One that came up was on Cumberland, only two blocks away from the Canada Life Centre. The rate for four hours of parking was only $5 for four hours – well below the usual parking rates in other nearby lots that would be in the $25 range.
Josh Glow noted, as well, that GrydPark maintains a good inventory of above ground parking spots in areas where finding parking spots can be particularly difficult, such as hospitals and universities.
I asked him about areas like Osborne Village, where finding an overnight parking spot can often be a real challenge for residents of the area. Josh said that GrydPark can help you find an overnight spot there too.
 As well, you can book a parking spot up to one month in advance and you can book spots for an hour, a day, or for a month, if spots are available for that long.
With GrydPark's head office located in Winnipeg, it made sense for Winnipeg to be the first city in which GrydPark became available. Josh and Noah did say that for the 25 employees of the firm, most of whom are located in Winnipeg, being able to offer the service in their home town is something which makes them quite happy.
One other aspect of GrydPark that readers of this paper might find especially interesting is that five members of the GrydPark team are Jewish. Now, if those five could only introduce their app in Israel, where anyone who has ever tried to find a parking spot in an urban setting there knows what a nightmare that can be, then they'll really have performed a huge service to Israeli motorists. (See the accompanying piece by former Winnipegger Bruce Brown about how dreadful an experience trying to find a parking spot in Israel can be for a fuller explanation of what I'm talking about.)