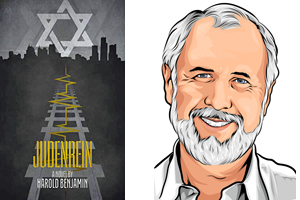 "Judenrein"
By "Harold Benjamin"
Self-published in 2020, but available on Amazon in either e-book or hard copy format.
Reviewed by BERNIE BELLAN
A while back I received an email from someone named "Harold Benjamin" (which, it turned out, was a pseudonym).
In that email Mr. Benjamin told me that he had written a book titled "Judenrein".
The title immediately grabbed my attention as I knew it referred to the German term coined by the Nazis meaning "Jew free". Here's a brief description of the book's plot, as given on Amazon:
"Zack Gurevitz has had a checkered past. A Yeshiva boy, turned Green Beret, turned junkie, excommunicated by his one-time faith and now the potential savior of people he doesn't even like.

"As a white supremacist movement stealthily takes the reins of power in America, it is again the Jews who are made out as scapegoats. Stripped of wealth and citizenship, they are made to live in 21st century ghettos that hark back to a sinister and murky past that many had thought would never return.

"But things are about to get much worse. With the revealing of a planned terror attack that will place the blame firmly at Jewish feet and condemn millions to death, Zack is contacted by Jewish leaders in Detroit, begging for his help. 

"Reluctantly he agrees and before long he is mired in a conspiracy that will have far reaching consequences for his country, the Jewish population and even his own sanity.

"As the clock ticks down, can Zack find a way to avert a looming disaster? Who is behind the conspiracy? And can he really trust anyone?"
Earlier this year a four-part television series based on a Phillip Roth novel titled "The Plot Against America" was aired on HBO (and can still be seen either on Shaw or MTS TV. That show speculates about what might have happened had the anti-Semite Charles Lindbergh become president of the United State in 1940.
We are living in turbulent times and, although it is hard to say definitively whether anti-Semitism is now as great a concern for Jews more than any other time since the Holocaust, there have been many indicators of late that it should be, although I'm going to add the proviso that I refuse to accept that's the case in Winnipeg.
I have deliberately avoided stoking the fears of readers of this paper unnecessarily by printing a large number of the stories that we receive via email almost daily which, if we printed them all, would no doubt lead anyone to conclude that Jews are under fierce attack almost everywhere. Yes, in certain areas of North America, especially where Orthodox Jews live in large numbers in specific neighbourhoods, it is becoming increasingly dangerous for Jews, but I would argue that simply isn't the case here in Winnipeg – much as certain individuals would love to scare us into thinking anti-Semitism is rampant in this city.
Notwithstanding my reluctance to succumb to the notion that Jews everywhere are under attack, when the author of "Judenrein" asked me whether I might like him to send me a copy of his self-published book, I thought to myself: "Why not? It might be worth taking a look."
I admit I was somewhat hesitant, however, to plunge into the book – not because I was shying away from the subject matter, but simply because we've had quite a few self-published books sent our way and, quite frankly, almost all of them should have been edited by a professional editor.
Now, "Judenrein" certainly falls into the category of books that should have been more carefully edited, but when it comes to a riveting plot – well, I just couldn't stop reading this book. I don't know anything about Harold Benjamin beyond what he sent me when I asked him to write a brief autobiographical blurb. Here's what he wrote:
"Here's a little bio: Harold Benjamin is the pen name of a 50-something Jewish writer who lives in the American midwest (sic. "midwest" should be capitalized). Most of his professional work involves corporate copywriting. He grew up in the suburbs of New York city (sic. "city" should be capitalized.) and was educated on the east coast (sic. "east coast" should be capitalized.) He's of Latvian, Polish and Lithuanian descent. All four of his grandparents were born outside of the US, three of them in the 19th century."
As you can see by my use of the term "sic.", just within the short blurb that Benjamin sent me, his writing could use some careful editing. If you're a stickler for grammar, capitalization, also, to a certain extent -syntax as well, "Judenrein" can be a little annoying. (Why don't self-publishing authors send their books to someone to correct those sorts of mistakes I always wonder after I've read a book that should have been thoroughly edited.)
Yet, don't let my somewhat petty criticism on this point deter you in the least from considering buying this book. It's a spellbinder of the first order.
I should also mention that last year I was introduced to the writing of Daniel Silva at one of the sessions of the book club this paper sponsors jointly with the Rady JCC. I should be somewhat embarrassed to admit that I hadn't heard of Daniel Silva prior to that particular meeting of the book club but, wow – I'm hooked on his books now. By the way, in case you're also wondering who Silva is, he's probably the world's foremost spy thriller writer right now – having written 19 novels, with an Israeli spy named Gabriel Allon as his recurrent hero.
To return to "Judenrein" – as explained in the blurb I quoted, the story revolves around a plot to put the Jewish population in America into ghettos – and eventually expel them.
It's not too hard to imagine a right-wing conspiracy of that sort actually being planned these days, given the level of anti-Semitic discourse so prevalent on the internet. What "Judenrein" successfully posits moreover, is how a conspiracy of that insidious sort could be successfully translated into reality.
And that's where Harold Benjamin has done some masterful research. Within the framework of his plot, there are several ingredients that come together that lead to the gradual erosion of the civil rights of Jews, and the one that is key is the election of a right-wing president who is all too willing to abandon any notion of civil liberties.
Does that sound familiar? Now, I'm not going to turn this into yet another denunciation of Donald Trump, but "Judenrein" comes along at a time when divisions in America have never been starker and where the president is actively promoting those divisions.
Have Jews been targeted by Trump in the same way that he has targeted Mexicans, for instance, and arguably, anyone else who isn't white? The president in "Judenrein", who only goes by the initials "P.K.", has a more clearly delineated contempt for Jews, but it is in his willingness to serve as the dupe of more intelligent right-wingers – all of whom are in the military, by the way, that his interests and the interests of a small group of very determined military men are aligned.
In point of fact, however, of late, it's been senior members of the military who have admonished Trump for his expressed desire to use the military to quell civilian disturbances. Yet, one wonders the extent to which lower ranking members of the military would actually be in agreement with what Trump wanted to do – a point which becomes important in "Judenrein" in explaining how, under the right circumstances, right wing members of the military might readily join forces with right wing militias in persecuting Jews and other minority groups.
What happens in "Judenrein" – as the blurb from Amazon notes, is that the hero of this book who, though seriously flawed, rises to superspy status in short order – something, I suppose is a prerequisite for most spy novels these days.
Zack Gurevitz starts off as a drug addicted mess trying to get himself off heroin at a methadone clinic. How someone in that particular state can eventually rise to the level of extraordinary superhero really requires a total suspension of belief but, just as Gabriel Allon in Daniel Silva's spy novels can overcome any obstacle, Zack Gurevitz manages to escape every nasty predicament in which he finds himself – and, believe me, there are enough close encounters that this book could be turned into an ongoing serial the way the Batman TV show of the 60s would leave you hanging on at the end of every episode.
Is it plausible that a recovering drug addict can be beaten viciously in one chapter, then miraculously recover within a few hours only to escape his captors and turn the tables on them – over and over again?
Of course not – but Benjamin knows how to build suspense and adds enough plot twists to keep the reader's attention riveted.
Along the way he slips in a female FBI agent by the name of Matthews who, although she doesn't become Zack's love interest (disappointingly, for me at least. Come on – what's a good spy thriller worth if it doesn't have some gratuitous sex in it?), is eventually persuaded that there is a massive conspiracy afoot and that the FBI has become complicit in enabling it to move forward.
Since the author of this book didn't actually reveal to me what his true background is, you either have to credit him with having done stellar research about various locations in the U.S. northeast, including certain buildings that do actually exist, along with a detailed knowledge of weaponry or, he himself was involved in employment that would have let him be privy to those details, all of which lend an air of authenticity to the storyline.
One final word about "Judenrein": Although it's a self-published book and available only on Amazon, there are already a fair number of reviews about this book on Amazon. To be honest, the reviews might be from friends or family of the author because they're unanimous in heaping praise on this book – yet some of them offer thoughtful observations about how timely this book is at this point in American history.
When I asked Harold Benjamin how one might be able to buy his book he sent me this link: https://www.amazon.com/Judenrein-Dystopian-Thriller-Harold-Benjamin-ebook/dp/B086BRZDPF/ref=sr_1_4?dchild=1&keywords=judenrein&qid=1588353541&sr=8-4