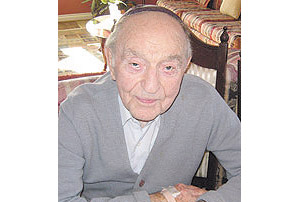 This story originally appeared in our paper in 2010:  Lodz-born rabbi celebrating 90th birthday
By PAUL LUNGEN  TORONTO – When Rabbi Peretz Weizman used to go on his customary walks down Main Street in Winnipeg,
he often sang an unusual song that puzzled the shopkeepers he had come to know."What is that tune and why are you always singing it?," they asked him.
Weizman kept mum about it but in an interview with The CJN last week, he explained the origins of that unusual melody that had puzzled his friends in the prairie city.
It was an old tune sung by a cantor that he had heard as a youth in his native city, Lodz. As a boy, he loved to attend Kabalat Shabbat services at the city's famous Altshtot, Old City Shul. Although his family attended a simple shtibl, he used to sneak out on Friday night to the ornate and beautiful synagogue, where he was awed by the splendour of the building, the solemnity of the service and the stature of the cantor.
He remembered the cantor's song welcoming the Sabbath and kept it alive. "That was the song I sang on Main Street," he said. "I never walked alone. I saved something from the Old City Shul. I rescued the melody. This Hitler could not destroy."
Rabbi Weizman, who has moved to Toronto to be closer to his family, will celebrate his 90th birthday on Nov. 23. A man of the old school, he recalls vividly the life he led in Lodz before the Nazi invasion of September 1939, as well as the subsequent destruction.
The memory of his beloved synagogue going up in flames in November 1939 is burned into his consciousness. It was so beautiful, "I didn't believe the Temple was nicer than this shul," he said.
"When I saw the synagogue going up in flames, the entire sky was covered in sparks – a remnant. When I say that, I feel that I was one of the sparks."
Like other survivors of the Holocaust, Rabbi Weizman represents one of the ever-declining number of Yiddish-speaking European Jews. Surprisingly, he eschews use of the word "survivor" when describing himself, even though he alone from his parents, brothers, sisters, nieces, nephews, cousins – more than 60 people in all – escaped the Nazis.
"I am not a survivor," he said. "Let me explain. I was a nephew, I was a son, a brother. All these titles gone. Only the naked Peretz survived. All the titles are gone. Only a fraction survived, the naked "I" survived… I felt naked, unprotected."
Rabbi Weizman had three brothers and two sisters. His father, Shmuel, was a successful businessman who manufactured and sold chemicals and some pharmaceuticals. At age three, Rabbi Weizman began to attend cheder at the Yeshiva Yesodai HaTorah, where he learned traditional Jewish subjects along with secular material, which was compulsory. The school days were long, beginning at 8 a.m. and going until 8:30 p.m., with a break for dinner.
At age 15, his family arranged for a private tutor. "In Poland, in my circle, you didn't study to become a rabbi. If you wanted to be a Jew and respected in the community, you had to be a scholar."
He didn't decide to become a rabbi until after the creation of the Lodz ghetto by the Nazis.
"I felt I should contribute to the Jews, that Judaism will need me, if I survive," he said.
Remembering the cantor's rendition of Kabalat Shabbat was part of that and later, when he met the cantor in the ghetto, Rabbi Weizman recalled that the man, who had seemed so tall and grand in the synagogue, was "shrunken" and beaten down.
"I sang for the chazzan, Kabalat Shabbat, and tears welled in his eyes and he said, 'preserve it.'"
Preserve the song, he did, though all around him was starvation, misery, death and destruction. He managed to survive the war as a labourer in a laundry. "We laundered the garments of the Jews who were gassed and sent it back, cleaned, to Germany. We didn't know they were gassed then, but we noticed five shirts, one over the other, and found diamonds in brassieres, and dollars."
Rabbi Weizman was liberated by Soviet forces and met his future wife, Riva, after the war. After a few years in Europe, they moved to Israel where she had family, but Rabbi Weizman couldn't cope with the hot Mediterranean climate. When he learned of an opening at a synagogue in Winnipeg, they left for Canada, arriving in 1953.
In 1960, he became rabbi at the newly formed Bnay Abraham Congregation, and he served there for almost 40 years.
"I love Winnipeg," he said. "I feel very comfortable there. It has a very nice, comfortable element there. It's heimishe, a cold climate, but warm people."
In 1999, he spent a year in Toronto as a replacement rabbi at the Beth Emeth BaisYehuda Synagogue after he received a good response when he delivered a dvar Torah.
He enjoyed the experience at the shul. "We had a common language, and a common expectation and a common past. They could appreciate a newcomer. They appreciated my sense of humour. It's a Jewishly-intelligent congregation… They like European sechoireh [merchandise]."
Last year, the Winnipeg Jewish community honoured Rabbi Weizman with a tribute dinner and the establishment of the Rabbi Peretz Weizman Holocaust Education Trust fund, housed at the Jewish Foundation of Manitoba. More than $40,000 was raised to support the establishment and maintenance of a Holocaust education display showcase as a lasting legacy.
Today, Rabbi Weizman is a Torontonian. His wife is a resident at Baycrest, and his nine grandchildren and six great-grandchildren live here.
He still studies every day or two at a local yeshiva where the young people "look at me like someone from a different age."
"I'm a true believer that God has blessed me with a long life. I believe my brothers and sisters and parents gave me their years. I lived their lives, and I must confess that the less future I have, the more the past is taking a hold of me. As the past is taking a hold of me, it robs me of my present. I have such a desire to be with them, to see them. I have this longing. I miss them more than I missed them 50 years ago. They say time cures: no."
As this reporter takes leave of Rabbi Weizman – I confess that I've known him a long time; he "bar-mitzvahed" me years ago – there's always one more story, one more parable for him to tell, one more mishnaic interpretation to impart.
Like the old shul burning, Rabbi Weizman continues to give off sparks, hoping that a new generation will preserve and pass along the wisdom and flavour of the nearly destroyed Old World.