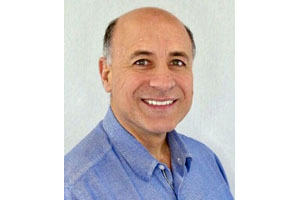 By GERRY POSNER One clear objective of a chiropractor is to improve flexibility. Well, Martin Gurvey has taken that concept well beyond his career and applied it to his own life. He had to be flexible to make the kind of major life change that he and his wife Brenda undertook in 2011, when he left his practice, friends, activities and history to move from Winnipeg to Toronto.
The good news is that Martin is the epitome of flexibility. He has adapted.
Born in Winnipeg in 1957, Martin grew up in the south end of Winnipeg as the oldest of three children to Evelyn and Harry Gurvey. Montrose, Herzlia Academy and Grant Park were the schools he attended. To say he was competitive would be somewhat of an understatement – a characteristic was evident as far back as elementary school. When you talk Martin Gurvey, you talk of the gold medal winner for 14 year olds in the 400 meters at Grant Park High School. Track and field was one of of many sports in which Martin competed. Others included football, baseball and hockey – both as a teenager and later as an adult. Gurvey not only played sports, he coached them as well. He can boast that his team, the Crescentwood Grizzlies, which also included his son, won a city football championship. Even to this day, living in Toronto for the last 10 years, Gurvey remains a steadfast and ardent supporter of the Winnipeg Jets and Blue Bombers.
Aside from his work, Martin Gurvey says that music is his passion, starting with the Grant Park High School orchestra, in which he played violin for six years, later focusing on voice. He starred as Conrad Birdie in "Bye Bye Birdie" and was a member of the barbershop quartet in the Rady Centre's production of "The Music Man". Gurvey can be described as a Barbershop fan… or is it a fanatic?
He got hooked in high school and joined the Golden Chordsmen quartet, with whom he sang from 1982- 2011. In fact, Gurvey lays claim to being the recipient of the Barbershopper of the Year, also the Dorothy Castleman Lifetime Achievement awards in 2010.
Upon his move to Toronto, Gurvey sang with the Megacity Chorus and later the Harbourtown Sound, a group that is the second ranked barbershop chorus in Canada. Gurvey also completed in two international competitions in Oregon and Florida.
And, not to be forgotten, Gurvey sings with both the Toronto Jewish Chorus and Resa's Pieces (with whom I also sing, and where he is a booming bass while I am a trembling tenor). Finally, in a way that combines his vocation with his avocation, Gurvey sings with the Canadian Memorial Chiropractic College Choir.
Gurvey has had a full career as a Chiropractor since graduating in 1982. Some readers might recall he had an office at the corner of Main Street and Cathedral Avenue for 29 years, and later a second office in Morris, Manitoba. Gurvey also led the professional regulatory body serving as the Registrar for the Manitoba Chiropractors' Association for eight years. He was also a board member of the Canadian Chiropractic Research Foundation for 27 years – an organization is a leader of research in the area of (get ready for this one) neuromusculoskelatal health.
Moreover, Gurvey has contributed to the curriculum and taught at Robertson College, where he was honoured to deliver the keynote address to the graduates one year. He has been the recipient of the Canadian Chiropractic Association Award of Merit for outstanding service to the profession. Since his move to Toronto, Gurvey has taught at the Canadian Memorial Chiropractic College, which takes up to about 75 percent of his time, he says. He also acts as a resource clinician, mentoring interns at the college clinics. As well, Gurvey is still in active practice with a small home-based office house call service. He also does locums for colleagues taking time away from their practice. In short, Gurvey is in the groove.
It is clear that Gurvey has made a success of his moving to Toronto. In addition to being close to the three children and their spouses, Martin and his wife Brenda are proud grandparents to three grandkids with a fourth on the way in June. He has adapted seamlessly to his new roles of father-in-law and his personal favourite, Zaida. Yes, Gurvey has adjusted well to Toronto. I recall vividly when Martin and I used to walk around the track at the Rady Centre in 2010 and we would discuss the possible move to Toronto for each of us. Martin made the first move and he has successfully shown to be as flexible in the making of this transition as is the flexibility which he promotes for his patients. I call him "Mr. Flexibility".