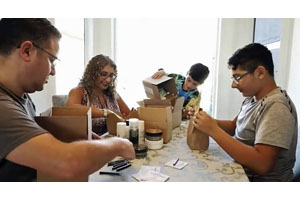 By MYRON LOVE Seven years ago Jonathan Steinfeld rediscovered the pleasure of traditional wet shaving – an experience that he is successfully sharing with a growing number of satisfied customers who have logged onto his Stone Field Shaving Company website.
"My wife (Stav) and I were in New York City," he recalls. "I came across a shaving store selling traditional shaving products (such as shaving brushes, shaving cream and razors). I remembered my zaida shaving with these wet shaving products and decided to try it myself."
He found that he really enjoyed wet shaving. "It takes you back to a simpler time," he observes. "It gives you a break from this busy world of internet and technology and always feeling like you are on the clock. When wet shaving, I feel like I am in a meditative frame of mine. You learn to enjoy the moment."
Steinfeld (the son of Leo and Maureen Steinfeld) is a commercial pilot by profession. He earned his wings in 1992. He paid his dues flying charters and medivacs as well as regularly scheduled flights for a couple of airlines serving the north before moving up to piloting for a major Canadian airline in 2008.
The life of a commercial pilot allows for much time off. Steinfeld notes that – pre-pandemic – he would be flying an average of 15-16 days a month. Over the past year his working time has – not surprisingly – been reduced to three-six days a month.
"While flying is still number one for me," he says, "I had been considering for some years starting a side business to fill my time. After rediscovering wet shaving, I decided to create my own Canadian brand to offer premium Canadian made wet shaving products and accessories. This was something I was passionate about and it provided me with a creative outlet."
Steinfeld founded his Stone Field Shaving Company in the fall of 2016 and unveiled the company website in February 2017. "Originally, I was thinking about opening a bricks and mortar store," he recalls. "But then there were the expenses, the overhead and having to hire personnel to consider. I wasn't prepared to give up flying."
A friend suggested e-commerce as an alternative. The budding entrepreneur says that he had never thought about that option.
"That was new to me," he concedes. "It was not something I understood or had made much use of before. But it worked out very well for me."
In designing the Stone Field website (stonefieldshave.com), he points out, he has tried to create a vintage feeling akin to walking into a traditional barber shop. Even the name – "Stone Field" (an English translation of Steinfeld) is meant to evoke a rustic, old school image, he notes.
Among Stone Field's products are brushes – of course – a variety of differently-scented and unscented shaving soaps and after shave, beard oils and creams, moustache wax, a variety of razors (and styptic pencils for treating the occasional cut) and even shaving materials for women.
Most of his products, he notes, he sources from Canadian companies. "Although I do import some items from Australia and Europe (including one product made in a small village on the French-German border), my main focus is on supporting Canadian artisans," he says. "A lot of the products we carry are exclusive to us."
Initially, he reports, Steinfeld's customers were mainly family and friends, but after the first few months business has grown at a satisfying rate. One big boost, he notes, was being asked two years ago, to provide some of his products for loot bags to be handed out at the Academy Awards.
"The media coverage was great for boosting my sales locally," he notes.
Steinfeld adds that he has filled orders from as far afield as Japan, Europe and Israel. "With so many people having been restricted to their homes for the last year," he says, "there has been quite an increase in people shopping online."
Wherever possible, Steinfeld likes to deliver his orders in person. He brings the orders in brown paper in keeping with the sense of being old school and simple.
"Deliveries are my favourite part," he says. "Winnipeg is a beautiful city. I love going into neighbourhoods that I have never seen before."
At busy times, in particular a couple of times a year – before Canada Day and the Christmas season, he notes, his family – Stav, and sons, Lev and Oren – pitch in to help fill the orders. "The support from my family has been great," he says. "I wouldn't be able to do this without their support."
But, no matter how successful Stone Field may be, Steinfeld is not ready to give up his wings. He is optimistic that the number of flights may begin to increase by the end of June and he can take to the skies more often.