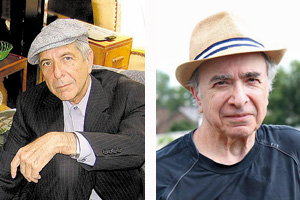 By GERRY POSNER   I am breaking a cardinal rule – not just mine. Ever since I started writing these so called items of interest (at least to me), I have tried to avoid involving my own family – probably because no one is interested. (Ed. note: That's not true, Gerry.) Well, I am breaking that rule with this article because in my view this subject has a value to it that supersedes any feeling of advancement of a family member.
My brother, Michael Posner, and the real journalist and writer in the family, has just completed a three volume life story on the late and great Leonard Cohen. I will say here and now that I doubt that there is anyone around including Leonard's own family, that knows as much about Cohen as does Michael. So would you if you spent over three years interviewing anyone who had a connection of almost any kind with Cohen. Five hundred twenty interviews later with friends, colleagues, business partners – and not to forget his many lovers, my brother has created a picture of Cohen spanning his life right until his death a few years ago. Now I think many people who read the books may recognize some of the stories told, but I am confident that most of what they read will cause comments like "Who knew?" or "Is that possible?" or "This guy has a side I never knew about him."
What Michael did was take these many, many interviews, all taped with the consent of the participants, and then weave them chronologically into the story of Leonard's life. The challenge for Michael (after he finished the arduous task of transcribing these interviews) and indeed the challenge for anyone who writes this kind of verbatim book, is to link the stories together in a meaningful way so that one story follows another, not only in time, but in a compressible sense. This whole effort lasted over three years and took Michael to places so much a part of Leonard's life, such as Los Angeles; New York; Ithaca, NY; Hydra in Greece; Austin, Texas; London, England; San Francisco; and of course, Montréal – from whence Cohen came. Oh yes, I ought not forget Costa Rica.
Now, let me state that I have not seen or read the books. The first one, "Leonard Cohen, Untold Stories: The Early Years", is about to be published by Simon and Schuster in October, 2020 with the subsequent books due in the fall of 2021 and in the fall of 2022. But, just from what I have gleaned from my brother in casual conversation he tells me that Cohen addicts are going to be overjoyed, surprised and perplexed.
I quote from, Harvey Kubernik, a very well known music historian and himself an author of "Leonard Cohen, Everybody Knows" who wrote for the jacket in the book as follows: " Posner is our Cohen-centric tour guide. He has delivered an enthralling oral history, carefully weaving the multi-voice narratives to us in a revealing, deep-dive exploration. I eagerly await the next volume."
Michael was born and raised in Winnipeg and is a graduate of the University of Manitoba. He started his career in journalism in Toronto a long time ago. To be sure, even though Michael's entire career has been in journalism, including 16 years with the Toronto Globe and Mail, Washington Bureau Chief for Maclean's Magazine, and later editor of its National and Foreign Divisions, and has seven books to his credit, including a similar type of work on the life of author Mordecai Richler, this cornucopia of all things Cohen was his most ambitious undertaking in a literary way. Leonard Cohen was a complicated guy and it took three books to present all facets of the man. And his fame crosses continents so it is likely this book and the subsequent ones to follow will be reprinted in other languages. In short, for all Cohenaholics and even those mildly interested, get ready for Volume One by former Winnipegger Michael Posner.