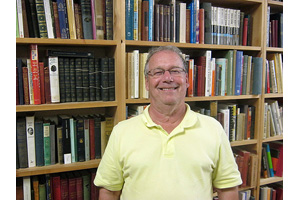 By MYRON LOVE  Thirty years ago or so – when the PC revolution was still in its infancy, I interviewed a fellow who was in charge of computer education for the St. James School Division. The story was for a local education magazine.
I recall at the time this educator, seeing that I was taking notes with pen and paper, smugly saying that pen and paper would soon be obsolete.
Thirty years ago, there were also those who were predicting that PCs would render all books obsolete.
Contrary to those prognostications, happily, Gary Nerman, the proprietor of Nerman Books and Collectibles, reports that his customer base is actually getting younger rather than older.
"We have quite a few regular customers who are in their 20s and early30s," he notes.
Over 30 years in business, Nerman Books and Collectibles has become one of the largest used book dealers in Canada. The store – which is located on Osborne South in Fort Rouge – boasts a collection of about 100,000 books – including the largest collection of children's books (20,000) in North America.
The children's book section in the basement has 11 shelves of "Bobsey Twins" alone. You will also be able to find "Hardy Boys", "Nancy Drew", "Trixie Belden", "Tom Swift", old "Archie Comics" and many other memories of your youth for those of us of a certain age.
In addition to the books, Nerman has 10,000-15,000 magazines on hand, as well as assorted antiques including china and glassware, paintings and prints, children's toys, figurines, jewelry and even some sports memorabilia.
For a visitor to Nerman's emporium, wandering through the stacks is quite an experience.
Originally a manufacturers' agent by occupation, Gary Nerman's transition to full time book seller was a reflection of his lifelong passion for collecting books and antiques. "I have always been a voracious reader," he says, citing his interest in particular in science fiction, fantasy and mysteries (which, he adds, are also the books that are most in demand at the store).
He did have one family member who was an inspiration for him: an uncle in England. "Uncle Allen bought and sold books through a catalogue," Nerman recalls. "He had a roomful of books piled high."
Nerman himself started collecting books and antiques while still a teenager. As a manufacturer's agent covering Manitoba, Saskatchewan and Northwestern Ontario as far as Thunder Bay, he would take the opportunity while on the road to drop in on bookstores and antique outlets.
"It was a hobby at first," he says. "When I decided to start selling books, I began with a catalogue. As the numbers I had continued to grow, I realized that I would need a store."
Over the years, he has moved the business four or five times to accommodate his growing collection of books.
Nerman introduced antiques into the mix following some advice on the first page of a book he came across on how to operate a bookstore – that is, you need something else to supplement books in order to be viable.
Unlike some traditional used book stores, Nerman notes, he doesn't offer two-for-one deals for books being brought in for trade. He offers either cash or credit that can be used to buy books at the store.
Asked about items that he discovered that stood out, he refers to his acquisition some years ago of an original copy of the first book ever written by C.S. Lewis –a book of poetry that he wrote under a pseudonym. "I didn't know what I had," he recalls. "I was going to sell it for $10. Then someone offered me $400 – so I realized that this book may be something valuable."
He researched its origins and discovered the connection to Lewis. He sold the volume to a C.S. Lewis collection for $4,000 U.S.
He also sold a copy of Neil Young's first-ever recording for over $4,000. He recounts that Young first band was a local group called The Squires. Radio station CKRC put out 100 copies of their recording of "The Sultan" in the mid-1960s.
He says that he acquires books – in good shape – and postcards and CDs and antiques – from estates, garage sales and some house calls – in addition to books that are brought into the store by people coming in from off the street.
"Since Covid, we have been having more books brought in because charities that traditionally collect books for book sales aren't taking any," he reports.
A lot of his sales, he adds, are also via mail order.
"While business over the years has generally been stable," he notes, "our book sales have increased since Covid. People have been staying home more and reading more."
Although Nerman may be at an age now where retirement may be looming on the horizon, he has no plans yet to slow down any time soon.