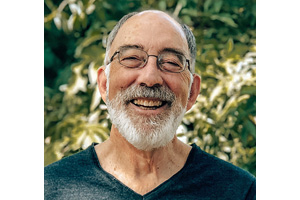 By BERNIE BELLAN   In 2019 Elliot Rodin happened to read an article about an authoritative U.S. report that provided a detailed analysis showing that 94% of Americans pick the wrong time to begin taking Social Security benefits. Reading about that report led to a shift in Rodin's life.
Two years after closing down the business (Central Grain) that had been in his family's hands for over 60 years, Rodin says that he then had time to think about the implications of that US report – and how it could translate into the Canadian scene.
Now, some 15 months after reading about that U.S. report, Rodin has launched a website titled HelpYouRetire.ca.
Long an active member of the Jewish community, Rodin says his most recent involvement in the community was helping to build Oholei Torah Day School at the Jewish Learning Centre in Winnipeg. He says he's also been on the board of the Shaarey Zedek Synagogue, the Board of Jewish Education, the Winnipeg Jewish Community Council, the Jewish Foundation of Manitoba, and had been a canvasser for the CJA for years, beginning under Ralph Hamovich. He was also a co-chairman of the Operation Exodus campaign.
Still, it's a long way from running a cattle feed business and volunteering for different Jewish organizations to creating a website intended to help individuals plan their retirement dates.
Using very sophisticated analytical tools, HelpYouRetire.ca allows users to enter information about their age, the age at which they would like to retire, how much they would expect to receive in either CPP/QPP or OAS at a certain age, and how much more they could expect to receive if they were to postpone taking either CPP or OAS by just one year. This financial gain is also shown both as a percentage of future pension proceeds and as a percentage of the annual pension. For a small fee, all of this information can be shown in the "advanced analytics" for all years up to age 69. The information (which can be downloaded) is displayed in bar charts and a numeric chart together with the projected annual pensions.
This information is of great value for anyone thinking about their retirement planning. It can also be very helpful to those who have recently started taking either CPP/QPP or OAS pensions. A little publicized provision of these plans is that within six months of starting to receive one of these pensions, you can reverse your decision by paying back the monies received. In that event, you can take the related pension at a later date. The "advanced analytics" on HelpYouRetire.ca can give you information to assist in making that decision.
But, before we launch into a further exploration of how Elliot Rodin came to be involved in an endeavour that was far removed from selling cattle feed – which was the primary activity of Central Grain, we thought it might be interesting for readers to know something about Rodin's life. During a long phone conversation we had Rodin told quite an interesting story how he ended up being involved with Central Grain for 60 years – when, had it not been for a fire there in 1966, he probably would have ended up doing something completely different.
While his recent foray into the world of retirement planning might be considered a radical departure for someone who spent so much time in the feed business, when you read about his educational background and his first entry into the business world, you'll begin to understand how he developed the fine analytical skills that eventually lent themselves to creating HelpYouRetire.ca
Born in 1943, Rodin is the oldest of three children. His earliest years were spent living in his grandparents' house on Bannerman Avenue, he says, along with his parents and, for a short while, his younger sister, Janis.
"My father (Maurice) was a fruit store proprietor," Rodin says. "He would be up early in the morning to pick up the fruit. And because we were living at my grandparents' house, he wasn't paying any rent, so he was able to save some money. My mother (Lillian) was a university graduate who motivated all her children to work hard and succeed."
In 1946, an opportunity arose for Rodin's father to become, with $10,000, a one-third partner in Central Grain, in partnership with the Kanees and the Malchys. "The Malchy who was involved in the partnership died in 1951," Rodin explains. "My dad and the Kanees bought out his interest and became half partners.
"In 1956, with the assistance of my grandfather, my dad bought out the Kanees and became the sole owner of Central Grain," Rodin continues. "Soon after that time we moved to the south end – to 431 Queenston." However, family connections were maintained as Sunday was the day when the whole family would go to the north end to visit relatives.
As a teenager Elliot says that his involvement in the Toppers chapter of BBYO was very important to him. He and his friends learned to organize themselves for a wide range of social, athletic, cultural and fund raising activities.
But, early on he had a taste of the world of business – both in his father's company and in his own small scale business.
"When I was 16-17 I would go into the office and help with the bookkeeping – and other odd jobs around the place in the summertime," he explains.
At the same time though, "I had my own business," he adds. "I had a grass cutting business." (At that point Rodin tells a story about how one of his customers didn't want to pay him. Rodin says that he and his friend, Michael Nozick, proceeded to serve a small claims summons against that individual. Apparently, that was Michael Nozick's first foray into the legal world. By the way, the customer ended up paying Rodin what he was owed.)
In the early 1960s Elliot began a period in his life that saw him acquire a solid education in finance, starting with his obtaining a Bachelor of Commerce degree from the University of Manitoba in 1963.
Rodin continues his story: "I decided I wanted to go away for my MBA degree. I visited three different schools. I took a bus trip – about 43 hours, to Philadelphia, to the Wharton School of Finance, then to Boston, to the Harvard Business School, and then to Ann Arbor, Michigan, to the University of Michigan.
"I had also put my application into Stanford. I wasn't accepted at Stanford, but I was accepted at Wharton and Michigan, while Harvard said basically 'We won't accept you this year because you're a little young, but we'll promise you a place in next year's class.'
"So I decided to wait a year. I worked in the family business for a year, then I went to the Harvard Business School because that was what I thought was the top place to go. I spent two years there and while I was there I also spent one summer with the Skelly Oil Company in Tulsa, Oklahoma.
"I was working on special projects for the treasurer (of Skelly Oil). One of them was a computerized analysis of how to make oil drilling decisions, but it never got off the ground – even though the analysis was very sophisticated, because the exploration people would not accept it because they saw it as infringement on their turf.
"Still, I learned a lot from that particular project. It was my first serious analytical job that had some relationship to the work I was doing at Harvard (and, as Rodin explains later, proved to be of great value in his recent decision to create a website that emphasizes analytical tools.)
"As it turned out, the treasurer at Skelly wanted to hire me when I graduated, but at that time I couldn't consider working in the States because I would have been drafted. The fact that I was a Canadian wouldn't have made any difference.
"If I had been a student I wouldn't get drafted. I also didn't take any other opportunities that I had in the States. I limited myself to working in Canada.
"I ended up working for six months in Edmonton for a company called the Principal Group. While I worked there I had a lot of diverse responsibilities. I chose all their stocks for a new mutual fund they set up, and designed the text and written material for their first Annual Report. I also did all sorts of analysis for their mortgage operations.
"Then I got the news that the Central Grain plant had been hit by lightning and three-quarters of it had burned down.
"Central Grain was an animal feed processing plant. During the years that my dad was building it up we were basically selling pellet feed for export to the United Kingdom, to Japan, Taiwan. We would load railway cars with pellets, ship them to Thunder Bay, for destinations in the United Kingdom, or ship it to Vancouver for export.
"When this (the fire) happened in 1966, I had to come back to Winnipeg to help my dad settle all the insurance. There were a lot of issues and we rebuilt the plant, but all the key parts of the plant were burned down.
"I decided to settle down in Winnipeg. I took a job with Investors Group, which was similar to what I had in Edmonton. For the first year I was doing special projects, including a report on tax policy. We recommended how life insurance companies should be taxed. (This was before Investors bought Great West Life.) Most of our recommendations were adopted. We were competing with life insurance companies at that time and life insurance companies weren't paying their fair share of taxes.
"After that year I did some product analyses. Then I started working for the securities department as an analyst. Over a period of time I became a portfolio manager. I ran the Investors international mutual fund. Then I ran the Investors pension accounts. We managed the Hudson's Bay pension account.
"I was at Investors for 12 years (from 1968-80) and became a vice-president. I left to pursue some independent activities", but joined Central Grain when it became clear that his dad needed Elliot's help.
When he joined Central Grain full time in 1980, Rodin began focusing on broadening the markets for the company's feed pellets. Markets in Western Canada and the United States were cultivated, but he says that he always made sure that the needs of his regular customers were attended to.
"I never took advantage of the fact that there might be a drought in Southern California, for instance, and short my customers in Saskatchewan because I depended on my regular customers for the long haul," Rodin says.
"I would work long hours if necessary. If a truck came in late and had to be loaded, I would load the truck myself.
Although Central Grain had become a very successful business, Rodin says that the "maximum number of employees we had at one time was no more than 15. We had one truck, but for the most part we hired other trucking companies. We had a machine shop, but the stuff we couldn't do – we hired other machine shops to do.
"We bought basically the 'clean-outs' from grain – all the leftover product. It was all categorized and separated out and properly blended to make different qualities of feed pellets. There was no plant in North America that shipped product as far as we did. We used to ship up to 2,000 miles. Most feed companies ship up to 200 miles.
"The business ran until about three and a half years ago. We were gradually losing customers for reasons that I can't quite figure out. I needed additional volumes because the company had substantial overhead – for repairs and maintenance.
"So we started to do fuel pellets. We became the second largest manufacturer of fuel pellets in Manitoba – as a substitute for coal, using the same screenings – but the lower quality screenings. The top quality screenings were turned into top quality feed for cattle and bison.
"I was reasonably successful at doing this, but at the end of the day the plant was an old plant. Remember, it was rebuilt in 1966. What was new in 1966 was not new 50 years later. The costs of maintaining the plant to the standards we had to maintain were going up and up.
"Finally, I made the decision that I'm going to have to close it down. I thought: 'If I can't make a living at this, then nobody can.' I decided I'd have to tear the whole place down – and that's what I did.
"I realized I was getting older and if I didn't do it I didn't want to have my children to have the burden of doing it. So, everything that I had built up over 50 years was torn down. I sold whatever equipment that I could, but the rest all went for scrap.
To return to the initial reason for doing this article, Rodin explains his motivation in wanting to create HelpYouRetire.ca. As we already noted, the catalyst was reading about that U.S. report about social security and "that 90% of people in the United States take their pensions at the wrong time."
He adds though, that "an additional underlying factor in my motivation is that I missed the daily rewards (not the aggravation) that I got from my job running Central Grain. I loved selling and enjoyed my interactions with customers. At the end of the day when I had loaded four big trucks I came home with a feeling of accomplishment. So, I was primed for another challenge where I could get these feelings back. With this website, I am now focusing on marketing where I have to sell myself and the site."
I asked Rodin whether there was anything in particular in his background that lent itself to the kind of analytical exercise upon which he was to embark.
He answers that "a course that I took at Harvard Business School and the work that I did at Skelly Oil were very relevant to this process."
I said though "that it sounds like you would need the same background as an actuary" in order to undertake the project into which Rodin has entered.
Rodin agreed, saying "you're hitting upon a very key point when you say that, but there are a lot actuaries around. Nobody thought of doing what I'm doing.
"I guess part of the answer is most actuaries are fully employed. There aren't a lot sitting around thinking about what they can do to help Canadians.
"You have to remember that I spent 13 years as a securities analyst and a portfolio manager, so my mind works in a certain way. Nothing that I did at Central Grain though related to this project."
I asked what were the first steps that Rodin took in developing his website.
He says: "The first steps were that I needed to see whether I could develop the necessary mathematical models to do what I had in mind. Once I had the mathematical models I began working on the structure of a website that would put these mathematical models into practice.
"I was told by various people that setting up a website is not all that difficult." (Boy, were they ever wrong when it came to this website!)
After an initial contact with someone who was working on their PhD and thought they might be able to produce the kind of website Rodin was looking to create didn't pan out, a company in Ottawa that had built a similar kind of website agreed to take on the project.
"The idea was that it was going to take a few months" to create the website, Rodin explains.
"But from the time we started up toward the end of February (just before the pandemic hit Canada in full force) it took until the end of August" to finalize the site.
"Every aspect along the way had to be just right – from the mathematics to the functionality. It had to be there so that even people who don't know much about computers or websites would be able to use this website. Finally, we reached the point where I'm extremely happy with the site."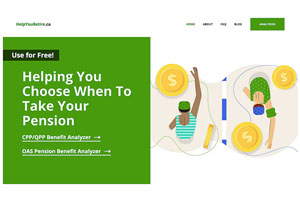 So, having read this far, you might ask yourself: "Why should I go to HelpYouRetire.ca?"
It's quite an easy site to navigate. As has already been explained, simply enter some basic information and the site will provide you with some quick results about how postponing your decision to begin taking either CPP/QPP or OAS by one year will benefit you – or might have benefitted you if you're already taking your pension.
Then, as Rodin explained, if you're wanting to know more about how much more your pension would be affected if you decide to wait even longer to begin taking your pension, for a fee you can obtain access to even more comprehensive analytical tools that will show that. The results might surprise you – and it may end up being one of the most important decisions you might ever make with regard to retirement planning.