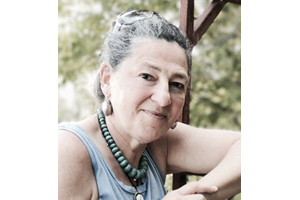 By GERRY POSNER
With all of the many people who have left Winnipeg, there is a large core of them (me included) who still have lingering thoughts of the city and the happy life which we had there. But while we might be willing enthusiastic advocates for Winnipeg and even broadcast the virtues of the city to anyone we meet and greet, no one goes further in her support of and affection for Winnipeg than Miriam Jacobson.
Miriam does not just talk the talk, but she walks the walk. In fact, she might be a contender in the Manitoba Marathon.
Born in 1956 to the late Max and Janey Jacobson, Miriam began her life in the north end of Winnipeg on Bannerman Avenue, but within a year or two she was living south. She attended Ramah Hebrew Day School where she says her Jewish roots and love for the State of Israel were developed and with that was a love of music, particularly singing. From Ramah, Miriam went to Grant Park Collegiate for her Junior High and later the University of Winnipeg and Argyle Free School for High School. For most of this time, Miriam was a student of ballet, theatre school and a member of the Shaarey Zedek Junior Choir, and later the Adult Choir with both Sammie Tzur and then Archie Stone. She was into the arts for certain at an early age and that facet of Miriam's life has continued to this day. Miriam is a regular as a choir member at the Lodzer Shul in Toronto and has sung in synagogue choirs for many years.
Her summers were spent as a camper and later as a councillor at BB Camp and even as the camp nurse from 1995- 2000. Miriam falls into that small category ( but not as small as one might think) of people who can say that she and her children (Mia and Hannah) were both campers and staff at BB Camp. In fact, Miriam points out that her daughter Mia met her future husband, Jared Cantor, at camp. This was one summer romance that went beyond the end of camp.
Given her passion for Israel, it was not much of a jump for Miriam to settle there first on a kibbutz, then in Jerusalem, and finally Nueba, in the Sinai, from 1974-76. Upon her return to Canada, Miriam, who had graduated as an RN at the School of Nursing in Winnipeg, worked for a year in Winnipeg, then moved to Toronto for what ended up as a permanent stop. She had a full 18-year career at the Mount Sinai Hospital in the Labour Delivery room. During that time Jacobson also completed a course in massage therapy in 1982. That was a wise step as Miriam has continued to run a private massage practice in Toronto and indeed in Manitoba as well to this day. How does that come about, you ask?
Miriam Jacobson made it a regular part of her yearly activities to come to Winnipeg in the summer to see her mother. Not only did she use those trips to reconnect with her family and friends, she also introduced her daughters to Winnipeg, Winnipeg Beach and BB Camp.
In 2003, Miriam went so far as to buy a cottage at Winnipeg Beach and that cottage became her home for many summers. That ended recently when Miriam turned it over to her daughter, Hannah, but that transfer did not end Miriam's affection for cottage life on Lake Winnipeg – far from it. She immediately purchased a year-round lake front cottage in South Beach in Gimli. It is there that Miriam operates a massage practice in the summer months. And she uses her Gimli residence to assemble her family, which includes a grandchild now. This connection to Winnipeg Beach and Gimli only continues her relationship to the area as Miriam grew up going to Winnipeg Beach to a family owned cabin.
Miriam Jacobson is crystal clear as to her love for the prairies with the expansive blue sky and of course all her memories there. She likes to say, "I live in Toronto, but I'm from Winnipeg." With her background in the delivery room she adds, "It's the umbilical cord that has never severed." She likes to refer to Winnipeg as "Mesopotamia" – the birthplace of civilization. In fact, she is already anticipating her 24 hour drive there in May.
Now that is not just talking the talk, or even walking the walk: It is driving the drive.