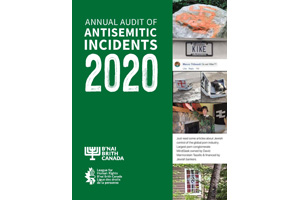 The following is taken from B'nai Brith Canada's most recent audit of antisemitic incidents in Canada, which was released April 26:
On average, more than seven antisemitic incidents occurred per day in Canada in 2020.
This is one of several disturbing facts revealed in the 2020 Annual Audit of Antisemitic Incidents, released today. The Audit is produced by B'nai Brith Canada's advocacy arm, the League for Human Rights.
With the onset of the global COVID-19 pandemic and a host of political and social movements, and economic crises across Canada, the United States and the world, the year 2020 was without question among the most tumultuous in recent decades. As with all periods of severe social strife and widespread hardship, antisemitism conjures itself as a vehicle to ascribe conspiratorial blame to the Jewish community, blaming Jews as a collective for a myriad—if not all—social ills. In 2020, such conspiracies included, but were not limited to, claims that Jews created and/or disseminated the novel coronavirus to deliberately infect non-Jews; that Israel deliberately withheld treatments or medical care from Palestinians as a form of exercising Jewish-oriented dominance; that Jews are responsible for abuses by elements of U.S. law enforcement against African-Americans, and so forth.
True to this trend, 2020 was the fifth record-setting year for antisemitism in Canada, with total incidents increasing by a whopping 18.3% since 2019. This new total amounts to over 217 antisemitic incidents per month, over 50 incidents per week, and 7 incidents per day.
According to the Canadian Centre for Justice and Community Safety Statistics, police-reported hatecrime data for 2019 indicate that Jews, though only some 1% of the population of Canada, account for 15% of all hate crimes in Canada, and remain the country's most targeted religious minority.
The actual number of antisemitic incidents recorded in 2020 was 2,610. This marked the third successive year in which the 2,000 plateau was exceeded.
More than 44% of the violent incidents were COVID-19-related. Violent incidents in 2020 decreased to their lowest levels in years – perhaps aided by repeated lockdowns — but were characterized primarily by discrimination attributable to COVID-19.
The majority of these incidents targeted Hasidic individuals in Broisbriand, Que., after misinformation was reported surrounding a local Hasidic community not abiding by legally mandated COVID-19 measures.
Such physical attacks, however, were not limited to Quebec. Even individuals who were in no way affiliated with that particular community were denied access to vendors and experienced a range of violent attacks, including:
• Being shot at with pellet guns.
• Being spat on and called "dirty Jew" by passersby.
• An assailant throwing a bottle from a Toronto apartment window at a family and then headbutting a member of that family after they sought an explanation for the attack.
Among other examples of antisemitic incidents in Canada in 2020:
• In Winnipeg, a student was attacked by seven others after they told the teenager that Jews should "go back to the ovens."
• A mezuzah was ripped off the doorpost of an apartment in Winnipeg,
with the amulet then being thrown down the staircase of the building.
• In Toronto, a man randomly assaulted an observant Jewish person by smacking the victim in the face and shouting "f— Jews and f— the State of Israel."
• Graffiti with the words "f— you" and "Zionists not welcome" was scrawled on a Toronto-area restaurant.
• A Montreal-area synagogue was vandalized and had ritual items desecrated, with Torah scrolls strewn about the floor and religious articles found in the toilet.
• Several mezuzahs were ripped off the doorposts of homes throughout the country.
• A swastika and the phrase "Heil Hitler" were drawn, defacing a kindergarten in Toronto.
• "Zoom-bombing," which interrupted Zoom calls or synagogue services and other community functions with antisemitic, racist and pornographic video, became a disturbing trend.
In 2020, there were decreases in all provinces except for Ontario and Atlantic Canada (which includes New Brunswick, Newfoundland and Labrador, Nova Scotia and Prince Edward Island).
While Ontario and Quebec, which have the country's largest Jewish populations, had the largest respective number of incidents, 2020 marked the first year in which the number of incidents in Ontario exceeded 1,000—an over 44% increase in incidents over the span of a single year, accounting for over 43% of all total incidents in Canada.
In one of the most brazen attacks in recent memory, the Montreal-area Kol Yehouda Synagogue was ransacked with ritual items ranging from Torah scrolls to prayer shawls and phylacteries (also known as T'fillin in Hebrew) either being strewn about the building and the floor, or having been thrown in the toilet. Accompanying this desecration of a Jewish house of worship was cryptic graffiti at the scene. In Winnipeg, two mausoleum windows were smashed at a Jewish cemetery, while a separate synagogue in Winnipeg had its recycling bin vandalized with a swastika. There were also several cases of mezuzot (ritual amulets affixed to doorposts of Jewish homes and institutions) being ripped off, or otherwise damaged, as well as private residences being "tagged" with antisemitic graffiti, blaming Jews for the COVID-19 pandemic and other conspiracy theories.
"As Canadians spent much of 2020 under pandemic restrictions and lockdown, antisemitism did not take the year off," said Michael Mostyn, Chief Executive Officer of B'nai Brith Canada. "Though physical attacks decreased last year, online hate continues to skyrocket, particularly during a year that, more than ever, forced many of us to interact virtually rather than in-person.