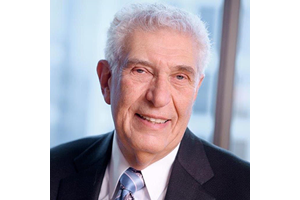 By GERRY POSNER "Serendipity" is how Morley Greene describes what has brought him success in life. Perhaps he's right, but I concluded, after chatting with him and reading articles about him – the most recent one in the Toronto Globe and Mail, that it was more than serendipity that has given Morley the life that he has now at age 81.
The only child of Abe and Sara Greenberg, Morley was raised across the street from St. John's High School at Machray Avenue and Salter Street. Not surprisingly, he attended St. John's High School, though he ultimately graduated Grade 12 at West Kildonan Collegiate. Morley admits he was a disinterested student. His tenacity carried him through though and, as he got older, his interest in learning blossomed.
Law was the path Morley Greene chose and it was a part of his life for over 32 years, after graduating from the University of Manitoba law school. His law career began in Winnipeg, then Edmonton and finally, Vancouver. His career took off almost right from the start, and it was not long after that he started his career that he was made a partner at the very prestigious law firm of Buchwald Asper Henteleff.
The future looked promising and soon after he was married, he was the father of three children. In 1976, Morley, just 35 years old, and with a young family, made a bold decision – a decision which changed his life forever. He decided to leave Winnipeg and try to take his tent and talent elsewhere. He credits the late Izzy Asper with paving his way to another high powered law firm in Edmonton. Izzy called his friend, Aaron Shtabsky, and soon Morley was ensconced at Shtabsky and Company. He specialized in tax, mortgages and the real estate industry. Had Morley remained in Edmonton, it would likedly have been all that he needed for the rest of his life in order to be a financial success.
But then another opportunity presented itself to Morley. The Imperial Development Group came calling. This company, led by Donald Gales, Gerald Libling and Gerald Raizen was in the midst of major property acquisitions and development in Winnipeg and elsewhere. Morley was invited to join the company in an executive capacity. It was a major step up for Morley.
In 1979, he and his family moved back to Winnipeg and things went well – until they didn't. The high interest rates of the 1980s were no doubt a key factor in the eventual dissolution of the Imperial Group. Morley Greene had to start over.
In 1991 he headed further west – this time to Vancouver, where he joined the very well know law firm of Owen Bird. He became licensed to practice law in British Columbia, his third call to the Bar – after Manitoba and Alberta. For six more years Greene was once again a hard working lawyer in a big firm. But then Morley made a second major decision that changed the course of his entire career. In 1997, he gave up law and decided to take on an entirely new challenge in an industry for which he had been advising as legal counsel for a significant part of his legal career.
In 1997 Morley struck out on his own and started a corporation he called Trez Capital (the name came from a variation of the French word "Treize," which means thirteen). The company began as a mortgage lender. I will not dig deep into all the projects with which Trez Capital has been involved over the years, but there are very many.
Trez Capital has set new standards for the industry over the past 25 years with institutional-grade processes and strict compliance adherence. The history of the company is well recorded in the recent Globe and Mail article featuring Morley and the story of Trez to which I referred earlier.
What is important to acknowledge is this: From nothing (well not quite, as Morley did raise $3 million dollars to start with from private investors), Morley has made Trez the biggest real estate lender in Canada after the banks. Dwell on that statement. The company has funded more than 1600 transactions for a total value of $14 1/2 billion (you read that right), all channeled into different multi-family dwelling, industrial and office projects.
Trez Capital is active all over Canada and the US. The company has offices in Toronto, Montreal, Dallas, Palm Beach, Atlanta, New York, Seattle, Los Angeles and Vancouver. The company has over 170 employees and assets of over $4 billion under its management. Think about it – all that from a Winnipeg kid from the north end.
I would suggest that part of what made Morley and his company so successful is the way he approaches his work and indeed, his relationships with the people around him. Morley interacts well with everyone and demonstrates a genuine interest in them. Moreover, he is not afraid to admit mistakes. He was quite concerned, for instance, that as a result of the Covid pandemic, Trez Capital would face unpredictable problems, so the company made the decision to stop lending.
Morley anticipated defaults coming – and a lot of them. He was wrong – and he admits it. Instead, there were no defaults and, in fact, Trez Capital had a record number of payoffs on its loans. The result of all that is that, throughout the pandemic the company has remained in good shape and it has resumed investing and lending across North America.
Maybe the most telling part of the Trez Capital story is that the company has over 30,000 individual investors and many of those investors (and indeed, many borrowers) have been investing with (and borrowing from) Trez Capital since 1997 – when the company first began. That tells me that Morley knows what being in a relationship-driven business is all about and that he and his team have developed an esteemed – and well-deserved reputation for trustworthiness.
When the pandemic was in full force, Trez Capital, led by Morley Greene, reached out to its investor base, calling them each week to keep them informed as to the current status of the company. Morley and his top brass also made sure that all key employees were informed as to what was transpiring, in accordance with the most rigorous standards of corporate transparency – further evidence of a corporation that places a premium on individual relationships.
At 81, Morley is still very active in Trez Capital, even though he has ascended to a more hands-off role as Chairman and Chief Executive Officer. When I spoke to him, he was busy in his Dallas office. He spoke very proudly of his three children: daughter Mara – now Madam Justice Mara Greene of the Ontario Court of Justice (and, in her spare time a hockey player); daughter Sara Greene, a professor at McMaster University in the Faculty of Social Work; and son Jonathan, an assistant professor in the Faculty of Political Studies at Trent University.
As I mentioned at the outset, Morley attributes his success to serendipity. I would suggest otherwise. In my view, Morley's life work and in particular, his creation and building of Trez Capital is a testament to Morley Greene's work ethic, tenacity and commitment to valuable relationships – trés outstanding and nothing less.