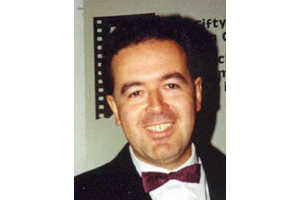 By MYRON LOVE When Martin Silvert says that he "should have been a show business journalist", the lifelong Winnipegger isn't kidding. He reports that he has 1100 movies on his shelves.
"Oscar night is sacred to me," he says. I have so far watched every single show since 1962 without missing one."
He further notes that he has seen over 100 plays on Broadway – musicals are his favourites – and more on the London stage.
And the celebrities he has met! The list includes Mel Brooks and Anne Bancroft ("lovely people", he says), Jack Lemmon, "Sweeney Todd" stars Angela Lansbury and Len Cariou, Ann Miller, Glenda Jackson, Peter O'Toole, Maggie Smith Bill Macy (of "Maude" fame), Florence Henderson, Christopher Reeve, Jack Gilbert, and Kaye Ballard to name a few.
"I once ran into Ray Bolger (the scarecrow in "The Wizard of Oz") walking down the street in New York," he recalls.
"And Molly Picon (who was also a star of the Yiddish theatre) was one of my favourites."
However, the brightest star in the entertainment firmament for Silvert is – and always has been Barbra Streisand. His home is a shrine to the star. He has all of Streisand's movies, all her records and CDs, framed photos, posters, news clippings and much more.
Silvert has also been fortunate in that he has been able to see his transcendent star live in concert six times – twice each in Las Vegas, Florida and Washington, DC. (Bonus points – at one of the Washington concerts, he was sitting just seven rows behind Bill and Hillary Clinton. He was there with a friend who was originally from Little Rock and who used to baby sit Chelsea Clinton.)
He also sends Streisand birthday cards every year. Although he has never received a reply nor has he ever met her in person, he is not deterred in his admiration for her.
"She has a team that screens everything and everyone," he offers.
So where did this fascination with Streisand begin for Silvert? Martin recalls the first time that he heard Streisand singing. It was 1964, and the young son of the late Edward and Dorothy Silvert was home for lunch when the then-elementary school student first heard Streisand singing "People" on the radio.
He was hooked.
"As soon as I heard that voice, "he recalls, "I dropped my grilled cheese sandwich and ran to the radio. I have been a fan ever since."
His expertise and renown as the go-to guy for everything Streisand is such that when Columbia Pictures and Sony Music still had Canadian offices in Toronto, they would send him promotions on everything. "I had my own early advance screening of 'The Prince of Tides,' and when 'The Mirror has Two Faces' opened," he recounts, "they wanted me to invite friends to the first screening here, which really was a lot of fun. They called me up to the front of the then Garrick theatre and they had a contest to stump me on what I knew. Needless to say, I can't be stumped. There is nothing virtually I don't know about Barbra. When you're a fan for that long, you know everything."
Now, I wouldn't want readers to get the impression that Martin Silvert's life has only been about Streisand. He did work for 30 years for Saskatchewan Wheat Pool as a grain trader – followed by seven more years for Anheuser Busch. He retired to look after his aged and ailing parents.
Over ten years – prior to the onset of Covid, he volunteered at the Simkin Centre, where his mother was a resident for a couple of years before her passing.
"I really enjoyed volunteering at the Simkin Centre, helping residents with lunch, manicures and on outings to the park," he says.
In fact, the Simkin Centre's last program, pre-Covid, featured Silvert sharing his knowledge and passion concerning Streisand with appreciative residents.
"I have missed my volunteering at the Simkin Centre and am hoping to return when conditions permit," he says.
He is also eager to get back to New York City – "my home away from home," he says – and to Los Angeles, so that he can use his Academy Award Museum membership and walk on the Barbra Streisand Bridge at the museum.
And Streisand fans, Silvert notes, are eagerly anticipating the release of a rumoured new CD from the soon-to-be 80-year-old diva. (Her birthday is April 24, Silvert reveals.)
One final anecdote from Silvert has to do with Streisand's performance in Winnipeg very early in her career. According to a Winnipeg Free Press story from 2006, she was booked to play the Town 'n Country, a famous local establishment, in 1961. While the then 19-year-old received a positive review from then-leading Winnipeg entertainment writer Gene Telpner, Silvert noted in the Free Press story that Town 'n Country owner Auby Galpern didn't like her manner or her clothes and fired her before her booking was over, saying that "she would never make it in the business".
"A year later, she was debuting on Broadway," Silvert notes.