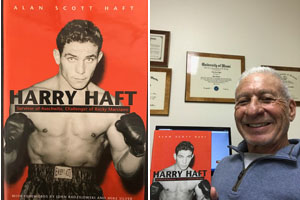 By MARTIN ZEILIG Harry Haft Survivor of Auschwitz, Challenger of Rocky Marciano by Alan Scott Haft is the firsthand testimony of the author's father, Harry Haft , "a Holocaust survivor with a singular story of endurance, desperation, and unrequited love," noted an earlier commentary on the book.
"Harry Haft was a sixteen-year-old Polish Jew when he entered a concentration camp in 1944," says online material about Haft. "Forced to fight other Jews in bare-knuckle bouts for the perverse entertainment of SS officers, Haft quickly learned that his own survival depended on his ability to fight and win. Ultimately escaping the camp, Haft left an embittered and pugnacious young man. Determined to find freedom, Haft traveled to America and began a career as a professional boxer, quickly finding success using his sharp instincts and fierce confidence.
"In a historic battle, Haft fights in a match with Rocky Marciano, the future undefeated heavyweight champion of the world. Haft's boxing career takes him into the world of such boxing legends as Rocky Graziano, Roland La Starza, and Artie Levine, and he reveals new details about the rampant corruption at all levels of the sport. Harry Haft is an embattled survivor, challenging the reader's capacity to understand suffering and find compassion for an antihero whose will to survive threatens his own humanity. Haft's account, at once dispassionate and deeply absorbing, is an extraordinary story and an invaluable contribution to Holocaust literature."
Now, the story has been made into a major motion picture.
The biographical movie, Harry Haft, is directed by Barry Levinson (Rain Man, Wag the Dog, and numerous other movies), and stars Ben Foster as the title character. The cast also includes Danny DeVito, Vicky Krieps, Peter Sarsgaard, and John Leguizamo, notes Wikipedia and the Internet Movie Database. The movie will be released sometime this year on a streaming service.
Alan Haft, a retired lawyer in Albuquerque New Mexico, agreed to conduct an interview with The Jewish Post & News about his father, the book and the upcoming movie. It was done via email. 
JP&N: What prompted you to write the book about your father?
Alan Haft: Ever since I was a college student, my father had been asking me to write the story of his life. I did not want to. I did not want to hear any of his excuses for his abusive behavior, experienced by me, my brother and sister, and mother.
But, in 2003, he was diagnosed with lung cancer – and he expressed genuine remorse for his treatment of his family.   Although his memory was slipping, I felt it was the last opportunity to learn what made him who he was.
It took several weeks to record his story, and months to write. It reads like a journal, hampered by his inability to express himself and failing memory.
JP&N: What was your relationship like with your father?
AH: My relationship with my father was torturous. As a boy I was forced to work at an early age at his fruit and vegetable stand (pushcarts) on Blake Ave. in Brooklyn, then in various fruit and vegetable stores he had in African American neighborhoods.
My mother was American, and my father was a "refugee". He could not read or write, so he could not help me with my homework, or throw a baseball and have a catch. My discipline was brutal beatings, and the belt was fast to come off his pants.
I was under constant pressure to get good grades, without any help – and since he was known in our neighborhood as 'Harry the Fighter,' all the other kids took pleasure in beating me up. If I lost a fight, even with someone years older, I'd get beat up again by him at home. My mother also suffered physical and emotional abuse. He was always out at night, either gambling or chasing women. I often slept with a bottle under my pillow in case he came back drunk and wanted to hurt me.
He had terrible nightmares, and a raging temper which was easy to set off. He threatened suicide all the time, scaring me half to death, forcing me to cry and beg him not to. 
JP&N: I guess, then, that your father wasn't a religious man?
AH: He lost his faith in God in the camps, and although he grew up in a Hassidic household, he always expressed his disdain for religion. Strangely enough, I never went to Hebrew school, but a Bar Mitzvah was important, so I read the English transliteration of the Torah.
JP&N: Writing the book must have been an emotionally wrenching experience?
AH: I learned about what his life was like as a boy in Poland before the war.   What surprised me about his Holocaust experience was the number of civilians, in addition to the other fighters, that he had to kill to survive.
When my mother died I wrote him this letter, but I had no place to mail it to.
September 30, 2019
Dear Popsie,
You've been gone nearly 12 years, and I miss not having a father. Growing up, you beat me, for my childish misbehavior.   The rage you had inside, you often took out on me. I feared your very presence.   You broke furniture and punched out windows – abused mom to no end.   Despite the abuse, mom always protected you – excused your behavior because of your "background." I could not excuse you, until I learned what that background was. I was ashamed of you. You could not read or write. You spoke broken English with a thick accent – and had those green numbers on your arm.
     I wish I knew then what I know now. You suffered terribly at the hands of the Nazis. You saw horror, and were forced to participate in it. After you told me all about your ordeal, what you had to do just to live another day, it helped me understand why you were who you were and are who you are. I now see how sorry you are for the abuse –
How can anyone judge you? They call you a holocaust survivor – but does anyone really survive. It has been said that the Nazi's murdered your soul.  
Popsie, I have spent my later years trying to make the world better for you. Your story was published by Syracuse University Press, you were inducted into the Jewish Sports Hall of Fame, there is now a major motion picture about your life; I know that you would have been happy that I made you famous.
Despite the physical and psychological abuse – I would want you to know I forgive you.   Mom died this summer. She was the angel sent by God to care for you.
Now it's your turn to take care of her.
Love,
Alan
JP&N: What was the public's reaction when the hardcopy version of your book was released some years ago?
AH: After the book was published in 2006 his story took on a life of its own. Strangers were putting "movie teasers" on the internet. It was republished in Germany. Reinhard Kleist, a renowned German artist, turned it into a Graphic Novel.
It has been translated into German, Italian, English, Bulgarian, Portuguese, French, Greek, Indonesian, Czech, Serbian, Hebrew, Spanish, Chinese and Macedonian. In 2017 an award winning screenplay was written by Justine Gillmer, and it attracted the attention of Barry Levinson.
I read the screenplay and loved it. But aside from approving the treatment, I had no role in the production.
JP&N: Is there anything else you'd like to share with our readers?
AH: I have not seen the movie, but I was shown a 5 minute clip and it was awesome. Ben Foster, had to play my father from age 16 – late 30's. He lost 60 pounds to play the role in the Camps, had to buff up to fight Roland La Starza and Rocky Marciano, then play my father as an out of shape late 30's.
Filming was completed last summer, and was to open in theaters this winter, but COVID- 19 has forced them to sell it to a streaming service, like Netflix or Amazon. It should be available this year.
Harry Haft Survivor of Auschwitz, Challenger of Rocky Marciano , 208 pages, is published by  Syracuse University Press, and is available in paperback for $14.95 US.