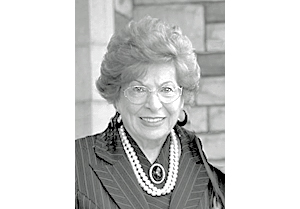 By MYRON LOVE This story originally appeared in the March 25, 1992 issue of the JP&N. It recounts the incredible ability that the late Tillie Goren might have had to bring rain – and end droughts.
In the summer of 1990, Tillie Goren finally realized her goal of persuading Winnipeg City Council to name a street in north Winnipeg after Monty Hall.
Now she has set her sights much higher. She believes she can influence the weather.
In retrospect, she recalls occasions when she and her husband, Norm, were planning their annual April sidewalk sale outside their St. Vital shoe store; the day was overcast, Tillie wished for good weather and the clouds dissipated.
She also remembers a visit to her brother in Sacramento in 1986. It was pouring when she and Norm got off the plane. Her brother thanked her for bringing the rain and ending a drought in the area.
It has only been in the last year, however, with retirement, that it struck Goren she may have a certain gift and that she has been trying to test it out.
In a January interview, she said awareness came during a holiday in Orlando in January, 1991. It poured off and on for much of the time the Gorens were there. Goren had heard there had been a severe drought in Florida and this was the first good rain in a long time. In fact, she heard this was the worst period of rain in that area of Florida in living memory.
Her interest piqued, she continued to follow the situation until June, when the drought was declared over. When she came back home, Goren phoned her brother, Louis, in Sacramento. She had heard California had had a drought for five years and water was being rationed. "I asked Louis if they could use some rain there," she says. "I was afraid to tell him about my feeling, but I had to connect with someone in California to be effective."
Goren also read that the governor of California was going to be paying out $l00 million in drought aid. She phoned the governor's office and spoke to an aide about helping the situation. She promised him three days of rain. As a result, the aide gave her carte blanche to call any time, and put her in contact with the Drought Centre. Goren called back several times last March. Every time she called, she says, it started raining within two days. They called it Miracle March in California. It was the largest rainfall the state had ever seen.
Goren was unable to get a letter of recognition from the governor's office, but she did get a write-up in the Sacramento newspaper.
"I was on a roll," she says. "I saw a story in the Free Press saying we need rain, so I contacted the reporter and asked who to call. I finally got hold of the Prairie Farm Rehabilitation Agency in Regina and told them my story. Being from Saskatchewan, I have a connection there, so I concentrated. Two weeks later, we had snow across Manitoba and Saskatchewan, then rain."
She called Regina again in June to ask how it was going. The guy on the phone asked her if she knew it would rain this much. She said it was more than she expected, but she usually got lots of rain.
In September, she called Regina again to check on the harvest. The fellow on the phone said it had been dry over the summer, and some areas needed rain. He asked for her prediction.
"I'm not a psychic," she says. "But off the top of my head I said there would be lots of rain and mostly cool days with some sunny periods. On September 9, I was out walking in the evening when black clouds formed overhead and it started to pour. It rained off and on for two weeks. In certain areas, there was a lot of rain."
Goren next turned her attention to Israel, after reading in The Jewish Post & News about the desperate need for rain there. "I got personally involved because I'm Jewish and Israel needed help," she says. "In October I read about the torrential rains, but the story said it wasn't enough. That triggered my determination again. Two weeks later, there was snow in Jerusalem and 30 roads were closed because of flooding. I'm excited, but I can't share it with anyone." (This has been the worst winter for rain and snow in Israel's history.)
It is not only rain that Goren feels she can influence. There were a couple of times last summer where she promised people very hot weather would cool down and it did, despite the predictions of the weather people.
To be successful, Goren says she has to have some personal connection with or feeling for the area she is trying to help. Then she concentrates or thinks about the need for the change in climate.
"It's some inner feeling I can't explain," she says.
"I spoke to a rabbi in Winnipeg who told me anything is possible. He said I may have a gift and I should pursue this. I would like to be able to find someone to explain it to me."
She thinks it may be a hereditary gift. Goren grew up on a farm on the Herzl colony near Lipton, in Saskatchewan.
She says her mother of blessed memory was able to deflect hail storms from the family farm. She recalls once when she was 10, her mother called her out to show her what she did when hail was predicted.
"She said a certain prayer three times, then chopped an axe into the ground. Black clouds overhead suddenly split, turned white and moved off in different directions. Once my dad came up to tell her not to deflect the clouds because they needed rain. The crops were flattened by hail."
Goren was going to concentrate on California again this month. "I want to try for a more normal year there," she says. After that, she is not sure what's next. She has read that Australia is having a drought, but she is hesitant. "I could try it as a challenge," she says, "but I really have to have a concentrate."