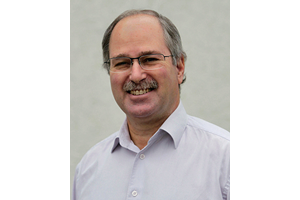 By MYRON LOVE Readers of the Free Press may recognize the name, Ari Marantz. For the past 20-plus years, Winnipeg's only Jewish home inspection specialist has been writing a regular weekly column, "Ask the Inspector", on the subject he knows best.
"It started when a previous "Homes" editor was set to retire," says the son of Bill and Brenda Marantz of his gig as a Free Press columnist. "Someone passed my name along and I thought I would give it a try. It has worked out well and has been really good exposure for my business (Trained Eye Home Inspection)."
He adds that he tries to keep the column fresh and up-to-date. "I really appreciate getting questions from readers," he notes.
The real irony for Marantz is that his wife, Ilana Simon, is the professional writer in the family. In the past, he points out, she used to write a food and recipe swap column for the Free Press. (She is currently Director of Communications and Marketing at the University of Manitoba's Rady Faculty of Health Sciences.)
While Marantz studied zoology at university and has a degree in Science, the building trades have always been his real passion. During his university years, he worked summer jobs part time, first at Beaver Lumber (sales clerk) and later at Brown and Rutherford (a historic lumber yard).
After university, he began his own construction company. "I started with fences and decks and other outside projects," he recounts. "I did mostly residential renovations."
He worked as a contractor for about 15 years before switching to home inspections. "Being a contractor is a challenging occupation," he observes. "It was particularly difficult during the period when house prices were flat and interest rates were at an all-time high."
Setting himself up as a home inspector meshed well with his experience and skill sets, he notes.
His science background also helped, he adds.
Marantz qualified for his new role through a home study course created by Toronto-based Carson Dunlop and Associates. "I was one of the first graduates," he reports. "Today, their program is offered throughout North America. A lot of colleges follow their curriculum."
A proper home inspection should take two to three hours – depending on the age of the house, Marantz points out. "We examine all the major systems – the plumbing, heating and electrical, the attic and the roof. The foundations are the biggest concerns."
Most home inspections should take place before you take possession of your new home, he advises. "You will want to know what the potential problems may be before you move in.
"When I started Trained Eye Home Inspections," he recalls, "the average wait for a home inspection was three or four days. We are a lot busier these days, Now, when someone puts in an offer on a house and wants a home inspection before buying, the home inspection has to be done almost immediately because the offer is often time limited."
For first time home buyers, he adds, bringing in a home inspector prior to purchase is especially important because there is a lot to learn about owning a home.
It is also useful, he adds, for people building a new home to be in contract with a home inspector at the beginning of the construction process to ensure that potential problems are identified and resolved before the house is completed.
He reports that he has been especially busy these past few weeks between the ground shifting more than usual due to the previous dry weather and the many flooded basements caused by the torrential rains of the past few weeks.
While Marantz may be the only home inspector of the Jewish persuasion in Manitoba, he notes that he has come to know several other Jewish home inspectors across North America. This came about through his membership and involvement in the Canadian Association of Home and Property Inspectors, where he was Manitoba President, National Vice-President, and a National Director for many years.
He is also a member of the American Society of Home Inspectors.
Outside of work, Marantz enjoys spending time with his family, including his sons Jesse (who, with his wife, Lauren, are parents to three-year-old Jack), and Evan (and girlfriend Ravit). He also enjoys the family cottage at Winnipeg Beach in the summers and keeps in shape with golf in summer and hockey – he plays twice a week – in season.