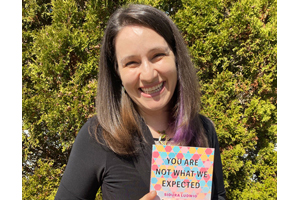 By GERRY POSNER
Winnipeg has been an enormous contributor to the world of arts – provincially, nationally and even beyond. You name the field and you will find Winnipeggers, many of them Jewish, living or dead, residents or not, who have made their mark in the arts, be it in dance, music, art, theatre or literature.
The field of the written word has, I would suggest, been especially productive for Jewish female Winnipeggers. Four women whose names leap to mind are: Adele Wiseman, Miriam Waddington, Fredelle Maynard Bruser, and Carol Matas. No doubt there are others. Over a period of several years now, that list has been added to by Sidura Ludwig. Sidura is, by the way (in case you were wondering), no relation to another Winnipeg author, the late Jack Ludwig.
Sidura Ludwig is a product of the south end of Winnipeg, the eldest child of Rael and Maylene (Donen) Ludwig. A graduate of Ramah Hebrew School and later Grant Park High School, Sidura's first successful foray into writing began when she was 18 years old – and she won her very first award for writing a short story.
Ever since she was a youngster, she loved storytelling and was always a voracious reader. Sidura clearly knew the path she wanted to take as she went straight from high school to York University in Toronto to study English and creative writing. She continued her studies with a Masters in Journalism from Carleton University in Ottawa. At about that point Sidura began producing what might be considered a massive volume of writing in a very short time period.
Sidura has written short stories and full novels and her works have been published in books, literary magazines and other journals. Her very first novel, in 2007, was published in three countries: Canada, the USA and the UK. Now, that is what I call the trifecta – no small accomplishment. That novel was titled "Holding My Breath".  It was so well received that Sidura was on the shortlist for the Carol Shields Winnipeg Book award. She was also a finalist for the CBC Cross Canada Bookshelf – not a bad way to begin a career.
Sidura's short fiction work can be found in magazines like Pretext, Light and Dark, Chaleur and Jewish Fiction.Net. Her work has appeared in the Globe and Mail, the Winnipeg Free Press, and on CBC radio. Her most recent piece of writing was published this year, with her adult short story collection: "You Are Not What We Expected", about the clash of secular and religious Jewish families – an intimate examination of the Jewish community which is, I would suggest, very timely in the Jewish world of 2020.
Sidura is currently in the middle of a Master of Fine Arts in Writing for Children and Young Adults program. At the same time she is involved in other projects, including picture books, a young adult novel and a historical grade novel. Beyond her writing, Sidura Ludwig is a teacher to both children and adults in what would be termed creative writing – which is something she's also been involved with since she was only 18, in places ranging from Winnipeg to the UK. Teaching complements her constant pursuit of learning as she recently embarked on the aforesaid Masters at Vermont College while also serveing on the faculty of an online creative writing school known as  the Sarah Selecky Writing School.
Outside of her career as an author, she has worked as a communications specialist for non-profits. Sidura, who lives in Thornhill, Ontario with her husband, Jason Shron, is also the mother of three children: Boaz, Dalya and Isaac.
She is one busy lady. With all this in mind, when one reflects on the literary career of Sidura Ludwig, the easy response as to how she did it is that her name sums it all up. Sidura is connected to the Hebrew word "Sidur", a Hebrew prayer book. It seems so obvious that she would be connected to a book, does it not? In addition, the word Sidura has in it the root letters which form what we know from Passover as the word Seder, which means order. Sidura's life and her books show a sense of order and purpose. On top of that her middle name is Chaiya. Put the two names together and you realize that Sidura Chaiya Ludwig is attempting to reflect an order in life and based on her works to date, she is right on target.