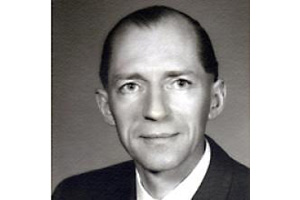 By BERNIE BELLAN Fascinated as I was by the story I had received from Reid Linney about Aron Katz, there was something else attached to the information about Aron Katz that was equally compelling: A vivid account of an attempt to revive a drowning victim, also in Big Whiteshell Lake (which is where Aron Katz drowned). It turns out that, subsequent to publishing the story of Aron Katz's life – and tragic death, in our Aug. 3 print issue, we received information that confirmed the drowning victim in the account you are about to read could not have been Aron Katz.
What happened was that years ago, Dr. Gerald (Yosel) Minuk, who was also a classmate of Reid Linney and Aron Katz at St. John's, had read an account of a drowning in Big Whiteshell Lake in a book titled It was a photocopy of something that, as Gerald (Yosel) Minuk subsequently explained to me in an email, had appeared in a book titled "History and Folklore of the Whiteshell Park North," which his wife happened to buy from a woman going door to door selling copies of the book about cottage life in the Whiteshell area.
After Dr. Minuk had read Dr. Eadie's chapter in the book, titled "Triumph and Disaster," he was certain that the story Dr. Eadie tells must have been that of Aron Katz's drowning. He sent a photocopy of the chapter to Reid Linney who, in turn, sent it to me.
It turn out the author of the story, Dr. John Eadie,  was a Director of Public Health in Manitoba who would eventually became the Director of Epidemiology for the Province of Manitoba.
In his obituary, it notes that Dr. Eadie, who died in 2014, was born in England, studied medicine at the University of Edinburgh, and served with the Royal Army Medical Corps in Burma/Rangoon during the Second World War.
in 1950 Dr. Eadie and his family moved to Portage la Prairie. "In 1955 the family moved to Winnipeg, and later he purchased a cabin on Big Whiteshell Lake, where he would spend his retirement years exulting in family and his beloved outdoors," his obituary notes.
I've decided to reprint Dr. Eadie's entire account of what happened one summer day in the Big Whiteshell. However, as you'll see once you start to read Dr. Eadie's account, he says that what happened occurred on a Sunday – and that he decided to record his recollection of the day's events at 4:00 am the following day, which would have made that a Monday. Aron Katz drowned on a Tuesday – and, as you'll see at the end of this story, Dr. Eadie's own daughter, Sheelagh, offered further evidence that the drowning victim described in the story you are about to read was not Aron Katz.
Here is Dr. Eadie's story:
BIG WHITESHELL LAKE
JOHN A. EADIE
LOT 8 BLOCK 4
TRIUMPH AND DISASTER
"A normally busy Sunday at the lake started, for me , at about 7:30 a.m., when I took my wife's dog for a run up to the 'mountain' behind our cottage. After a rest to admire the start of another 'Sunny Manitoba Morning,' without a cloud in the sky – back downhill, with Tuffy in the lead, to breakfast alone, listening to the world political situation on C.B.W., as was my custom.
"A quick shave and out to do chores – gas up in readiness for a day's water-skiing, etc. Still no one else astir in the cottage. So out comes the axe and finally dispose of that poplar stump that should wake someone.
"Now the boys are astir and we're off water-skiing. The water's a bit choppy and there's plenty of traffic – so I do most of the driving. Kenny goes first – an old pro at 13 years, followed by his friend Lars – skiing for 24 hours, but keen to catch up. Then Maria – a beginner, but too shy to tell us to speed it up for her. Irene and Carmen – prospective sisters-in-law to my two older boys – go up double.
(At this point the story is cut off. It resumes here:)
"A swim to the point with my wife, Pat, and a friendly visit with the neighbours.
"Great Scot – it's 3:30 p.m – so we're up to grab some lunch. When that's over, the day's activities tell their tale and I drop off for 40 winks.
"A thunder of feet up the stairs, 'Dad, there's a drowning at the dock!'"
"Up and moving. Grab the keys – to the wagon – drive to the dock. The kids beat me to it by boat – tell me it's out at the diving dock, but they take me over by boat – 13-year-olds think fast and act with purpose.
"At the floating dock – signs of tragedy. A lifeless young man in his prime, the centre of earnest ineffective efforts at artificial respiration and cardio massage. What to do? Find out what the chances are or try to improve the resuscitation techniques? I'll have to try both, somehow.
" ' How long was he under?' – '15 minutes – maybe 10 – maybe eight – Who had a watch – how accurate are the estimates?' (five minutes is the limit.)
" 'Is he breathing "No!'
" ' Any pulse?' 'Yes,' says Nurse.
" 'Is his airway clear? Are we getting air into his lungs?' 'Not much!'
" 'OK – four men get an arm or leg up and lift him, head down, feet up. You "Nurse" – (she wasn't, but we didn't know for an hour) – help clean out the mouth of blood and vomit. Quick – back down – on his back and start massage and breathing.' Not good – take over breathing and show breather how to get a good breath in – chest rises – 'OK? Now you try it. Get the rhythm 1001, 1002, 1003, 1004, 1005 – breathe. Repeat – a beat a second and a breath every five beats.'
"Am doing the massage – 'Who can take over?' 'I will,' says a voice – strong and confident – and he has the build to see us through to Pinawa. 'OK – use the butt of the palms, quick beats – right on the breast bone – see?' 'OK!' – tries it.
"Nurse reports femoral pulses – colour poor – pupils not good. To continue or stop?
"No one knew how long he was under for sure – he's turning pink after being tipped up a couple of time and improving technique. OK – he has a chance – let's give it to him.
"Time to look to the next step. 'We need a hard board and four men to help lift.' 'Here we are!' A surfboard appears – 'We need a boat to get him to main dock.' 'OK- change boats – yours is biggest. Can you bring it alongside?' 'Did anyone send for ambulance or Mounties?'
(At this point the story is cut off again. It resumes here:)
"new catch phrase -KEEP the SYSTEM GOING. 'If you're tired ask for relief."
" 'When we move him onto the surfboard after the next breath – hold it, he's filling up again – tip him up and clean him out. Well done!' Back to the SYSTEM. It's going again.
" 'OK, now move him on to the board after next breath – 1001, 1002, 1003, 1004, 1005 – Breath – MOVE!' He's on the board – KEEP the SYSTEM GOING.
" "Next move – move the board on to the boat – head to front – breather and cardiac massager keep going. After next breath MOVE but KEEP THE SYSTEM GOING.' He's in the boat – the two men on the outside fall in the lake and get left behind. Nobody laughs.
"We're moving – to the main dock. On to dock –
" Get the crowd out of the way!' Someone does.
" OK. Four men move him down the dock, but KEEP the SYSTEM GOING!'
" 'Who'll drive my wagon?' – 'I will.' – 'Here's the keys – the blue wagon' – back it on to the dock – tailgate down – four movers ready – into the wagon and the SYSTEM KEEPS GOING.
"Nurse" asks privately – 'What are his chances?' – 'Just about zero.'
"The Mounties are here, flashing lights and the works.
" 'We need water in a cooler – bucket – anything.' They appear.
"We're off.
" 'Hey, not so fast – watch the corners – we can't do massage at that speed.' We're all on our knees – never knew steel deck was so hard on knees, especially on corners and on my cartilage scar.
" 'OK – relieve the breather!' 'I'm OK, Doc.'
" 'You can't do it all yourself – take a break and come back stronger.' 'OK.'
"He's getting pinker – He's got femoral pulses. His pupils seem smaller, are they really? Wish I had my glasses! 'Good work –keep it up – Keep it up – change breather – change massager – keep it up. Get a rest.'
"A young guy in his car gets between us the Mounties and won't pull over, despite our lights and horn. The Mounties radio ahead and he's invited to stop for a ticket at Seven Sisters.
"Half hour to Pinawa. Twenty minutes to Pinawa. Ten minutes to Pinawa. He's still pink, still got a pulse. But, what about those pupils? Keep it up. 'Breather rest so you can take over again at Pinawa.'
(Cut off again. Resumes here:)
"femoral pulse – but hold it – those pupils are dilated and fixed and have been for half hour or more. Don't tell the team – yes, we're a team now – everyone knows his job and does it well.
"Last time – KEEP the SYSTEM GOING – back in to the Emergency door. A word with Pinawa doctor – into Emergency.
"Electro-cardiogram shows he still has pulses, still was pink – without the system pulses become few and weak – pupils still dilated. The patient is dead. DISASTER! Or is it triumph? – Seven total strangers – who didn't even know each others' names – worked themselves into a team in three hours of desperate effort for a patient whose name they didn't know.
"When the verdict was finally announced – that he was dead – despite pulses and pink colour – the Nurse looked around the room and there wasn't a dry eye to be seen. For a stranger? Who is a stranger?
"The dilated pupils showed the patient's brain had died before he was pulled from the water He'd been down too long – but who could be sure? He had a chance – we gave it to him – but it didn't work out.
"The team was totally exhausted. After a wash up and juice or coffee the Mounties took our statements His girlfriend's father came in to thank us – she was too distraught.
"Then home to family and friends, bucking traffic all the way back to Big Whiteshell – where there is still no lifeguard!
"Dozens of these helpers who gave instant action and response to requests should not be forgotten.
"But for the seven people – four men: an orderly, a policeman, president of the Campers Association, and the doctor; three ladies: a nurse, an accountant, and a housewife we thought was a nurse – it will remain TRIUMPH AND DISASTER.
"(Above disjointed notes written at 4:00 am the following morning, when I couldn't get back to sleep for the drama going round and round in my mind.")
Post script: As mentioned at the beginning of this story, despite the many similarities between Aron Katz's drowning and the drowning described in Dr. Eadie's account – which had led Dr. Minuk to assume that the account was indeed that of Aron Katz's drowning, subsequent to publishing this story in the Aug. 3 print issue of The Jewish Post & News, we received an email that had been written by Dr. Eadie's daughter, Sheelagh. In it Sheelagh wrote: "I am thinking that Aron is not the person John assisted.
Aron died on a Tuesday and given that Dad wrote his notes right away and refers to it being a Sunday it is not likely that he would confuse the day of the week. As noted this is a discrepancy that is noteworthy.
"Secondly, he refers to his son, Ken, as being 13 but in July 1973, he was 11 going on 12.
"Dad was a precise person, not sure that detail would be altered."