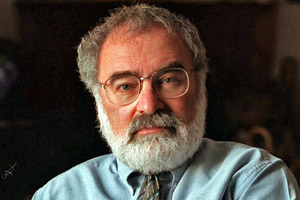 By JAMIE MICHAELS Irving Abella passed away on July 3. He was a special historian. Calling him an optimist might be considered paradoxical given the subjects he researched: the history of Canadian anti-Semitism, the role of racial prejudice in shaping Canadian immigration policy, and Canadian labour history.
Despite the seriousness of his work, Abella was an idealist who believed that we could learn from the mistakes of history to build a better, more humane present. His work has been, and continues to be, formative for young academics—myself included—who strive to leverage history in the pursuit of a kinder world.
Abella was perhaps best known for his 1982 book, "None is Too Many: Canada and the Jews of Europe 1933-1948," co-written with Harold Troper. The book was awarded the National Jewish Book Award for bringing Canada's atrocious immigration record into the public spotlight. During the Holocaust, Canada accepted the fewest number of Jewish refugees fleeing Nazism of any refugee accepting nation. In 1939, when an immigration agent was asked how many Jews would be admitted to Canada after the war, he replied, "none is too many." Abella and Troper's work introduced the term "none is too many" into the public consciousness. This abysmal policy failure became, in Abella's words, "an ethical yardstick against which contemporaneous government policies are gauged."
As this previously unknown history was brought to light Canada was forced to re-examine its immigration policies both in the past and in the present. Although important work remains to be done, "None is Too Many" has undoubtedly influenced a more open immigration policy for those most in need.
Abella was an active member of the Jewish community. He was the director of the New Israel Fund, the chairman of the Holocaust Documentation Project, the president of the Canadian Jewish Congress, and the Schiff Chair of Canadian Jewish History at York University. His Judaism was a defining feature of his scholarship and the practice of Tikkun Olam pulsated throughout his work. Abella viewed history as a call to action. "We can, indeed we must, do better."
As an academic, Abella's deep commitment to this humanistic approach to scholarship was reflected in an impressive list of accolades. He was named a member of the Order of Canada, served as the President for the Academy of Arts and Humanities for the Royal Society of Canada, and was awarded the Queen Elizabeth II Golden Jubilee Medal. For his "contribution to documenting the story of Jewish Canadians, and his commitment to the principles of social justice and tolerance" Abella was named a member of the Order of Ontario.
Despite his academic prominence, Abella never failed to make time for emerging scholars. When I was preparing my first historical graphic novel for publication Abella was kind enough to write the introduction. I was making comic books about history and Abella took the time to read my work and consider its merits, despite what he called its "unconventional" form. I remain deeply moved by both his encouragement and excitement. This generosity towards up-and-coming academics and a scholarly curiosity to engage with new forms were hallmarks of who Abella was as a person.
Abella leaves behind his wife, Supreme Court Justice Rosalie Silberman Abella, his sons Jacob and Zachary, and a generation of historians committed to learning the lessons of the past and leaving the present a little bit better than they found it. May his memory be a blessing.
Winnipeg-born Jamie Michaels is the author of two graphic novels: "Canoe Boys" and "Christie Pits". He is currently working on his doctorate in Israeli-Palestinian relations at the University of Calgary