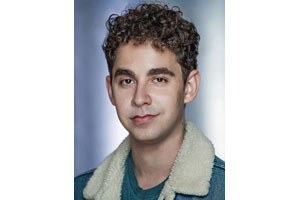 By MYRON LOVE Winnipeg Jewish Theatre audiences are going to be hearing a lot from Hershel Blatt – both as actor and playwright – in the new year.
The Toronto-based performer reports that the play that he is developing – "Ahava Later" – is being workshopped by the WJT. The play, Blatt notes, is a 1960s "Toronto Jewish-Queer coming of age story" centering on a Jewish family whose teenage son is coming to terms with his sexuality while his sister is also searching for her identity.
The 27-year-old Blatt reports that the play is being developed under the auspices of the WJT's relatively new "So, Nu?" program, which is billed as a "digital festival of new Canadian Jewish plays". The WJT introduced the online program last year in response to the ongoing Covid situation.
The young playwright says that he came to the attention of outgoing WJT artistic director Ari Weinberg when Blatt auditioned for a role in a previous season. Blatt will now star in "Summer of Semitism", the WJT's first production scheduled for next year. The play, written by Canadian playwright Ori Black, is about four friends running a summer camp where they had been long time campers. They have to deal with an anti-semitic incident at the camp before the campers arrive.
The play, Blatt notes, is being directed by Winnipeg's Krista Jackson, a former associate artistic director at the Manitoba Theatre Centre.
Blatt notes that he grew up in Toronto. He attended a Hebrew day school until Grade 3 and then switched to public school. For high school, he attended the Etobicoke School of the Arts.
"Growing up, I always loved dance movies," the young actor/playwright recalls. "I started taking dance lessons when I was six. By the time I was in middle school, I knew I wanted to pursue a career in the performing arts."
His big break came in 2016 when he was cast in former Winnipegger Nia Vardalos's monster hit, "My Big Fat Greek Wedding 2" in the role of Tommy. "I got the audition in the thick of my school semester," Blatt recounts. "I wasn't expecting to get the role, but I got called back for a second audition and was cast in the film. My role grew larger as the project developed."
His relationship with Vardalos continues as he reports that he has been cast in her latest project, a new voice series called "MOTIVATED!" currently being recorded in New York.
Coming up for Blatt will be an appearance in a Netflix film, "Wedding Season" (in another Jewish role, he notes), which will be out in August.
He says that he is also involved in workshopping a new play at the Tarragon Theatre in Toronto.
As well, he is working on a project with award-winning young Canadian filmmaker Sagi Kahane-Rapport exploring the reactions of Holocaust survivors as we move through the pandemic. "We interviewed a number of survivors in Toronto this year," he says. "Now, we are trying to get funding to take it to the next level."