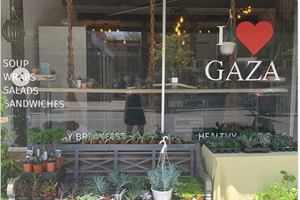 A Toronto restaurant known as Foodbenders has set off a storm of controversy over its overtly anti-Israel stance (along with being anti just about everything that it's fashionable to be against these days among certain elements on the left).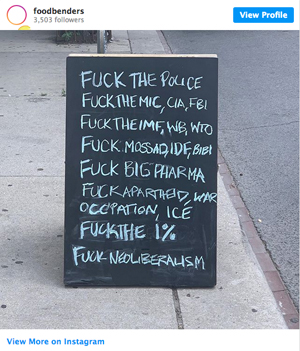 We were alerted to what's going on at Foodbenders, which is located on Bloor Street (near Dufferin) by a former Winnipegger who contacted us to let us know that tempers are flaring within the Jewish community over what seems to be a deliberately provocative stance by Foodbenders owner Kimberly Hawkins.
In an article posted to a website known as blogTO.com, a reporter for that website wrote:
A restaurant that came under fire last month for their anti-police sign is being criticized again — this time for its stance on Israel. 
Bloordale's Foodbenders is back playing defense just a few weeks following its controversial "F*ck the Police" sign at the height of Toronto's anti-Black racism and police abolition rallies. 
The food spot is now being called out for an Instagram post with hashtags calling for a free Palestine and banning Zionists from the shop.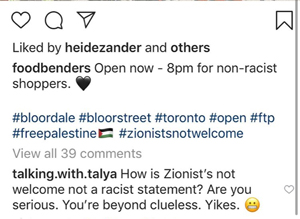 The hashtags, which were placed under a post in June with the caption stating the shop had reopened for "non-racist shoppers", have sparked outrage from some in the Jewish community, who've charged Foodbenders with antisemitism and racism. 
But Foodbenders' owner Kimberly Hawkins says she wants to clarify: Jewish people and Zionists are more than welcome in her store.
"I'm not antisemitic," says Hawkins. "That would go against all the other principles that I've been standing up for the past few weeks. I believe that Palestinians should be free and have the same equal human rights as everyone and that's not a stance I will apologize for." 
Hawkins says she's received a flurry of hate messages recently, but welcomes conversations with people who want to have "a respectful conversation about their beliefs and any differing views." 
"When I'm making a statement about Zionism, I am not referring to Jewish people… It's about the state government."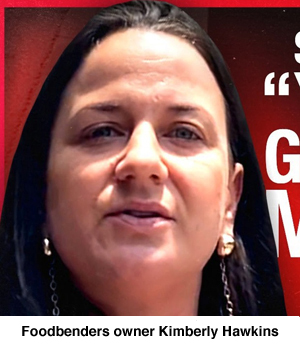 But she's been met with aggression, says Hawkins, from people who've taken her comments "out of context" and who've conflated anti-Zionism with the Jewish community at large. On Thursday night, she put up a new Instagram post explaining her stance.
This isn't the first time that Foodbenders and its contentious sandwich board has drawn ire from Jewish community leaders like B'nai Brith and the Centre for Israel and Jewish Affairs (CIJA), the latter which has stated that its Legal Task Force is now looking into the matter. 
The brand has long been outspoken about its stance on the Israeli-Palestinian conflict on social media, and strongly supports the BDS Movement: a Palestinian-led campaign that's compared to South Africa's anti-apartheid movement by some supporters and, on the flip side, antisemitic Nazism by some in the Jewish community. 
Hawkins, who describes herself as a "white Canadian settler on Turtle Island" says she's been a pro-Palestine supporter since she was 16 years-old. She also says that about half of her customers are Jewish. 
Currently, Foodbenders has a sign in its front window in support of Gaza: the strip of Palestinian territory currently under Israeli blockade. 
On Canada Day, the restaurant put out a sign that said, "Happy KKKanada Day", which alluded to white colonial power's occupation of the traditional Indigenous lands of Turtle Island. Needless to say that post also drummed up some controversy in the comments section.