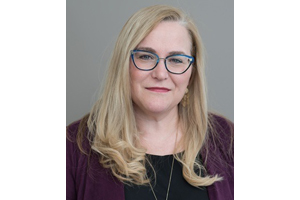 By MYRON LOVE
After taking a break of more than a decade from the insurance industry to focus on her family, Tracy Leipsic is back in action, so to speak. About a year ago, she joined the Reider Insurance team as a Senior Account Manager.
"The timing was perfect," she comments. "I have known the Reider family for many years. It has been a really good fit for me."
In her new role, Leipsic is responsible for looking after clients' insurance needs, be it home or business-related. "The only area of insurance I do not handle is life insurance," she says.
She notes that her responsibilities now are much the same as they were when she was working for her own family's business – Leipsic Insurance (which is now under the aegis of HUB Insurance) – for almost 20 years.
"I have always loved the insurance industry," Leipsic says. "I enjoy helping people with their insurance needs. I have formed many friendships over the years with my clients."
In working in insurance, Tracy Leipsic is following a path that goes back to her great-grandfather, Louis Leipsic. Louis – in partnership with his brother-in-law, Herman Aronovitch, founded Aronovitch and Leipsic in 1905 doing business in real estate, general financial, and insurance.
Not only has Tracy continued the family tradition in the insurance industry, she is also following previous generations of Leipsics who have served to better their community. Tracy's grandfather, the late Sylvan Leipsic, for example, played a major role in the creation and ongoing operation of BB Camp. Her late mother, Brenda, had a lengthy history of community building. She was devoted to working on behalf of charities, including developing the dream home lottery concept for St. Boniface Research Foundation, creating the Dr. Goodbear personae and introducing the first Teddy Bear's Picnic for the Children's Hospital Foundation. She also co-chaired the Winnipeg Humane Society $11 million capital campaign. In later life, she served on City Council and was Deputy Mayor at the time of her passing.
"My father (Michael) served on a number of insurance industry and public boards and sports organizations," Tracy says.
Her own involvement in the community has focused over the years largely on her passion for speed skating. In her teens, Tracy Leipsic was an outstanding speed skater. She started skating when she was 9. For many years, she was a perennial Manitoba champion as well as a part of the Manitoba Provincial team. She was also both a national champion and North American champion. She was forced to retire from competition in 1989 – at the age of 19 – due to injury.
"I met a lot of great people through speed skating," she says. "I developed friendships and relationships that have carried through all of my life."
She has been able to instill a love of speed-skating and sport in her children – twin daughters Rachael and Serena (who are 21) and 15-year-old Adam, who is currently a member of the Provincial Speed Skating team. Rachael and Serena have pursued other endeavors. Serena is attending the University of Pittsburgh on a diving scholarship and is currently the captain of the Diving Team there, while University of Manitoba student Rachael was a high level dancer with the RWB Rec Division and GOH Ballet. She is currently also active in the Sarah Sommer Chai Folk Ensemble, where she serves on the board.
Despite her own speed-skating career being cut short by injury, Tracy has remained active in the sport to the present day as a coach (including coaching her children), as a Manitoba Speed Skating Association Executive Board Member and, most recently, as an official race starter.
As if all this weren't enough to keep Leipsic busy, in 2018, she accepted an invitation to become a member of the Board of the Manitoba Human Rights Commission (MHRC). "I had just completed terms on several boards I had been involved in with sports and my kids' schools and was looking for something new related to community involvement," she says. "Human rights is a cause that speaks to me."
The MHRC, she points out, is an independent agency of the provincial government charged with administering the Human Rights Code. Commissioners are responsible for setting the strategic direction of the commission, also to consider complaints of discrimination and decide if there is sufficient evidence of a contravention of the code to warrant the complaint being referred to the Manitoba Human Rights Adjudication Panel for determination at a public hearing. "Our staff does tremendous work in dealing with complicated issues," she notes. "It has been a great experience for me and gives me a good feeling being able to help people find closure."
About a year ago, Tracy also joined the board of the Jewish National Fund Manitoba/Saskatchewan. David (Greaves) and I have been friends for years," she says of the JNF executive director who was appointed just over a year ago. "My family loves Israel. We celebrated our daughters' b'nai mitzvot there in 2013 and have visited many times. "
She speaks very highly of the impact that Greaves has had in his new role in still a relatively short time. "David has launched several great new outreach programs," she says.
Tracy Leipsic is also proud of the fact that her children are following the examples set by their parents. Tracy's husband is lawyer Richard Buchwald, who has been involved in the community in a variety of roles and is presently a board member of HSC Foundation, among other activities. As well, both Richard's parents, Dee and the late Harold Buchwald, along with the aforementioned Brenda Leipsic and Michael Leipsic all laid the foundation for Tracy and Richard's children's strong community involvement.
"Through community involvement, you meet a lot of great people," Leipsic concludes. "I find it really enjoyable giving back to the community."