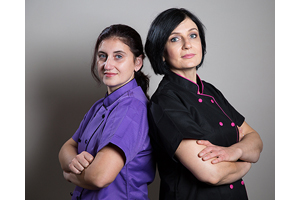 By MYRON LOVE
Just about a year ago, Viktoria Mejnov and Ella Zilbert, the ladies behind Fourchette, were looking forward to moving into a permanent bricks and mortar home for their fledgling sweets and treats business.
Then, Covid arrived…
While the two entrepreneurs had to take a step back, Mejnov notes, they have been able to continue growing their business during this time of quarantine. "People who are stuck at home appreciate the treats and delicacies that we can provide," Zilbert says.
Both Zilbert and Mejnov are former Israelis who are originally from countries that were formerly a part of the Soviet Union. Mejnov came to Israel in the mid-1990s – at the age of 21 – from Uzbekistan. She trained as a chemical engineer and worked in Beersheva for a number of years as a lab assistant. She came to Winnipeg with her husband, who works in IT, along with their three children, eight years ago.
Zilbert arrived in Israel at the age of 14 from Ukraine, also in the mid-1990s. After serving in the army, she earned a degree in law . She and her husband, a mechanic, immigrated to Canada six years ago with their two children. They were blessed with a third daughter after settling in Winnipeg.
"I wasn't able to get a work permit right away," she says. "During that time, I wasn't able to work or take classes. I like to bake so that is what I did – and I gave my baking to friends and neighbours who liked what I made so much that they suggested I try to sell it."
Zilbert and Mejnov met when they were both working at the Rady JCC daycare. After they discovered that they had a mutual love of baking, they decided to go into business together. The6y founded Fourchette in November, 2018.
"We became close friends," Zilbert says. "Our husbands are friends. Our kids are friends. We have become each other's families."
The duo prepare their delicacies in a commercial kitchen space they rent downtown.
Fourchette offers a variety of cakes, along with "small bites" and European-style appetizers. There are also vegan and gluten free options. "We choose ingredients that undergo the least amount of processing and contain no artificial flavours or preservatives," Mejnov points out.
"Small bites" include cookies, cupcakes, dark or white chocolate cake pops and confectionary items such as éclairs, wafer roles and white or cark choux with Belgian chocolate.
"We use all our own recipes," Zilbert says.
She reports that a lot of Fourchette's customers are from the Jewish community. "We have been involved in a number of community events," she adds. "We have also done workshops at the camps and the Rady JCC."
The partners are hopeful that once the current Covid situation comes to an end, they can move into a storefront and sell directly to the public.
For now, interested readers can order online at
Fourchette Inc.
tel: +1 (204) 808-2210
email: fourchette@4chette.ca