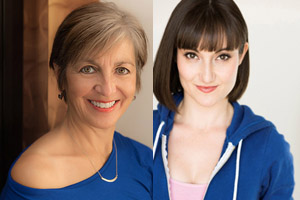 By REBECA KUROPATWA
The Winnipeg Studio Theatre (WST) has been one of the first organizations to receive a "Safe at Home" grant from the province, enabling it to teach online Master Classes in Theatre Arts, with the public able to tune in for free.
Led by Brenda Gorlick, who co-founded WST with Kayla Gordon in 2006, the Master Classes provide a training hub for aspiring actors, directors, music directors, and choreographers, along with Gordon and Gorlick providing mentorship.
When Covid arrived on the scene and everything coming to a screeching halt, Gorlick created this virtual Made in Manitoba Master Class Series, with a musical theater focus.
"I reached out to almost all of my former students who are now working professionally somewhere in the world," said Gorlick of getting the project off the ground. "Whether they are on Broadway in New York, out west, in London, or in Australia, every person said 'yes,' when I asked them if they would like to teach a Master Class virtually.
"So, we started with 12 professional artists who were unemployed but who were at the top of their game in their own particular world. And we offered dance classes virtually. We offered singing. We offered audition technique. We offered acting for the camera. We offered voice over technique. And, it has expanded from there."
The first round of workshops ran in June and July with many of the professional artists moving back to Winnipeg with their until-then work on hold. At first, many of the classes were live with proper social distancing protocols. But, since things have shut down, all classes went online.
"I've been working for the last seven-to-eight years with Manitoba Possible, formerly known as SMD Foundation (Society of Manitobans with Disabilities)," said Gorlick. "So, I've developed a dance program with their clientele who are disabled, either in wheelchairs or who have mobility issues or other physical disabilities. So, that program that was being offered to our current session, called All Access Dance.
"And, they also wanted to reach out to our deaf community. So, we have a mime class that is being offered by a pair of young women who are connected with 100 Decibels Mime Troupe. One of them is deaf and the other one is hearing. They work in a partnership. They will be teaching mimes to deaf and non-deaf artists online. And, the other thing I added to this go around is us offering ASL interpretation online for anybody who has issues with hearing."
While so far the classes were paid for, thanks to funding from the province,, going forward anyone is welcome to join in for free. "I actually wanted to offer this program for free, but obviously, I'm always wanting to pay the artists who are involved…even sometimes, I'll pay them and I may not get paid, but I pay my artists," said Gorlick. "So, this time around I said, 'Okay, I've got a budget. I'm going to pay the artists what they are worth. And, we got the funding we asked for, and I'm thrilled.
"There are eight designated topics (26 different sessions). We have pop locals, mime, acting for camera, voice over techniques, all access dance, and one called Ask a Broadway Star. So, the working professionals who have worked on Broadway will be manning that panel. Alexandra Frohlinger, for instance, she's one of my former students…I think I taught her from the age of 10."
Chiming in, Alexandra Frohlinger, said, "In the past three rounds of the MiMM classes, I have taught song interpretation, acting audition technique, and a seminar on how to navigate the business side of 'The Biz.'
"This round, I will be a part of the Ask a Broadway Star Q-and-A, featuring three-to-five Manitoba-made artists talking about their training, careers, onstage experiences, and highlights of working in New York.
"Manitoba has such a wealth of local talent. I don't think I would be where I am today without the foundation and training I received here. Each of us is our own journey, and no two paths are ever the same. However, in sharing my experiences, I hope to teach these young artists something they can use no matter which direction their path takes them. I am so grateful for the opportunity to give back and help guide these emerging artists by sharing things I wish I knew before and lessons I've learned along the way."
Meanwhile, Gorlick has also been working on developing another program called, "Broadway Without Borders," connecting troops from around the world in doing Zoom-based online musicals.
"My hope and dream is to connect with troops everywhere in the world," said Gorlick. "I'd love to connect with a troop in Israel, Africa, or Australia."
For more information or to sign up,
visit www.winnipegstudiotheatre.com.