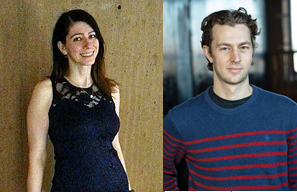 By BERNIE BELLAN It's not easy for a writer to obtain recognition. How's that for a cliché?
As someone who's on the receiving end of numerous requests from publishers' agents or often writers themselves, asking whether I'd be interested in reviewing a particular book or story, or perhaps interviewing the author, I know how difficult it is to get noticed in a world where tens of thousands of new titles appear every year.
But, as I've noted many times in this paper, I often try to go out of my way to help publicize new works by local Jewish writers or writers who may have come from Winnipeg but now live elsewhere – which seems to be a common pattern for writers in this city i.e., leave Winnipeg and hope to carve out a writing career somewhere else.
I've decided to profile the works of two young writers, both former Winnipeggers, and both of whom, interestingly enough, have chosen the short story genre as the primary form in which they are hoping to establish themselves.
By choosing to focus on two short story writers at the same time, my hope is that it might provide inspiration for other writers who may have thought at one time or another that perhaps they'd like to try their hand at writing a short story – with the hope of having it published. It's certainly not an easy challenge to undertake, but the gratification that comes with finally seeing a work of yours published might make following up that initial accomplishment worth repeating.
Both writers, about whom I'm writing, as it turns out, are very close in age. Avra Love is 38, while Marcus Spiegel is 37, but when I asked either of them whether they knew one another, the answer was "no."
The similarities don't end there. Both studied English and Philosophy at university and both have worked as teachers – which is a natural, I suppose for a writer, and both have chosen to write fiction, although Marcus Spiegel tells me that he has also written some non-fiction.
And, while Avra Love is relatively new to the game, having just published an anthology of her stories, titled "Into the Junk Drawer and Other Stories," Marcus Spiegel has had a number of his short stories published in American literary journals, one of which has just recently been awarded a very major prize.
Marcus says that he first began writing short stories when he was around 16, but it was only when "he was around 26 or 27" that he was "really inspired to be a writer." Avra says that her first interest in writing was poetry, but she also tried her hand at writing "skits, young adult fiction, and children's books."
As for their Winnipeg backgrounds, it turns out that I'm well acquainted with both Avra's and Marcus's parents. Avra, as you might have guessed, is the daughter of Myron and Symma Love, while Marcus is the son of Jeff and Esther Spiegel.
Marcus, by the way, was brought to my attention by his in-laws, Neta and Yair Bourlas (who happen to live across the street from me). It was when I was talking with them one day that they mentioned they have a son-in-law who had recently been awarded a major award for a short story he had written. Marcus was one of 65 writers whose works were published recently in a very prestigious annual anthology of short stories, essays, and poems, known as "The Pushcart Prize" Series. Marcus's story appears in the XLVI edition for the year 2022.
While Avra's collection of short stories has only recently been published, she says that she has another collection of short stories which she's hoping to publish soon, along with "a handful of children's books awaiting illustrations." She adds that "I would like to challenge myself to a longer piece, but haven't hit upon the right idea just yet."
Both Marcus and Avra like to use their imaginations to create scenarios that might seem somewhat implausible to the reader, but which draw upon experiences that they might have witnessed in some way or either read about or saw somewhere.
Marcus Spiegel's award-winning short story, titled "A Tale of Two Trolls," was first published in the Santa Monica Review, which is a national literary journal sponsored by Santa Monica College.
He says though that it took him quite a long time to be comfortable writing in a more contemporary style that would be accessible to readers. Prior to that realization, he notes, he was writing in a more "classical" style.
Just as Avra experimented with different genres before settling into short story writing, Marcus also tried his hand at poetry and writing a novel which, he says, "I guess turned into a novella."
It's easy for a writer starting out to be distracted by more mundane concerns, such as making a living – which is hardly something that anyone can expect to do writing short stories until you've achieved a certain level of success. As Avra Love notes, the process of writing is rewarding in itself: "Over the last year, I've begun trying to pen concepts without worrying so much about a traditional plotline. These stories have been a way to pay tribute to people in my life, to explore abstracts and metaphor, and to have fun with common expressions. Because they are so succinct, it is relatively quick to put them to page, in addition to being cathartic."
As for the financial rewards associated with writing short stories, let's be honest: No one starting out is likely to make much money doing that. Avra says she's "been teaching since 2013, adding she's "taught and tutored in all ages and subjects, worked in early child care, and done some editing work, as well."
Both Avra and Marcus are married. (Marcus's wife, Yarden, by the way, is also a teacher.) Marcus's career has been somewhat eclectic, however. When they were both in their twenties, he says that he and Yarden spent quite a bit of time traveling. They actually ended up in South Korea for almost five years (from 2011-16), where they both had intended to teach English.
While Yarden did work as a teacher, Marcus says that because of bureaucratic red tape he wasn't actually able to work as a teacher in Korea. Instead, he began working as an editor for a Korean woman who would give him things that had been translated from Korean to English and, as he says, "I would correct things for her and polish them."
When Marcus and Yarden returned to Toronto, while Yarden acquired a teaching degree and began teaching full time, Marcus says that he began "picking up assignments" here and there.
In recent years he's been submitting stories to various literary journals. Marcus says that he would typically send a story simultaneously to a number of different journals, with the hope that one of them would publish it.
Such was the case with "A Tale of Two Trolls," which is quite an amusing read. It tells the story of two misfits named Yuri and Winch, who are both college dropouts. They have a YouTube show and podcast, and they purport to be "alt-right" activists, but their primary ambition in the story is to exact retribution on a former professor of Yuri's by the name of Badendorf. It's all quite deranged – and hilarious, especially when Winch dresses up as a frog wielding a samurai sword as he prepares to attack Professor Badendorf.
The story should appeal to young readers as it's laced with all sorts of references to contemporary tropes having to do with the internet, but it would also certainly appeal to older readers as well who would get a kick out of how awkward Yuri and Winch are – Yuri especially when he happens to run into a former female friend by the name of Hannah while he's prowling the halls of his former college. His desperate attempt to make small talk with Hannah while eating vegetables – to impress her (and which is something he hasn't done in ages prior to that day) is quite hilarious.
It's easy to see how such a terrific story would garner a major literary prize but, unfortunately, unless you're able to pick up a copy of the Santa Monica Review from Spring, 2020, or you manage to acquire a copy of the 2022 edition of the Pushcart Prize anthology you won't find "A Tale of Two Trolls" anywhere on the internet. However, the Pushcart Prize XLVI is available for order at McNally Robinson, Chapter's, and Amazon.
That story sprang from Marcus's imagination, but you can see how he fastened on to themes that are pervasive in an internet dominated world, especially the alienation from society and loneliness that so many people feel.
As for Avra's writing, she too has a satirical bent in many of her stories. She notes that her "inspiration has come from a variety of sources. The more satirical ones are often based on personal experiences and observations; some ideas relate to people that I've known; still others occurred to me as I contemplated symbols around me (maps, flowers, the diversity of confections!) or when a certain phrase crossed my mind (heart of diamonds, opportunity knocks…)."
And, while Marcus has enjoyed some success in having a few of his short stories published, he admits that having his name become more familiar to readers is a challenge. "I have a primitive website," he says (marcusspiegel.com). 
As well, his interests are quite eclectic. A recent non-fiction story of his, he says, was titled "Century of the Hoax", which he describes as a "history of hoaxes, from the 19th century to the present…and how they evolved into 'misinformation'."
In the fall, Marcus will have another piece published in Boulevard, which has published some of America's top writers over the years. "It's actually about professional wrestling, of all things," he notes.
Avra Love tells me that "Into the Junk Drawer" is available on Amazon and in the Kindle Store, in paperback, hardcopy, and e-book formats." She adds that she's "currently looking into getting the book into the Chapters/Indigo store… but have yet to receive confirmation. Finally, one can order the book directly from Avra herself at avraklove@gmail.com or from her parents at myjolove1@gmail.com.
And, while being profiled in The Jewish Post & News might not be a surefire path to recognition for a writer, the way things work these days is that one thing can lead to another, perhaps in a painstaking manner, but eventually if you're willing to keep at it, you might begin to attract a following. 
But, after having communicated with both Avra Love and Marcus Spiegel, one realizes that writing is its own reward. It can be painfully difficult to sit down day after day – as Stephen King says a dedicated writer must force oneself to do (and as Méira Cook noted in our last issue she demands of herself as well), but once you've completed what you've set out to do, there's a pride in having accomplished that task – whether or not what you've written is read by a great many others.