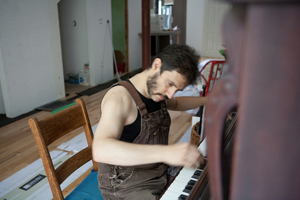 By GERRY POSNER You don't have to look far to get a handle on Bob Wiseman or, for that matter, his three brothers: Ron, Gordie and Howie. Mom and Dad -Elaine and the late Mannie Wiseman, set the table and the boys seem to have eaten from the plates that their parents set for them.
The boys have all achieved fame and success in their respective fields, but it is likely that Bob is the most well known of them all, mainly from his tim as a founding member of Blue Rodeo, one of the most popular Canadian bands of all time.
Bob has a special talent in the music world, but he's now expanded his horizons to include teaching and writing. What is certainly true about Bob Wiseman and indeed his three brothers is that their connection to the arts was no fluke. Their mother, Elaine Wiseman (Winston) changed her life after her four sons went off to Toronto for their post secondary educations. She enrolled at the University of Manitoba and obtained a degree in Fine Arts in 1981.
That was no small feat – and Elaine continues to this day to pursue art. Bob also picked up a valuable lesson from his father, Mannie, who shifted gears later in his life, leaving the camera business and returning to optometry, which is what he had studied earlier in his life. Perhaps that is why Bob was able to leave Blue Rodeo when he did and forge his own career.
And what a career it's been. To begin with, after joining Blue Rodeo in 1982 and staying with them for eight years, Bob left after the band had released its fifth record. From 1982 through 1989, he was a regular at open stages in Toronto. He not only refined his own songwriting skills, he was soon producing other artists.
His lyrics are not afraid to take on political themes. Some people might recall that, in 1988, his second solo album, "Bob Wiseman Sings Wrench Tuttle: In Her Dream," he took on the murder of Salvador Allende, also President Richard Nixon and Henry Kissinger.
Bob later performed with other bands and was a fixture on the Canadian music scene. He has toured extensively and his reach is large in terms of his association with so many in the music world. To name them all would take up too much space in this paper, but suffice to say, he has been a huge part of the music world.
Bob's craft is clearly recognized by other artists who have played his music, including Serena Ryder, who covered his song "White Dress." Despite having a flourishing music career, Bob Wiseman found time to obtain a Master's degree in Environmental Studies in 2019 from York University and is now in the PhD programme at the International Institute for Critical Studies in Improvisation.
The Wiseman story reflects Bob's work as a scorer of music for film, television, theatre and radio, and his talent on the piano, keyboard, guitar, accordion and of course. vocals. In sum, if you had to describe Bob Wiseman, he is a musician, songwriter, producer, filmmaker – and an actor.
When one considers how improbable the odds are on making it in the arts in Canada, one has to marvel at the success that Bob has had. He is not alone in his family. His brother Ron, who not that long ago made aliyah and lives in Tel Aviv, performs with a Jewish Reggae band and is also a documentary film maker.
Brother Gordie made aliyah in 1987, lives in Israel with his 12-year-old son, is a retired immigration lawyer, and is, as well, a writer. His play " Einstein" was widely seen on stage in Canada. (Ed. note: Gordie goes by the name Gabriel Emmanuel. We had a story about his recently having received the Prime Minister's Prize from Israeli Prime Minister Naftali Bennett for having written a play about former Prime Minister Menachem Begin. If you haven't read that story yet, you can find it on our website, jewishpostandnews.ca.)
Brother Howie, by the way, is a screenwriting professor at York University.
To return to the original focus of this piece – I wondered how Bob Wiseman ended up in the music world. After all, when Bob was growing up, performing music was not looked at then (and even now) as a viable way to make a living. Mom and Dad were not on board with the idea until Blue Rodeo proved them wrong. From Bob's point of view, what propelled him into music was, as he puts it: "the alternative."
He knew he had a career when Blue Rodeo took off and made a name for itself – all this from a kid who attended Ramah Hebrew School, Joseph Wolinsky Collegiate, River Heights and Grant Park, Argyle, and the University of Winnipeg Collegiate. In short, Bob was like a lot of us except in many ways, he wasn't.
As mentioned earlier, Bob sees a major parallel in his life with that of his late father Mannie. His father suffered financial reverses in the camera business, which he was in for many years. At a later age – in his 50s, Mannie had to start over again, returning to school and the field of optometry from which he had originally graduated.
Bob admits that he too had a major setback when property he owned was torched by an arsonist and the insurance coverage was inapplicable, with the result Bob had a severe reversal of fortune. His life savings were lost. He too returned to school and is now attempting to reposition himself to teach at a college using his background as an artist, writer and performer as a launching pad. The example Bob saw in his father navigating difficulties has assisted him to this day.
Bob Wiseman comes back to Winnipeg from time to time to see his mother, along with family and friends. He notes that when he does come back to Winnipeg he walks around and visits the cemetery where his father lies. As he puts it, "Each step reveals more souls and connections to a community I appreciated in another lifetime." I figure those thoughts are likely the inspiration for another song from Bob Wiseman.