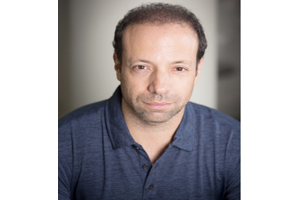 By ORI BELMONT Born in Winnipeg in 1970, Ari Posner was exposed to music and performing at an early age.
The son of Gerry and Sherna Posner, Ari learned that playing a musical instrument – or singing can bring so much joy to people (something with which his father was well acquainted after having performed in so many comedic musical performances at the Shaarey Zedek over the years), while his mother was an accomplished pianist.
With musical performances and talent shows a staple of the Posner household, it was only natural that music would play a major role in Ari's life, as well as for his younger siblings, Rami and Amira.
Along with the melodious tunes of his father's singing echoing through the home, his mother and grandmother offered great piano accompaniment. And so it was, that at the age of six, Ari was introduced to the piano. He became immediately captivated by the tones, rich harmonies and melodies that the instrument offered. His parents were thrilled that he was drawn to the musical arts, requiring little if any encouragement or motivation to practice. From the first time that he "tickled the ivories," he was self-motivated to always learn and improve.
From that point in Ari's life to the present day, one of the primary reasons that Ari continues to produce original and well received musical pieces is because of the sheer joy and nachas that it brings to his parents, he says.
In high school Ari was a member of various rock and roll bands, participating in many concerts – something that motivated him to want to aspire to a career in music, he explains.
Ari attended the University of Manitoba in the late 1980s. He continued his performing career by playing with the Chai Folk Ensemble before moving to Toronto to continue his studies at York University. It was at that time that Ari made the decision to pursue a Fine Arts degree while majoring in music. Half of the curriculum involved studies in General Arts, while the other half focused on music.
At York, Ari also acquired additional skills, including musical composition. He says that throughout his time at university he was excited to go to classes and be surrounded by like-minded people.
Upon graduating, Ari made the decision to stay in Toronto. He explains that he had been presented with several opportunities that he believed would continue to allow him to chart his path towards realizing his dreams.
For the following six years, Ari played piano in a wedding band, as well as providing musical accompaniment for ballet and modern dance classes.
It was also at that time, when he was in his early twenties, that Ari met Stacey Hersh, a Toronto composer. With Stacey's guidance and support, Ari was able to learn first-hand how the music industry worked. It was also at that time in Ari's life that he connected with Amin Bhatia, a TV and film music composer. Amin took Ari under his wing, offering useful guidance and support. Over the years he became a dependable mentor for Ari.
Amin strongly believed in Ari's abilities as a musician and composer – and he had a proposition that would ultimately prove pivotal for Ari's career arc. Amin required assistance with various composing jobs for television. Specifically, Ari was tasked with writing and arranging music for a children's series called "Nelvana." That would be the first of many opportunities for Amin and Ari to work together. Subsequently it led to their involvement in another successful TV series, "Flashpoint," which ran for five seasons on CBS and CTV. That was followed by work on a series called "X Company," and more recently, "Anne with an E," which was on Netflix.
As time progressed, Ari's abilities began to draw the attention of other prominent individuals in the entertainment industry. In 2001, Ari had a lucky break when he met Rick Shurman, CEO and founding partner of Pirate Radio and Television, which is a prominent name in the advertising industry. Rick took a keen interest in Ari's composing abilities and eventually offered him a job as an in-house composer at Pirate.
"To me it was like a composing boot camp," Ari says. "I was writing music every day, in all different styles, with fast deadlines always looming." To this day Ari still maintains a very close relationship with the staff at Pirate, and continues to make advertising a regular part of his work every year. (Fans of the very popular radio show, "Under the Influence," with Terry O'Reilly, will be familiar with hearing Ari's name mentioned as co-composer of that show's very recognizable theme music after every episode.)
Recently, with Covid-19 restrictions slowly easing, Ari and Amin have collaborated once again, this time on an award-winning animated series which aired on PBS, called "Let's Go Luna." In addition, the duo worked together on "Rosie's Rules," which will soon be broadcast on PBS. The plot involves a child who lives in southern Texas, whose father is Mexican and whose mother is American. As a result, the series features a good deal of Mexican culture, something that has proven to be an interesting challenge for Posner in terms of his incorporating that culture into the music he composes.
In addition, Ari was involved in a series called "Detention Adventure," where Ari and Amin joined forces with singer-songwriter Sarah Slean. The series ran on CBC and was well received. It garnered the CSA award in 2021 for "best original score in a dramatic series."
Often, Ari will encounter individuals who approach him to ask for advice. His words of wisdom?
"Be flexible in your thinking in order to navigate the issues you may have surrounding your work, family and life in general."
Ari is married to Tamar Kagan, and they have three children: Zachary, Jesse and Leila. Ari says that they are also disciplined in their approach to learning and ambitious to do well in whichever paths they eventually decide to pursue.
Ori Belmont is a freelance writer based in Toronto, Canada