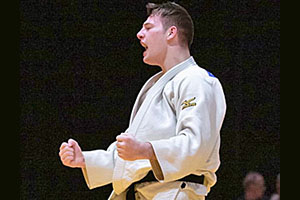 By BERNIE BELLAN
Last year we reported on the success that young Michael Akbashev had been enjoying as a 16-year-old judoka. This year, now 17 (he'll turn 18 in March), Michael has attained even more success competing against athletes similar in age, most recently having placed first in the "Elite National Eight" judo championships in Montreal in January.
The Elite National Eight invites judokas from across Canada to compete in categories that are defined both by age and weight. Michael was in the male under-18 81 kg category. One competitor in each category is seeded number one. This year Michael was one of those number one seeded competitors.
And – he didn't disappoint. As he wrote to me in an email: "I beat all the fighters on the podium. After winning this competition I have been selected by Judo Canada to compete in a European tour in Germany in March."
Michael's success on the mats this past year follows previous successes, about which I wrote last March: In my March 2019 story about Michael I noted his success to date: "In the short time he has lived here he has already accumulated a terrific record of success in his age category, as a member of the Manitoba Judo Team: 3rd place in Canada in 2017, 2nd place in the USA in 2017, and Canadian champion in 2018. He was selected by Judo Canada as an Elite Athlete in 2018 and 2019 and by Judo Manitoba as the best youth athlete in 2018."
I also noted in that March 2019 story that "Just this past week he earned a bronze medal in the under-81 kg. class at the Canada Winter Games, held in Red Deer, Alberta. (The Canada Winter Games are open to athletes 21 years of age and under.)
"Michael was the youngest competitor in his category," competing against athletes who were as much as five years older than him.
Since then, in addition to his winning in the National Eight championship, Michael has been a consistent top performer in every competition he has entered: Silver medals in the Quebec and Ontario opens and two golds in the Saskatchewan open."
"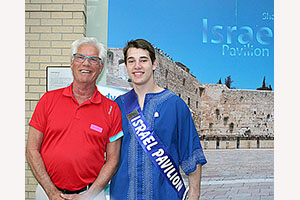 Michael Akbashev, along with his parents Baruch and Helena, and younger brothers David (12) and Eithan (7) has been in Canada three and a half years now, having arrived in Winnipeg from Israel in 2016. They had lived in Tel Aviv prior to their immigration to Manitoba, helped in part by the Winnipeg Jewish Federation.
Baruch works at Misericordia Health Centre as a biomedical technologist, while Helena works at Winnipeg Clinic doing biological research.
It was Aaron Pfeffer, well-known judoka and judo teacher himself, who told me last year about Michael's special ability. I had actually met Michael when he served as Shalom Square Youth Ambassador in the summer of 2018, and I remember reading in our own Folklorama guide that year how talented Michael was as an athlete, but I didn't realize at the time what a bright future lay ahead for this personable young man.
What made me realize though even more how talented Michael was came when I learned that, ever since his family moved here from Israel, he has been training with Mark Berger, a former Olympian in the sport himself, at Mark's West Kildonan Judo Club.
I asked Michael how long he's been participating in judo? His answer: "I started judo in Israel when I was 4 years old."
Now the holder of a first-degree black belt (which he received earlier this year), Michael has advanced through the colour system of belts in judo to the final colour one can attain.
Here is an explanation how the grades and colours work in awarding belts in judo: "There are six colored-belt levels called grades, and 10 levels of degrees for black belts. White is the universal color that represents a novice practitioner, while black represents an expert with varying degrees of black belts. The highest rank in judo is a 10th-degree black belt."
A Grade 11 student at Vincent Massey Collegiate in Fort Garry which, Michael says, is a "well known sports school", he admits that "I don't really have any other interest in anything else but I am a very open person and I would love to try new stuff" – which he did when he applied to be Shalom Square's Youth Ambassador two years ago.
By the way, younger brother David is also doing quite well in judo, Michael tells me, and Eithan will soon be joining his two older brothers in the sport. Both David and Eithan attend Shamrock School in St. Boniface.
Naturally, with the Summer Olympics in Tokyo soon approaching, Michael's dream, he says, is "to go to the Olympics and represent Canada in the international podium." In order to qualify, Michael will have to compete in the Olympic trials for judo, to be held this coming June in Montreal.
But, more than just performing superbly in his chosen sport, Michael Akbashev sees the benefits accruing from the discipline associated with judo, and says: " I also would like to send a message to the public – telling them how they should try the sport and that the sport is a way of life, it's about respect, appreciation, and hard work."