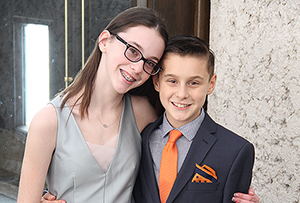 By MYRON LOVE
Ari Kay is a normal, active 13-year-old. He works hard at school, enjoys playing basketball; he is a member of two Gray Academy teams and one community centre team – and likes swimming.
On December 14, Ari celebrated his bar mitzvah at the Shaarey Zedek Synagogue. He carried the Torah and read most of the parsha as well as the haftorah. And, as has been the practice in recent years of bnai mitzvoth, Ari designated 25% of the money he received as gifts to a charitable cause. His choice of charity – as was the choice for his sister, Sydney, after her bat mitzvah on November 18, 2017 – was the Dream Factory – reflecting the long and harrowing path that he Ari, Sydney, and their parents have traveled over the past eight years to reach this point in their lives and continue the tradition of support their parents have shown them.
The Dream Factory came into being in 1983 when two local women founded The Rainbow Society – as a not-for-profit charity dedicated to bringing happiness and hope to children facing life-threatening illnesses by helping them to realize their dreams. Renamed The Dream Factory in 2011, the organization has helped more than 700 dreams come true for kids in Manitoba battling life-threatening illnesses.
Ari Kay was just five years old when he was diagnosed with leukemia. "Soon after we received Ari's diagnosis, doctors and nurses told us Ari could have a wish and let us know about the different organizations and what they do for kids with life threatening illnesses," recalls Ari's dad, Benjamin. "What we liked about The Dream Factory is that it is based solely in Manitoba."
Ari chose a trip to Orlando, Florida to go to Disney World and Universal Studios for his wish. Treated for leukemia over three-and-a-half years, he and his family undertook the trip after his second year of treatment.
"It was a wonderful trip, fantastic, amazing," Benjamin Kay recalls. "Ari talked throughout the trip."
"We had a great time," Sydney remembers. "It was a lot of fun. We got to do a lot of things and, most importantly, we did them as a family."
During the time they were in Florida, the family stayed for one week at "Give Kids the World" Village, a resort for critically ill children and their families. Ari simply says, "it's awesome!" and Benjamin notes every family stays in their own townhouse.
Alisa Kay reports that no effort is spared to pamper the children. "You can have ice cream for breakfast and there is 24-hour pizza delivery," Ari says.
"There is a different theme every night – Christmas or Halloween, a princess party or a pirate-themed activity", adds Sydney. "And everything is wheelchair accessible, even the pool with specially designed wheelchairs."
So, after more than three years of treatment – just when it seemed that Ari was out of the woods, the family received some devastating news. In a very rare occurrence, a side effect of Ari's treatment was the development of a more serious form of cancer for which the only hope was a bone marrow or stem cell transplant.
With the future looking bleak, the family made a hastily planned return trip to Florida and Disney World – in December 2015, just a couple of weeks before the transplant.
"We came back rejuvenated and ready to face the trial ahead," Alisa says.
Ari received the transplant in early February 2015 and was in isolation in hospital for 28 days. The treatment was successful and, although he wasn't able to return to school until September, his parents made sure that he didn't miss a beat. Benjamin kept Ari up with his math and he received daily work and support from his teachers. And his parents arranged for his guitar and piano teachers to continue his music lessons while in the hospital.
"We arranged to have a combination rollaway cot/sofa/bed put into the hospital room to make the room feel more at home for Ari and Sydney and for one of us to sleep on every night," Alisa says.
With brighter days ahead to look forward to, Ari and Sydney both say that they are leaning toward a career in paediatric oncology.
The Kays would like to encourage readers to consider donations to The Dream Factory or any of the wonderful organizations that help sick kids.
"It's important to give back to the best of your ability and not only to children's charities," Benjamin says. "There are many worthy causes that all need our support."