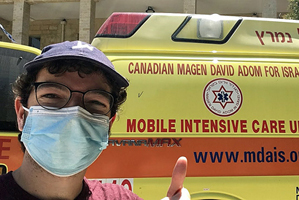 By REBECA KUROPATWA
When Ari Glikman (22) decided to take some time off his studies at the University of Manitoba to go to learn in Israel for a semester at the Hebrew University in Jerusalem, Covid-19 was not yet on the world's radar.
"My plan before was to stay for the summer – volunteer, help out, and travel," said Glikman. "I also wanted to travel to some of the neighbouring countries, and then Europe a little. That didn't happen, because of Covid-19."
As he boarded the plane at the beginning of January 2020, few people were wearing face masks. He started his semester at the Hebrew U in class, before Israel, in March 2020, entered its first Covid-19 lockdown.
Once the lockdown began, the majority of the international students decided to return home. But Glikman was determined to stay. His Winnipeg-based parents were okay with that, especially as they have family living in Ashdod.
"I was living in Jerusalem at the time, at the student dormitories," said Glikman. "I wasn't with my Ashdod family then. And, during most of that period I couldn't go see them because it was restricted to go see people or travel.
"Luckily the student housing there is in a good neighbourhood. At the beginning, there was like a 500 metre area of leaving and we couldn't do anything. But, after it got expanded a little we were pretty close to the Old City and Jerusalem…So, if you have to be stuck somewhere, Jerusalem is a great place to be stuck.
"Sometimes I'd walk through the Old City. And, because it's such a touristy place and the airport was closed, sometimes I felt like I had the Old City all to myself. For example, at the Church of the Holy Sepulchre, that's normally always packed with people, I was able to sit in that square and be the only person there…because, the people that go there are usually tourists…unlike the Kotel, that often has Israelis there. But, even the Kotel was definitely less packed than it would normally be."
While traveling out of the country was not an option, Glikman was able to spend more time travelling within Israel, and discovered many things and places he otherwise would not have.
Even Glikman's plan to volunteer with MDA had nearly been cancelled, due to Covid-19. But, as Israel had restricted high school students from volunteering for MDA, the need for volunteers grew to the point that Glikman was called to join a group of volunteers from Australia and South Africa.
After the 10-day training, Glikman was stationed in Ashdod, where he was able to stay with his family while volunteering full-time for MDA.
"It was 40 hours a week, five days a week and I usually got night shifts," said Glikman. "It was 11pm-to-7am. And when there were no calls at the station, I'd just be there, waiting for a call. But, if there was a call, I'd normally be the second guy on the ambulance – it was the driver and then me. Usually, there are three or four people in the ambulance, but, because of the volunteer shortage when I was doing it, it'd just be two or, occasionally, three of us. You get set for an ambulance and you'd hop on and get going with someone."
As far as how Israeli society is coping with Covid-19, Glikman reflected that just having been living life in Israel helped prepare people to manage crisis situations well – in some sense giving them an advantage in coping with pandemic stress. But still, this sensibility is applicable more to short-term crisis situations. So, the seemingly lengthy duration of Covid-19 is now causing some compliance fatigue among Israelis.
"People are getting tired and you are fighting an enemy you can't even see," said Glikman. "It's very difficult. It's really hard for a lot of businesses, for example. My family, the people I was living with in Ashdod -they have a little factory. And, it's really hard because, sometimes, it's allowed to be open and sometimes it's not…so, there is no consistency.
"There's a lot of frustration and everybody's pointing fingers at everybody else. But also, I think it helps when people come together. I don't know. I definitely saw that at the beginning and throughout as well – neighbours helping neighbours, friends helping friends…making sure everyone is getting through it together."
Glikman expressed his thanks for the Jewish Foundation of Manitoba (JFM) and the Joel M Weinstein Memorial Scholarship, and the scholarship he got from the Canadian Friends of Hebrew University (CFHU), when he graduated from the Gray Academy for Jewish Education, for the financial backing and help in making his Israel dream come true.