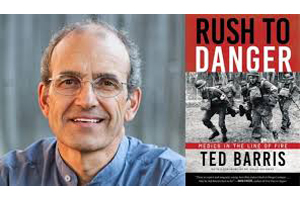 "Rush To Danger: Medics In The Line of Fire"
By Ted Barris
(HarperCollins Publishers Ltd. 406 pg. $32.99)
Reviewed by MARTIN ZEILIG
During the Second World War, Alex Barris was a front line medic with the 319th Medical Battalion of the United States 94th Infantry Division in Europe.
"While others in the heat of combat on the front line might ultimately choose to flee from the perceived or real danger, it was his duty and moral obligation to rush toward it," writes author Ted Barris of his father in this engrossing illustrated (with numerous photographs) book.
Ted Barris has now published 19 non-fiction books, a dozen of them wartime histories, notes his bio. For 50 years, he has worked as a broadcaster on electronic media in Canada and the U.S. He has taught journalism and broadcasting at Toronto's Centennial College. His book, The Great Escape: A Canadian Story won the 2014 Libris Award for Best Non-Fiction Book of the Year; while his book, Dam Busters: Canadian Airmen and the Secret Raid Against Nazi Germany, was a national bestseller and received the RCAF Association NORAD Trophy in 2018.
Sergeant Alex Barris earned a Bronze Star citation for retrieving four wounded US stretcher-bearers in Campholz Woods, Germany on 12 February 1945.
"His personal disregard for personal safety and his continual service to his organization over and above the call of his particular duties are in keeping with the highest of army traditions," says the citation, which is shown in the book.
The story of Alex Barris, who went on to have a successful career as a journalist and author after the war, provides, as the author says, the thread that allows him to discuss military medics, surgeons, nurses, stretcher-bearers, dentists, orderlies and ambulance drivers. These are the people who were/are tasked with saving lives when others are taking them.
One learns in fascinating detail about the origins of the field ambulance by a man named Jonathan Letterman at Fredericksburg, Virginia in 1862 during the U.S. Civil War; the invention of gas masks during the Great War (First World War); about the role of medics at Dieppe, Bastogne, D-Day, and in the Pacific; saving lives in the Korean, Vietnam, Afghanistan and Iraq wars; and much more.
In essence, the book is a panorama of military medical history.
"The book reminds us again and again of the quiet heroism of military physicians, nurses, and medics who have provided medical care to hundreds, sometimes thousands, of wounded and ill soldiers under enemy fire," writes Brian Goldman, MD, in the Foreword. "Some were enlisted. Many were drafted in to the wars of their times. Others just rose to meet the challenge of a lifetime that they encountered by happenstance."
For instance, he points to Augusta Chiwy, who was a 23 year-old-registered nurse originally from the Belgian Congo who just happened to be heading home to visit her parents in Bastogne, Belgium, in the days leading up up to Christmas 1944. She arrived just as Adolf Hitler had sent more than 400,000 German troops and 1400 tanks into the Ardennes as part of Operation Watch on the Rhine, "a desperate attempt to thwart the Allied advance toward Germany.
"Working beside U.S. Medic Jack Prior, Chiwy volunteered to lend her nursing skills to Allied troops. During a week-long siege of Bastogne, they treated hundreds of casualties while dodging enemy fire that destroyed the makeshift aid station where they worked."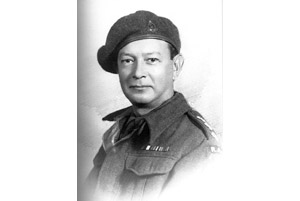 Then, there was Dr. Jacob Markowitz, a Canadian medical doctor who enlisted in Britain's Royal Royal Army Medical Corps and served as surgical officer during the fall of Singapore.
"He was eventually captured by the Japanese. Despite being given no medical equipment and surgical know-how to tend to thousands of fellow prisoners of war, often working up to eighteen hours a day for many days at a time. He even risked his own life by hiding meticulous accounts of their working and living conditions in amongst the many bodies of prisoners who died in captivity."
We learn about Airman 3rd Class Norm Malayney, a resident of Winnipeg, who served in 483rd USAF Hospital, the second largest military facility, n South Vietnam for during the late 1960s.
The hospital had 485 beds for general surgery, chest surgery, neurosurgery, orthopedics, urology, opthamology, and dental surgery and a 200 bed capacity casualty staging unit (CSU).
"Cam Ranh Bay served as one of three aerial delivery and mobility bases-the other two were at Saigon and Dan Nang— supporting the US war effort in Vietnam," writes the author. "It was Malayney's wartime address for a year. Until he landed at Cam Ranh Bay, Malayney had never had to deal with the dead. But, in Vietnam, the job of packing the body fell to medical corpsmen, including Malayney."
He also helped save the lives of many wounded men.
"Whenever he found time, Malayney observed experienced nurses packing wounds; by the end of the tour he could handle the toughest dressing assignments as well as any of the nursing staff," says Barris.
During an interview with the author, Malayney said that his experience in Vietnam was "one of the two greatest experiences of my life", the other being attending the University of Winnipeg after returning home.
Canadian Armed Forces medic Master Corporal Alannah Gilmore served in the Panjawaii district during Operation Medusa, and in Kandahar City in 2006.
Her training as a medic in the CAF proved useful after returning to the civilian world. She helped save the life a woman in the immediate aftermath of a terrible automobile accident in Ottawa.
'"Medics on the whole— we're not a very familiar trade,"' she said to the author. '"I'm basically a glorified first-aider. I have knowledge and I will use whatever I need to. I'll MacGyver whatever I have to, to make it happen.'"
Rush to Danger shines a much needed light on the lives of very invisible and often heroic people.
"They deserve to be remembered," as author Barris states.