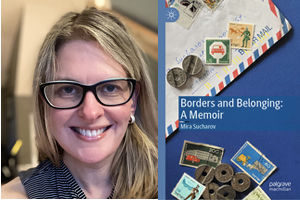 Reviewed by BERNIE BELLAN
There's something strangely compelling about reading the memoir of a talented individual who has decided to lay it all out for total strangers to discover some of her innermost secrets.
A few years back I reviewed a memoir by Henriette Ivanans, who happens to now be living in Winnipeg (married to Kevin McIntyre, about whom we have written many times in this paper). In her memoir, titled "In Pillness and in Health: A memoir" Henriette revealed her long and arduous struggle with addiction to a panoply of different types of medications. She was so searing in her self-criticism that it was almost painful reading her amazing story of survival against all odds.
Now, in a different way, well known academic and commentator Mira Sucharov discusses her own long-held emotional struggles, first triggered by the divorce of her parents when she was five, in her memoir, titled "Borders and Belonging: A Memoir".
I have to admit that I have only a passing acquaintance with Mira's career – which might help me to be more objective in discussing her memoir. I hadn't ever read anything else she has ever written – which would probably come as a surprise to her, since I am well aware that she is a prolific writer with a reputation as a Middle East expert.
It's not that I've shied away from reading anything by Mira Sucharov – it's just that I've never enjoyed reading academic articles about the Middle East, even though I myself have a background in Political Studies – as she does. Ever since I finished university – which was ages ago, I've preferred to distance myself from anything that's footnoted.
But "Borders and Belonging" is no academic treatise. Mira Sucharov is a talented writer who certainly knows how to tell a story; in this case the story is one of anxiety and elation as she forged a deeply held love for Israel from a very young age. Yet, as much as her interest in Israel has been a central focus of her life, her determination to view Israel in as objective a manner as possible has taken its toll.
Her opening chapter relates a story that reveals the extent to which she's been ostracized by a very good portion of the Canadian Jewish community for daring to question Israel's behaviour vis-à-vis the Palestinians. During her career as an academic, for which she's received multiple awards (not that she discusses any of those in her book; any Google search will readily disclose how well respected Mira is as a professor and a commentator), she's received scorn from both the right and the left for daring to attempt to be even handed in her assessment of Israel and the Palestinians.
No doubt what many members of the Winnipeg Jewish community will find particularly interesting though are Mira's recollections of growing up here, where she attended Jewish day schools and, more significantly for readers of this paper, where she attended a summer camp that had a Labour Zionist orientation (which, interestingly, she never refers to by its name: Camp Massad).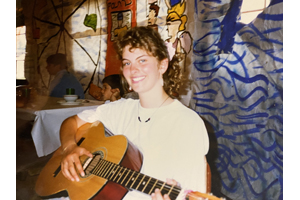 For anyone who's attended Camp Massad, reading Mira's reminiscences about camp life would be reason enough to want to read the book, as her descriptions of that camp are as well drawn as one could find anywhere in reading about a summer camp.
But, it's in Mira's painful discussion of the traumas she's endured in her life – which is not really all that long yet, since she must either just be 50 or close to it, based on certain references she makes that she provides some of the most jarring passages. I've already referenced her parents' divorce which, as she describes it, occurred without any rancor between her parents and was as civil a breakup as one could hope to have. For Mira, however, it was a life-shattering experience and reading about how that break-up still reverberate with her offers a salutary lesson in how a marital break-up, no matter how well behaved the parents may be toward one another at the time of the break-up, can be so devastating for children all through their lives.
One other chapter that hits home like a ton of bricks is when Mira recounts reading a newspaper article about skin moles and takes a more careful look at a mole on her arm. Lucky for Mira, her mother didn't procrastinate for one moment and, as it turned out, the mole was cancerous and likely would have led to an early death had it not been caught in time.
Later, Mira discusses allergies she has developed to certain foods and her frequent bouts with overwhelming anxiety. When she describes the often extremely stressful situations which she doesn't avoid as an academic who is not afraid to take unpopular stands, it's easy to understand the psychological toll that the career path she's taken has had on her.
The memoir is not written in chronological fashion; it flits back and forth between episodes that occurred at various times in Mira's life. Of all her experiences, however, in addition to her love of Camp Massad, it is the many times that Mira has visited and lived in Israel about which she writes most evocatively.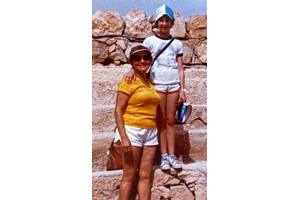 Her first visit to Israel was in 1983 with her bobe, Marian Margolis. That visit led to such a deep affection for Israel that Mira was motivated to return over and over again where, at various times, she was a student, a resident of a kibbutz (also while she was a student), and an academic.
And although a search of her online biography reveals that Mira received her MA from the University of Toronto and her PhD from Georgetown, in her memoir she writes only about her time spent at McGill, from where she obtained her BA. She admits that she was drawn to McGill because that was the school her father attended and she wanted to emulate his experience as much as possible. While her mother is also referred to in very loving terms, it is Mira's relationship with her father that resonates throughout this memoir.
Another episode though that will probably upset more traditional readers is when Mira describes her love affair with an Arab student at McGill. While she is hardly graphic in her description, she is certainly far more candid in what she writes than anything she has to say about her husband who, for all intents and purposes, comes across as a nice Jewish boy who would certainly meet with the approval of most bobes.
Toward the end of the book Mira summarizes the conflicting forces that have shaped her life in a paragraph that both offers a glimpse of the emotional currents that are still swirling within her, it also gives you an idea just how gifted she is as a wordsmith:
"Panic. It's like being a child of divorce all over again as I try to pull the pieces together: safety and danger, reality and fear, swinging between houses with different carpets, between marriages and separations, between my real home and my dad's home and the home-away-from-home that is summer camp, between the reality of the present and my nostalgia for the past, between Israel as a lived reality and my image of the place, between political poles, between parts of my community and between my community and that of others—as I try to locate a single, coherent, authentic narrative that is safe and secure and true."
It's not always easy reading a memoir where the author dissects her life in such an open and candid manner, and I'm not sure how many of the individuals whose paths have crossed Mira's would be aware of the emotional angst which is so pervasive throughout this book, but it takes a very brave individual to have written such an open and, at times, quite raw, recounting of a life.
"Borders and Belonging: A Memoir"
By Mira Sucharov
Published by Palgrave Macmillan, September 2020