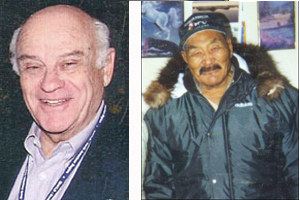 By SUSAN TURNER
In March 1971, 15-year-old Bobbie Suluk was medevaced from his home in Eskimo Point, North West Territories, to the D.A. Stewart Centre Respiratory Hospital in Winnipeg. He had pneumonia, and Eskimo Point's medical clinic, built in 1960, did not have suitable resources for treatment.
For years, many northern and Indigenous Manitobans were sent to the D.A. Stewart Centre because of tuberculosis and pneumonia. Originally known as the Central Tuberculosis Clinic, the Centre studied and treated all respiratory diseases.
Over the years, respiratory illnesses have been treated at centres in Winnipeg, the names of which have changed through amalgamation and re-organization. In the Arctic, too, there were name changes. In 1999, the eastern part of the North West Territories became Nunavut, Our Land in Inuktitut and the western part became the Northwest Territories. Additionally, through a June 1989 plebiscite, Eskimo Point, where Bobbie Suluk lived, became Arviat, Place of the Bowhead Whale in Inuktitut. Arviat is known for its hunters and artists including two of Suluk's brothers, who are carvers, and the singer Susan Aglukark, O.C., a Juno Award winner. For a virtual tour of and information about Arviat, visit http://www.aina.ucalgary.ca/arviajuaq/Arviat.html.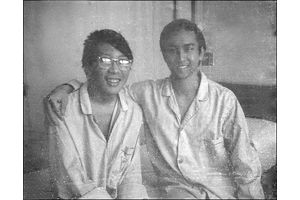 Bobbie traveled alone to Winnipeg, to an environment radically different from home, where the land and traditional ways were what he knew. He remained at the Centre for six months until August 1971, much of that time in intensive care. He was the only Inuit patient. He recalled that "there were a couple of Indigenous boys there, Cree, Algonquin, not sure, but we couldn't speak one another's languages. I spoke Inuktitut, but I knew enough English so I could communicate with my doctor, the nurses, and my roommate Anthony. I think he was Chinese."
The physician assigned to Bobbie was 37-year-old Earl Hershfield, who checked on him every day. Bobbie became very fond of him, and has always remembered him. He couldn't have gotten a better doctor.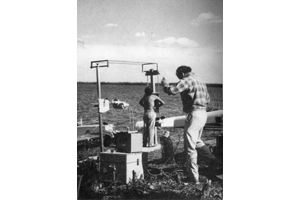 By 1971, Earl was already the TB control director for Manitoba, and in addition to his Winnipeg practice, was on his way to becoming an internationally recognized expert on tuberculosis with two textbooks and numerous publications and conferences to his name. One of his consuming interests was the prevalence of TB and the devastation it wreaked in Canada's Indigenous populations and in immigrants. "Hershfield helped lead the fight against TB for 40 years…set out to revolutionize TB treatment in Manitoba…introduced standardized testing, drug treatments, and reporting systems…Hershfield has left a legacy of innovation and compassion…" (Maurice Mierau, Memoir of a living Disease: The Story of Earl Hershfield and Tuberculosis in Manitoba and Beyond. Great Plains Publications, 2005). To listen to a 2009 interview with Hershfield about TB, log in to the Winnipeg Free Press at https://www.winnipegfreepress.com/special/TBspecial/what-is-tb-468871103.html
His treatment completed, Bobbie Suluk returned home, completed grade 12, and worked over the years for various government and planning agencies, ultimately becoming a justice of the peace. Using dog-sleds in the winter and ATVs in the summer, he also continued his traditional hunting of caribou, the meat for food and the skins for use on the sleds. Retiring at 60 in 2016, Bobbie and his wife Angelina established A&B Suluk Translation Services, an Inuktitut/English translation and interpretation service for businesses, government agencies, and individuals. There are nine Inuktitut dialects spoken across the territories, and the Suluks know five. Their work reaches internationally with clients in Egypt and India. They translate all manner of documents, including texts that people want on Facebook.
Several months ago, Bobbie called Earl's wife Betty Anne wanting to know how 'his doctor' was. In October, the Suluks came to Winnipeg for medical appointments, and Bobbie wanted to see Earl, now 86, and living at the Simkin Centre. With COVID raging, the Suluks visited one Friday afternoon; they stood outside the windows and the Hershfields inside. Earl recognized Bobbie immediately, and was so excited to see him that he raised himself from his wheelchair and pressed his face against the window. Bobbie held up a photo of his father Edward Nibgoarsi, who had come to see him when he was in treatment. Earl recognized him, too.
Betty Anne relates that it was a beautiful visit that spoke to the power of 'connection'. That evening, Bobbie and Angelina came to Betty Anne's for dinner. It was shabbes, and she served the usual: challah, chicken soup, chicken, and one of her incredible desserts. Betty Anne lit candles, said kiddush, and Bobbie, an observant Christian, offered a prayer to Jesus. Earl loved this story!
Susan Turner is a Winnipeg artist and curator and Earl Hershfield's cousin. Her father Leible and Earl's father Sheppy were brothers.