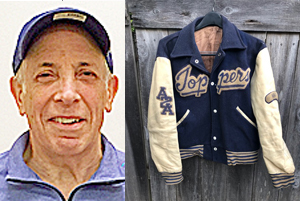 Editor's introduction: Elsewhere on this website we have a story about Elliot Rodin. During the course of one of our conversations Elliot remarked that his years spent in AZA were among the most important in his life. Elliot suggested that the subject of AZA would be one that Gerry Posner would be well suited to tackle.
So, I decided to contact our nostalgia expert and, although he semeed a little uncertain why we would want him to write about AZA, I wrote to him that he was the perfect choice to go back to a time that would certainly raise memories for many of our readers. And, ever the sport that he is, Gerry agreed. I also asked Gerry whether he might have any pictures from his own AZA years, but he said that he didn't.
Being the resourceful newshound that he is though, Gerry was able to come up with the picture that you see on this page. Okay Gerry – now how about taking on BBG next?
By GERRY POSNER
The pandemic has given me (and I suggest way more people than me) time to reflect and ruminate about matters of importance and less so. To me, the past is important and I have spent some time recalling events of my past and indeed of those of my era. I hearken back to the days of BBYO and our teenage times.
Let's step back to 1958. My life and I suspect the lives of many of my contemporaries were occupied pretty much by school, sports, and BBYO. Some, of course, were involved in USY (United Synagogue Youth), others had extra curricular activities, school related or not. There were a few, not many, who had jobs he or who went to during the week or weekend either regularly or not, but for the most part our lives were what might be considered very simple and narrow by today's standards. My life was ruled by AZA, the male section of BBYO. In those days, there were five viable chapters: Winnipeg 38s (the 38th chapter in the organization), Toppers, Eskimos (and no one thought of changing the name then) Omegas and Slotins. As I recall there were about the same number of BBG (the female version for B'nai Brith Brith Girls) chapters. They were: Delilahs, Chalutzot, Gabriels, Bat Sheva, Israelis, and Rachels. (I apologize if I've missed any others.)
For many of the readers who recall those times in their lives, it was, shall I say, a much simpler time. My life revolved around BBYO. In fact, I was so immersed in it and I made so many phone calls for the chapter, that the names of each of the 41 members in the chapter are ingrained in my memory alphabetically.
I am not sure if the fact that I recall these names even now – over 60 years later is a plus or a minus. But here are the 1958-59 members of Toppers AZA in case you could not sleep last night wondering just who these guys were: Bob Akman, Larry Booke, Lloyd Cohen, Sam Corman, Joe Diner, Bruce Druxerman, Brian Fleishman, Sheldon Gilman, Martyn Glassman, Bert Knazen, Martin Knelman, Jack Lazareck, Larry Leonoff, Roger Lyons, Ted Lyons, Brian Malinsky, David Matas, Alan Moss, Butch Nepon, Michael Nozick, Eric Ostfield, Harvin Pitch, Arnold Popeski, Gerry Posner, David Rich, Elliot Rodin, Arthur Ross, Ken Rubin, Laurie Rubin, Ron Rubin, David Secter, Bob Segal, Paul Shuster, Lyle Silverman, Gary Smith, Ken Steiman, Neil Stitz, Errol Tapper, Irv Tessler, David Winestock and David Wolch. Sad to say that five of them – Corman, Fleishman, Knazen, Moss and Nepon have passed on. Still, I would suggest if you could ask the remaining 36, you would receive a uniform opinion about that time in their lives – and it would be warm and favourable. Why is that and what was it about that period that made it so that many of us would wish this kind of life style for our grandkids?
To be sure, we did not have iPhones, iPads or computers. We had television, but only one station. What we really had was time with friends and the ability to roam reasonably free. We took the bus or biked anywhere we had to go. Our parents did not worry about us and we could be outdoors until the streetlights came on. We had what I would call a sense of freedom that is absent today with so much structured activity. We did chat on the phone a great deal, but then that telephone line was shared by everybody in the family and so we had limits imposed on us. We bonded with friends; AZA and BBG were an integral part of that bonding process. I recall that in AZA we had the five-fold objectives of the organization, including religious, community service, fund-raising, social and athletic. The key was to try to be involved at some point in the year in all of these aspects of the organization.
In that respect, I recall well on the weekend of October 24-26 of 1958, we had the Toppers Convention weekend where we tried to complete all five folds of AZA within the three days. We began with a religious service at the Shaarey Zedek Synagogue on Friday night, where we participated in the service. Then, on Saturday in the AM, we had a Fund Raising activity (not exactly kosher on the Shabbat and a more than a slight contradiction of the night before at shul) where we sold doughnuts door to door. In fact, one member, Elliot Rodin, sold 512 doughnuts that day (although there were suggestions he recruited his brother and friends to do the heavy selling).
On Saturday night we had a party at the home of Bob Akman, who lived at 614 Waterloo Street. (Would that I could remember what I had for breakfast yesterday.) I know we all were supposed to invite dates and I recall whom I took to the party and would identify her but fear that if I did so, she might be asked about it and she would have to admit she has no memory of me or that night. On Sunday in the AM, we had a community service programme, followed by a football game in the afternoon against another AZA chapter. All that in one weekend. We were busy with friends and out of our parents' hair in useful activities. We were not looking down at a device all day. You know the rest of this story.
Toppers was good for me and not just me. We all benefited from that more innocent time where we were learning about ourselves, the opposite sex and the world around us. But we had the benefit of deep and lasting friendships which occurred as a result of the time and place we were in and at then. Many of those deep friendships formed at that time last to this day. I say sadly that it is hard for me to project that kind of relationship for my grandchildren – so occupied are they on their phones, computers and with themselves. Perhaps you see it differently, but I always say I was privileged to have grown up where and when I did, and Toppers 921 AZA was a central part of that experience.