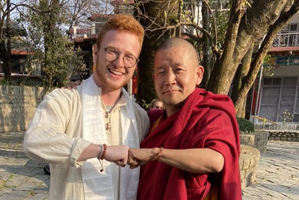 By BERNIE BELLAN
In 2019 Winnipegger Jaron Rykiss embarked on what, for almost any recent high school graduate, would probably be considered the adventure of a lifetime.
Jaron, who had just graduated from Gray Academy in the spring of last year (and doesn't that seem like an eternity ago, even though it's really only a little more than a year and a half ago?), had decided to enroll in a program that is probably not all that familiar to many Winnipeggers, known as "Kivunim".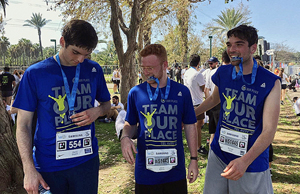 Kivunim, which means "directions" in English, is a program begun in 2006. Here is how the Kivunim website explains what it's all about:
"KIVUNIM succeeds in delivering an immersive and transformative gap year experience of serious academic study, focused international travel and cross-cultural dialogue. These take place within the context of impressive intellectual and aesthetic exploration and growth that develops and deepens our students' Jewish identity as engaged global citizens. 
"KIVUNIM students forge a lifelong connection with Israel and the Jewish people through thoughtfully and intentionally-designed travel experiences that impart what other Jewish education programs can only envy: a nuanced and integrated understanding of Jewish civilization through sophisticated contact with the remarkable spectrum of religious traditions, cultures and world views among which the Jewish people grew throughout our 2,000-year Diaspora. Israel, our gap-year program home for the academic year, provides a challenging and surprisingly inspirational setting for appreciating the possibilities of Muslim-Jewish and Christian-Jewish co-existence and informs our broader international encounter with 'the other'."
Sounds pretty fantastic – right? And for any graduating high school student with the resources to participate in a program like this, it has to be considered a dream come true.
I spoke with Jaron Rykiss about his experience in Kivunim, which sadly for him and everyone else in the 2019-20 program, was cut short by COVID.
I began by asking Jaron how he heard about Kivunim in the first place?
Jaron explained that back in high school he was very involved with BBYO. Through BBYO he was exposed to a certain amount of international contact and realized "that there's more to life than just Winnipeg".
As graduation from Gray Academy was approaching Jaron "sat down with Avi Posen" (who was still in Winnipeg at that point, although in the fall of 2019 Avi himself made aliyah to Israel with his wife, Illana Minuk), and "we began talking about the possibility of a gap year" (the year between graduating from high school and entering a post-secondary institution).
After spending considerable time researching various programs Jaron came upon Kivunim which, he says, was perfect for someone like him – someone who didn't have much experience outside of Winnipeg.
I asked Jaron whether he had ever been to Israel before?
He answered that he had – "twice" – once when he was nine, for a family occasion, and then again in 2017 when he was one of the students participating in the P2G (partnership together) program that Gray Academy has with Dancinger High School in Kiryat Shemonah, Israel. "That was really when I fell in love with the country," he noted.
Fast forward to September 2019 and Jaron is in Jerusalem – "which is now my favourite city on the planet," he said. There were 54 students in the program with Jaron – mostly from the U.S., but one other Canadian from Toronto as well.
"We all lived in a dormitory together – in the Mamillah area," Jaron explained.
Under the original plan, Jaron said, he would have been in the program for eight and a half months, which would have taken him to the end of May.
As it was, he came back in March of this year – "exactly five months after I left".
I asked Jaron at that point to describe what exactly he was studying during the program?
He answered: "The program goes to show you religion in other countries, so we spent the year studying Judaism, Islam…a Buddhist monk came to live with us for a couple weeks in Jerusalem and then when we got to India he showed us around."
Which countries did Jaron actually visit as part of Kivunim? I asked.
Jaron said that the first month was spent in Jerusalem, followed by what was supposed to have been the first of several international trips.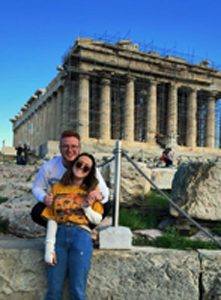 "We ended up going to Greece and Bulgaria for two weeks," after which the group returned to Israel for a month and a half, then India, but trips to Spain, Portugal, Italy, Germany, Hungary and Morocco were all canceled due to the outbreak of COVID.
"We were supposed to end up in Morocco and meet the king there," Jaron noted. "It's too bad that never happened."
(Jaron added that they were also supposed to visit Turkey at the same time as they visited Greece and Bulgaria, but that didn't happen either. As he explained, "there were a lot of political issues" – what with the heightened civil unrest in Turkey at that time.)
What was the actual learning experience like? I wondered.
Jaron described the learning as "experiential".
"While we were in Israel we would study the places we were going to visit," Jaron observed, "then we would experience what we had just learned about – so it was a combination of classroom and experience."
I was still uncertain, however, what the overall purpose of the program was – beyond exposing students to a wide variety of experiences.
According to its website, Kivunim aims to provide a "liberal arts" type of education: "The power of conceptual and intellectual integration is the ultimate (and all-to-often illusive) goal of a liberal arts education.
The website goes on to say:
"Why do we train our children in the liberal arts? It is not because these studies can grant someone virtue, but because they prepare the soul for accepting it." 
"KIVUNIM represents the beginning of a unique intellectual journey for our students and our staff and faculty. KIVUNIM succeeds in creating a thoughtful, comprehensive, and resilient intellectual foundation for our students and alumni."
Here are the five courses taught to students in Kivunim. (There are no optional courses and all students must take the same five courses):
Civilization and Society: Homelands in Exile
Land, People, Ideas: The Challenges of Zionism
Hebrew Language and Literature
Arabic Language and Culture
Visual Learning – The Art of Seeing
A more detailed examination of each course gives a clearer understanding of just what it is that Kivunim is attempting to convey to students. Here, for instance, is an excerpt from the course outline of Land, People, Ideas: The Challenges of Zionism: "Here we seek to make the history of the Zionist movement come alive and allow KIVUNIM students to truly appreciate the capacity of the human being to become an historical actor: to make things happen.  The course explores the growth of Pan-Arab nationalism and the specific development of Palestinian identity and nationalism.  We encourage our students to imagine solutions while studying problems and to develop their sense of empowerment in glimpsing a future more positive than the past or today."
If this all seems slightly airy-fairy, then I wondered how a program like this would be perceived by other institutions of higher learning – for instance, at a university here in Manitoba? After all, on its website Kivunim maintains that its courses will give students 30 academic credits, which would be equivalent to a normal year of study in an Arts program at a Manitoba university.
Jaron, who is now enrolled in an Arts program at the University of Manitoba, said that the university has not yet accepted for credit all the courses that he took in Israel.
Thus far, he has received credit for two of the courses: "Civilization and Society: Homelands in Exile", and "Land, People, Ideas: The Challenges of Zionism".
He noted though that he is being asked to take aptitude tests in both Hebrew and Arabic to determine whether the courses he took in those languages will be accepted for credit. As for the fifth course – "Visual Learning", he explained that he is not expecting to obtain credit for that course, since it was more of a "photography" course than anything.
The problem, however, as Jaron noted during our conversation, is that due to COVID, so much of the university's decision making is backed up that he doesn't know how long it will be before he knows what the status of the two language courses that he took will be vis-à-vis receiving credit for them.
As far as his future studies go, Jaron added that he plans on majoring either in Political Studies or Philosophy, with his ultimate goal to get into law. (By the way, did I mention that Jaron's grandfather is Jack London, about whom I have a review of his book elsewhere in this issue? As a disclaimer though, I want to explain that I contacted Jaron long before I knew that Jack had even written his memoir.)
One final aspect of the Kivunim program that hasn't been mentioned yet in this article is the question of cost. I sent an email to the Kivunim program, asking for information as to the cost of the program. Here is the response I received:
"Our tuition is $55,000 which includes room and board, international travel, academics, a round trip from New York, etc. Tuition plus a small fee also includes 30 academic credits from Hebrew College (a full college year) accepted by most colleges in the U.S. and Canada. Every year we offer scholarships and interest free loans. We give about 40-50% of our students scholarship each year. Jaron's year, 45% of students received a scholarship totaling approximately $375k." (By the way, as one might expect, Kivunim is not being offered in person this year, although there is an online program.)