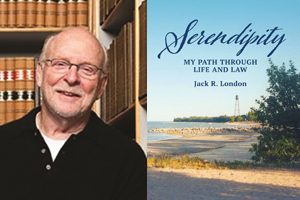 Reviewed by BERNIE BELLAN
When Jack London set out to write his memoir, he told a Zoom audience Wednesday, October 15, he went through 27 different drafts before arriving at the final version.
The result is an absorbing story, titled "Serendipity: My Path Through Life and Law".
Why "Serendipity" you might ask? Because, as London explains at the very beginning of the book, he attributes a very major part of his considerable success in life to nothing more than sheer luck. Of course, one can easily dismiss that as deliberate self-effacement, but when you do read of some of the amazing twists and turns that his endlessly fascinating life has taken, it's not hard to agree with his assessment that good luck was very much something that accompanied London at some very key points.
In the final chapter of the book London summarizes the reasons that he considers himself so darn lucky:
"I am seventy-seven but I still feel eighteen. I mean that! My mind has never got past that age. I feel like a kid with a sense of spunk and optimism about the future and the new opportunities it will bring. I know intellectually that's ridiculous, but that knowledge for the most part doesn't affect my life. I'm lucky that way and as I have said, luck is the key variable to survival and accomplishment in life."
The book is partly a personal story of London's life, including his formative years – of which working at his mother's arcade at Winnipeg Beach played a pivotal role, and partly a discussion of the law.
It's written in chronological form; London's early years are described in a wry and open manner. He admits that a good part of his youth was what could be described as misspent – something, by the way, that he says he doesn't for one moment regret. Again, London admits throughout the book that he very often managed to find success by being in the right place at the right time.
Whether it was as a student or later as a lawyer, including stints as a professor of law and dean of the University of Manitoba Faculty of Law though, London was constantly interested in exploring new fields. Again, lucky for him, his wife Belva was always willing to encourage him as he set out on one new course change after another, whether it was his going to Harvard for a year, working for the Federal Government as a tax lawyer in Ottawa, or taking a sabbatical year in France.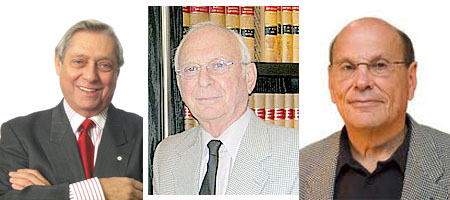 Readers of this paper will probably find most interesting London's referencing other well-known lawyers from this community, especially Izzy Asper, Hymie Weinstein, and Harvey Pollock. While he worked with both Asper and Pollock professionally, his lifelong friendship with Weinstein, however, almost ended tragically when they were both passengers in a car when they were 18, along with a third fellow, and their car was involved in a head-on collision on the road to Minneapolis.
Amazingly, as London describes it, he was propelled 200 feet out of the car, but got up with only a scratch on his head. When you read that story and another similar story of yet one more almost fatal accident, you do begin to understand how fate always seemed to be on London's side.
Not to give away all the juicy parts – but one more enthralling adventure took place in 1992 when Jack and Belva went to Rwanda to observe mountain gorillas in their natural habitat. They happened to be there though just as the horrific slaughter of Tutsis by the majority Hutu tribe began to transpire. Reading London's account of what he and Belva went through for 36 hours, trapped in a bathroom as shells, bullets, also a Kaytusha rocket whizzed all around them is as terrifying an account of a near-death experience as you're likely to find anywhere.
Anyone who has heard Jack London speak would know that he's a master of the English language, able to tailor his remarks so that they're understandable to just about anyone. Yet, when he refers to his voluminous output as a lawyer, including his many appearances before the Supreme Court of Canada, it's easy to see that he is as skilled at legal argument as the very best lawyers.
And, while he does introduce many concepts in law through the course of the book, London always explains things in a clear and concise fashion. He has also advocated a consistent liberal philosophy throughout the course of his career, in particular when it comes to advancing the case for the right to die and a woman's right to exercise control over her own body.
London's Jewish identity is something that he has always proudly worn. Twice, in fact, he has been called upon to mediate two particularly thorny issues within Winnipeg's Jewish community. The first was when the Talmud Torah and I. L. Peretz Folk School were both in financial difficulty and a merger was necessary in order to insure the future of at least one Jewish day school in the city.
Later, London's skill as a mediator was brought into play when three synagogues: the Beth Israel, Bnay Abraham, and Rosh Pina, were brought together in a merger that bruised many egos. Ultimately though, London notes that the most difficult challenge faced by the newly formed congregation was how to assign seats for the high holidays!
In the latter part of his career London began to forge a new path entirely as he developed an expertise in Indigenous legal issues. His writing about the 30 years that he spent serving as counsel to various Native groups provides as clear an explanation as one can read why Native rights deserve to be upheld. At the same time London developed a close relationship with Phil Fontaine, former Chief of the Assembly of First Nations, about whom he writes with the utmost respect and affection.
London played an important role during the Meech Lake discussions, helping to fashion the essential arguments why that particular attempt to amend the Canadian constitution was so deeply flawed (for not recognizing the First Nations as having equal status to the English and French nations).
Ultimately though, London describes an encounter in Vancouver when he was barred from entering a meeting by four Native chiefs in a clear demonstration of anti-Semitism. The bitter effect of that demonstration of bigotry affected London deeply to the point that he no longer engages in working on Indigenous issues
(Ed. note: Following publication of this review in the Oct. 28 issue of the JP&N, Jack London sent me a note in which he wanted to correct what I had written. Here's what Jack wrote:
'Your suggestion that I no longer engage in working on Indigenous issues is misleading, I have not been active recently in resolving 'political Issues' for the major First Nations lobby groups, concentrating instead on  commercial, charitable and litigious cases for First Nation individuals and Bands. I am still of the view that Reconciliation is the pressing social issue of our time.")
Jack London has traveled down so many paths during his life, it's hard to imagine that he's still only 77 years old which, these days, would make him well qualified to run for President of the United States – if he were American. The fact that, as he remarks often during his memoir, he's always come back to Winnipeg, is a testament to his love for this city and, if I can be so bold, a reflection also on the hold that our Jewish community has on so many individuals who could have made a far bigger name for themselves had they left Winnipeg.
Even if you're not familiar with Jack London (and it's hard to imagine too many of our readers being in that position), reading this book will take you back in time to the 1950s and through the ensuing decades. Lucky for us, Jack London hasn't written his final chapter – and, unlike other notable lawyers who never bothered to write their memoirs (most notably, the late Harry Walsh, who always put off the idea of doing that), London has given us a book that will both charm and educate.
Serendipity: My Path Through Life and Law
By Jack London
Published by Heartland, Winnipeg, 2020
Available at McNally Robinson Booksellers or directly through the publisher
Email:hrtland@mts.net Tel: 204-284-089