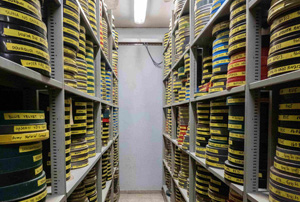 The Jerusalem Cinematheque – Israel Film Archive recently launched an innovative website featuring Israeli cinema through its generations. The new website provides a unique opportunity to browse through Israel's visual history as documented in newsreels, home movies, and rare films from the late 19th century till the present day and the first ever virtual map enabling visitors from all over the world to locate films from Israel and the Jewish people, either by year or landmark on an interactive map, including 7000 topics, 4000 public figures, and more. The platform is accessible and free of charge in both Hebrew and English.
After a successful launch of the platform in Israel, The Jerusalem Cinematheque-Israel Film Archive plans to launch the platform internationally with English subtitles this coming September. As noted above, the platform is already available in English and will be accessible and free of charge worldwide.
In honor of Shavuot, one of the most important holidays in the Jewish calendar, we collected several rare historical videos demonstrating just a fraction of the vast wealth of historical materials that the Jerusalem Cinematheque – Israel Film Archive website contains.
The following videos have English subtitles (to view English subtitles, click on the Settings icon at the right bottom of the screen, the one next to the keyboard icon. Each video title is the link to see it):
Archival footage documents Shavuot celebrations in Tel Aviv in 1935. Children wearing white and carrying baskets of first fruits (Bikkurim) march in a parade toward an open court, where spectators watch them from stands. At the end of the parade, dances are performed on a stage in front of the crowd.
Children file down to stage. From afar, lines of children in the woods. Bringing the first fruits. Gathering of boys and girls. They perform pantomime and the serving of the first fruits. Dancing.
Children in a stadium, acting out the bringing of the first fruits. The performance Halleluja is played by the children. Voice over of a girl reading from the Book of Ruth. A child (Moshe Axelrod) in biblical garb and flowers bearing a basket of first fruits. A Jewish National Fund collection box. Children walking with sheaves of wheat. Huge procession in large stadium. Children wearing wreaths of flowers in a Shavuot play.
Thousands of Pentecostal Church members from 30 countries gather in Jerusalem during Shavuot. Community members sit in a large hall, listen to music and singing performances and pray together. A church member distributes grape juice to guests.
Bikkurim (first-fruits) ritual ceremonies throughout the country. Livestock and agricultural machinery, women carrying babies, and children with bikkurim baskets participate in a festive parade on the holiday.