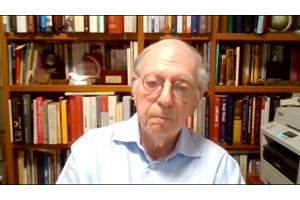 By BERNIE BELLAN (Note: This article was written prior to the change of government in Israel. As usual, with the swift flow of events there, much of what is presented here is already outmoded.) This year the Jewish Heritage Centre has been presenting a series of three Kanee lectures online, rather than the traditional annual in-person Kanee lecture. The most recent of these online lectures was delivered by Efraim Halevy on June 6.
It doesn't seem that long ago that former Mossad head Efraim Halevy was in Winnipeg to deliver a Kanee lecture to a packed audience at the Shaarey Zedek Synagogue, but when I actually checked our own archives I see that Halevy was actually here in 2012. At the time Halevy had already been out of the Mossad for 10 years, although he had also gone on to a stint as head of Israel's National Security Council (from 2002-3).
When Halevy paid a return visit as one of this year's Jewish Heritage Centre's Kanee lecturers, this time he was at his home in Israel speaking to the audience via Zoom. (I later found out that 114 individuals watched at least part of his lecture. While that number is certainly done from what a typical in-person Kanee lecture would attract, considering that it was a beautiful Sunday afternoon when Halevy spoke, it was quite a decent turnout – especially considering the multitude of Zoom sessions that have become a regular part of Jewish life here this past 14 months).
Halevy's memoir about his time in the Mossad, "Man in the Shadows"(published in 2008) offered ample evidence of the moderate influence he exerted over Israeli foreign policy. He played an instrumental role in bringing about the peace accord between Israel and Jordan, for instance. He also put forward the position that Israel should seek to negotiate with Hamas – which led me to pose a question about that possibility during his June 6 lecture.
Halevy is now 86 years old, yet toward the end of his Zoom session (which lasted 1 ½ hours) he indicated that he had four more Zoom sessions scheduled in the next few days, so running out of energy doesn't seem to be a problem for him. As a matter of fact, just when everyone watching might have thought that Halevy wanted to sign off, he began to tell a story about T.E. Lawrence (Lawrence of Arabia) that stretched into another 20 minutes. He was clearly "in the moment", so to speak.
During his free-flowing talk Halevy touched on a great many subjects. After speaking for half an hour he agreed to take questions from the audience. The questions were read to him by moderator Ben Waldman (who is a reporter for the Free Press), although when Waldman posed questions to Halevy it wasn't at all clear whether a question had come from an audience member or whether it was one that Waldman was asking on his own.)
Before launching into his talk – which he did without referring to notes, Halevy said he was going to divide his talk into different segments, beginning with an overview of the Middle East, then turning his attention to Iran.
At the very start of his talk, Halevy admitted, however, that he is not privy to the kind of confidential information to which he would have had access during his long career in intelligence. Almost immediately though, he did broach a subject that, if what he said was indeed true, then it would certainly have be considered highly controversial: Halevy claimed that there is a secret annex to the Abraham Accords signed between Israel – on one side – and Bahrain and the United Arab Emirates on the other, that imposes a "freeze on settlements" in the West Bank, although "the details are not revealed", Halevy suggested.
It is not at all apparent though that there has been an actual freeze on settlement activity in the West Bank, as Halevy suggested. There has been continued expansion of road construction in the West Bank, for instance, and while there has been no government sanctioned construction of new homes in the West Bank since the accords were signed, there has been continued expansion of more isolated – and illegal outposts. (As well there has been continued expansion of Israeli housing in the East Jerusalem area.)
A second aspect of the Abraham Accords, which was also not included in the publicly signed accords, Halevy said, was the decision by the US government to sell (50) F35 jets to the United Arab Emirates. According to Halevy, Israel's having F35 stealth jets gave Israel a "strategic edge" in the Middle East in terms of military technology.
What did Israel obtain then, in return, when it agreed to sign those accords?
"These are countries with which we had relationships before," Halevy noted. While those relationships may have been "passive" rather than overt, they "enabled Israeli businessmen to come to the Emirates and conduct business." The accords, therefore, are really just an elaborate business deal.
There is another aspect to the Abraham Accords, Halevy pointed out, which may prove detrimental to Israel's interests in the long term.
"We agreed we would be a conduit for the export of oil from the Emirates," he said. Halevy explained that a pipeline that was originally built to transport oil brought to Israel from Iran and unloaded at Eilat will now be used instead to ship oil from the Emirates.
"It is going to be a massive transportation of oil," Halevy warned. "We are entering a danger zone in which an oil pipeline (built originally in 1968 as a 50-50 venture between Israel and Iran) will lead to a massive "oil installation in Eilat which could have a major impact upon tourism" in that city – which, Halevy noted, is Israel's most popular tourist destination.
(Ed. note: On June 3, Israel's new Environment Minister, Gila Gamliel, called for cancellation of the oil deal between Israel and the UAE, saying that it could cause great environmental damage.)
If the benefits of the Abraham Accords are entirely economic – since Israel already had good diplomatic relations with Bahrain and the UAE, why has Saudi Arabia been reluctant to sign on to the accords as well – which is something that was rumoured would also occur?
Apparently signing on to the accords "is a subject of disagreement" between the king of Saudi Arabia (King Salman, who is 85 years old) and Crown Prince Mohammed Bin Salman (aka "MBS"), with the king being reluctant to enter into a signed agreement with Israel, while MBS is pushing for it.
Turning to other areas of the Middle East, Halevy offered this interesting insight about Egypt: "Egypt is concentrating on developing improved relations with China. China is now a major player in Iraq. We will have to look very carefully at what China is doing in the Middle East," although Halevy added, "up to now China's relationship with Israel has been good."
Here's what Halevy had to say about Israel's relationship with Jordan: "There is a very serious problem with Jordan. We have a good relationship on the military and security level, but less so in other areas. The diplomatic relationship is very strained. The personal relationship between (King) Abdullah and Netanyahu is very poor."
About Syria, Halevy said: "Hizbollah is very active there. We have regularly bombed arms shipments – in coordination with Russia – to prevent them (Hizbollah) from developing faster than they might otherwise do."
Halevy quoted a line from the Bible to warn of the danger posed to Israel on its northern flank: "Evil will open up from the north."
At that point Halevy turned his attention to Iran, saying that "Iran's determination to obtain nuclear weapons is number one in our concerns."
But, in order to understand the dynamics involved in the situation vis-à-vis Israel and Iran, Halevy suggested, one has to understand Netanyahu's own background.
Netanyahu considers himself to be an "historic figure", very much influenced by his scholar father, (Benzion) whose area of study was the expulsion of the Jews from Spain in 1492.
Benzion Netanyahu focused in particular on the writings of a famous medieval Jewish businessman and scholar by the name of (Isaac) Abrabanel, Halevy explained.
Abrabanel wrote in 1492 that "there was going to be a Golden Age for the Jewish people". (He was slightly wrong, you might say.)
Benajmin Netanyahu "said his aim was never to ignore threats to Israel; his mission was to remove an existential threat to Israel," Halevy said.
When the "Mossad was able to get a hold of Iranian nuclear files to show the West what Iran was all about," Netanyahu honestly believed that having this smoking gun would be decisive in swaying Western leaders not to believe that Iran was sincere in being willing to abandon its pursuit of nuclear weapons. Unfortunately, Netanyahu's goal was never realized (although, in looking back at Halevy's Kanee lecture in 2012, I note that at that time he warned that the greatest danger to Israel was not from external enemies, it was from within Israel itself, from religious right wing zealots).
Following his initial remarks, Halevy fielded questions from the audience.
I asked the following question: "Are there any chances that a younger element in Hamas might be willing to negotiate a peace with Israel?
Halevy's answer was: "I don't know. We've never tried…The important thing is to think out of the box. Inside of the box there's no possibility of any resolution of these problems. We have to have courage – and think of our children and grandchildren and their future."
Halevy, who was very close with Ariel Sharon, however, did say that Sharon made a terrible mistake when he evacuated Israeli settlers from Gaza. "The feeling is that Hamas got something for nothing – a dangerous precedent."
Another question was about a new government in Israel, if one does succeed in forming: How would a new government impact relations with Israel's neighbours?
Halevy said: "It will follow the policies of Netanyahu." He then proceeded to relate this anecdote: "The United States will renew the (Joint Comprehensive Plan of Action) agreement with Iran. Netanyahu instructed all agencies of the Israeli government not to present our view of the JCPA because we are opposed to the JCPA entirely." (Halevy was critical of that position, by the way.)
Question: "Did the recent flare up in Gaza catch you by surprise?"
Answer: "In 2003 I said Israel should enter into a dialogue with Hamas. I have always thought we should negotiate with Hamas. I also say we should dialogue with Iran – although that doesn't mean they will negotiate with us. By the way, the Saudis are now in a dialogue with Iran. We don't serve our interest by isolating ourselves. We should have secret negotiations." Halevy pointed to the example of the British negotiating with the IRA back in the 1980s. "The British denied they were negotiating with the IRA at the same time their Prime Minister was doing exactly that."
A question about Israeli settlements led to this assessment of the situation: "The US expects they will be frozen. If not, there is a danger that there will be a major break with the US."
As well, Halevy alluded to the growing gap between Israel and Jewish communities in the Diaspora. He noted that the position of Israeli Consul General in New York has been vacant for 18 months. That position is the "single most important" connection that Israel has with the American Jewish community. The fact that Netanyahu deliberately left it vacant "shows how the Prime Minister (and Netanyahu was still PM when Halevy gave his talk) views the importance of the role of Jewish communities in North America."
Question: "How is anti-Semitism around the world viewed in Israel?
"
Answer: "If we have a new government the position of Consul General will be filled very quickly. Bennett understands the position of Jewish communities in North America very well. In a very short while we will see a change here. Bennett will attempt to restore the traditional relationship between Israel and the Jews in North America."